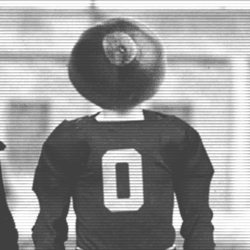 Fear The Elf
---
Member since 04 December 2010 | Blog
Helmet Stickers: 229 | Leaderboard
Recent Activity
He's obviously paying homage to David Lighty

My hierarchy went
New Number
23
6
Would rather a fresh start, but as long as it isn't 6.
It will be amazing seeing all the old 23 jerseys. Mostly because the national media told me that everyone in Cleveland burned their old jerseys.
The graduation rate for football players is dead last in the conference, despite the fact that more players are opting for easier academic schedules.
Didn't someone write a long article about how Cal players "win at life" after OSU beat them last year?
This is starting to remind me of when Bob Knight was fired from Indiana.
The incident that "got him fired" was relatively minor. A random IU student said, "Hey Knight" to him. Knight grabbed him. In a vacuum, it's not a big story. The kid deserved to be reprimanded, but Knight could've done it without grabbing him.
During the press conference, Miles Brand listed numerous similar, recent incidents. None of them were firing worthy, but when added together, it was the proverbial "straw that broke the camels back."
This incident here is not a fireable offense. But when he's already under suspicion, it might the final push.
Wait, Michigan has a band? Do they have a football team, too?
You know who else is from Benedictine.
Rich Paul
Who I believe has been in the news regarding Ohioans coming back to Ohio from Florida.
Jut saying.
The fact that he is great boon for OSU now is undeniable. He is probably the 3rd best recruiter in Ohio right now beside Urbs and Thad. His impact will be unmistakable.
That said, I am about 90% he goes to Akron if he went to college. Dru Joyce, Romeo Travis and Keith Dambrot were there.
Take away Monroe, and it's a deal. Not that I don't want Monroe, but I see no realistic way to add him amongst the other moves.

Kyrie and LeBron will be taking up over half the salary cap next year. I don't see enough room to sign Love. Lakers will have boku cap room.
His website had him photoshopped in a #6 Cavs jersey
Gilbert's letter said he had to "Do right by Cleveland"
His letter to SI. Did just that. Apology accepted.
Have no idea how you rooted for Tressel. Or Ginn. Or Troy. Or Whitner. Or Robiskie. Or Stepanovich. Or Boone. Or Sims. Or Gonzalez. Or Hall (Roy and Marcus). Or Bryant. Or Fields. Or Hines. Or Terry. Or Browning. Or Gibson. Or Lighty. Or Lauderdale.
Even better: Mike Miller was amnestied by the Heat. One of the things that ticked LeBron off. Had they not amnestied him, Miller would still be under contract with Miami. They still have to pay him his guaranteed 6mil. Because he is getting paid, the Cavs might be able to sign him for cheap.
I want Cavs to sign Oden so tht at 1 point they could roll with a Irving-Wiggins-James-Bennett-Oden lineup. 5 #1 picks all t their natural positions.
Apologies. I have trouble with the sarcasm font.
scores of Cavaliers fans publicly burned their #23 jerseys in the aftermath of The Decision.
Scores? Really? You are better than this Ramzy.
Except Varejao's contract has 4 mil guaranteed. If we waived him, 4 mil would still stay on the books. That takes the 31 mil to 27 mil.
It is rather moot. Between a few extra 1sts and young, cheap players, Cavs can clear salary pretty quickly.
Congrats...you have a better understanding of the NBA salary cap than 90% of the national sports media.
Bosh and Wade opting out and re-signing for less is probably the only way he stays in Miami. If they both opt in, Miami has no cap space, little draft picks and no other tradeable assets. Their roster would be Bosh, James, Wade, Cole, Haslem, their draft pick and a bunch of vet mins.
Wade and Bosh need to restructure so that they take up no more than 30 mil this year, IMO. Even at that, James would have to take a decent pay cut to give the Heat more than 5 mil in cap space.
If it comes out that Wade is opting in, feel confident that James is leaving Miami.
My pecking order has always been Healthy Embiid, then Wiggins, then Parker. Shame for Embiid about his injuries, but he's too much of a risk to take #1. Wiggins is the clear choice for the Cavs, IMO.
If we want to use the Bird Rights to go over the cap to sign Hawes, his cap hold would prevent us from from signing James/Anthony.
Cavs don't have as much cap space as you say. If all FAs are renounced and Varejao/Gee/Hopson are waived, the Cavs will have about 27mil in cap space.
They could relatively easily create a lot more space by trading Jack, Waiters, TT and Bennett.
Dareus Hiley was probably the best Glenville kid I've ever seen. Too bad he never got it together off the field.
The Iberian Peninsula is getting owned this year.
How good is Pepe? He's missing the US game was well.