Fear The Elf
---
Member since 04 December 2010 | Blog
Recent Activity
Definitely should be called the Zook trophy.
https://en.wikipedia.org/wiki/John_F._Kennedy_High_School_(Warren,_Ohio)
They beat last years defending Division 1 champs, St. Edward, not once, but twice this year.
I was at the Regional Final a few weeks ago. Heartbreaking loss for Eds. They looked to be going in for the go-ahead TD late in 4th, but their QB broke his leg, and lost in OT.
Not that it would change the % that much, but 208 private schools or 208 private schools that play football? There are still some private schools that are not co-ed.
Warren JFK is also Catholic
I think #TheLand is doing ok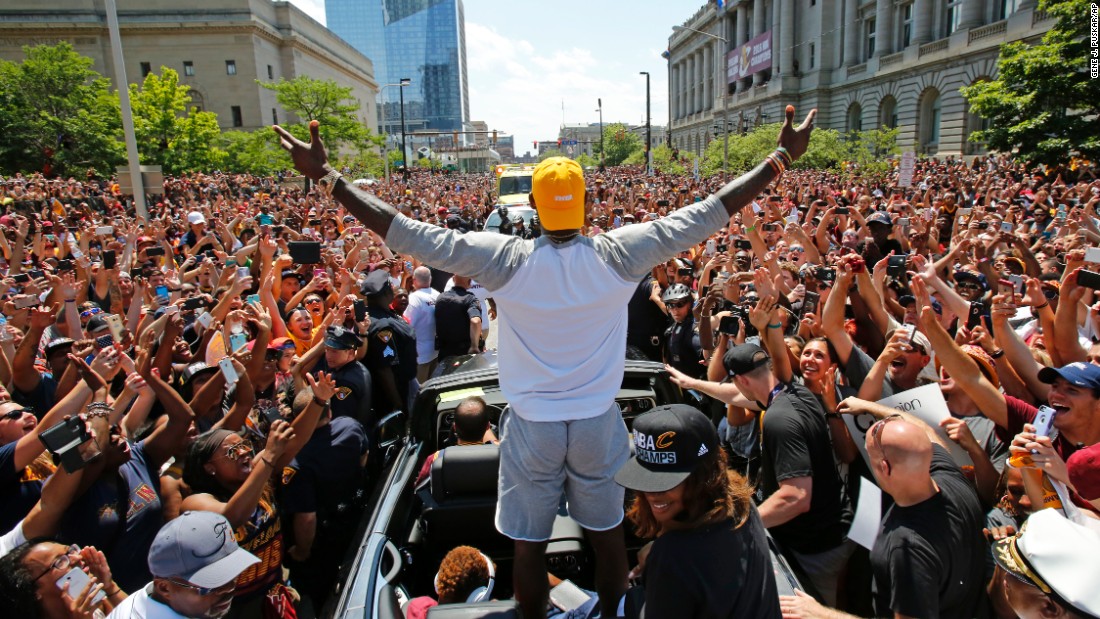 You've obviously never met a fan of any AL East team, save Tampa
Because the Tulsa lightning didn't prevent pre-game warmups from happening.
The lightning pushed warmups back to 7:30, and they need 90 minutes for warmup, so not really NCAA's fault.
If the 49ers win the SB, Harbaugh is still there.
And you original comment was still pretty douchey.
Cleveland completed a trade with the Philadelphia 76ers just prior to making the deal with Andersen in order to make things work under the salary cap
This is false. Cavs could've signed Birdman at any time. Trading away Kaun had no bearing on the Cavs ability to sign Birdman. It'll certainly save Dan Gilbert some luxury tax money, which is good because Kaun is not worth a roster spot, but still didn't stop us from signing Birdman.
I've given up hope that the average NBA reporter will understand the salary cap, but when respected reporters like Woj can't even be bothered to know the rules, we've got issues.
For every away playoff game, the Cavs hold a Watch Party at the Q. Tickets are $5, but it all goes to Cleveland charities.
As you can imagine, the demand for the Game 7 Watch Party is absurd. I am a season ticket holder, so I was lucky enough to get a special pre-sale. However, the rest of the tickets sold out in about a minute. Some of them were bought by scalpers who are now selling a $5 charity ticket for $100+ online.
There are less seats available because the RNC has started their prep work for the Convention. The Cavs then sold some more tickets for fans who wanted to stand outside the arena and watch the game on big screens. That also sold out in about a minute.
There is a petition for the Cleveland Indians to open up Progressive (formerly Jacobs) Field at it's 30,000+ capacity. The scoreboard there is huge and would make a great Watch Party. Please consider signing this petition. I'd very much like to celebrate with as many Clevelanders as possible on Sunday.
https://www.change.org/p/cleveland-indians-open-progressive-field-for-cavs-game-7-watch-party
I've always been pretty confident he would've gone to Akron with his HS coach and 2 of his HS teammates. Definitely back in 2003 during the OBrien era.
I also think his relationship with OSU is more business than fandom. Don't get me wrong, he grew up in Ohio, likes football, so he certainly likes OSU. But his true passion is for Akron first.
Not that there is necessarily anything wrong with one of the biggest college brands connecting with one of the biggest athlete brands. It makes sense, and I think has been beneficial for both sides. It wouldn't surprise me if his agency eventually starts signing NFL players, and he uses his relationship with OSU for inroads. Just be aware that it is more about business than it is about being an OSU fan.
Because adolescents who have had alcohol don't make the best decisions.
Yup. Sparty outexecuted us. Both players and coaching. Same thing for Illinois in 2007 or Wisconsin in 2010 or MSU in 2013. Sometimes, worse teams play better than us. It happens.
Hell, VT dominated our O in perfect conditions last year. Was that historically bad, or just 1 bad game?
We had way more players drafted than every B1G team every year for the past decade and a half, and a lot of the time, we were in the middle of the conference in most offensive stats. THAT is much closer to historically bad than 1 bad game in poor conditions.
Did none of you watch ANY games during the Bollman era? When we'd go under center when we ran and shotgun when we passed? Every year?
In terrible weather. With a sick RB. Against a good defense.In which neither team passed, so the clock never stopped, which limited the amount of plays being run.
No, the coaching for OSU's game was not historically bad. It was bad, and probably the worst we've seen since Meyer came to OSU, but the hyperbole is starting to run wild.
This was ONE game. It was to a pretty solid defense. It happens. Nothing really historic about it.
Booing has been a part of sports forever.
No, I am going to point out the flaws in your logic.
It's like we're all following the PTI/First Take model where you take an extreme position and must shout at someone who is shouting the extreme opposite position. Either OSU coaches are infallible or OSU coaches are not fit to coach Pop Warner, and there is nothing inbetween.
Truth is this probably wasn't their best coaching job all year, but we're still sitting at 10-1, so not a whole lot to complain about.