faux_maestro
---
Cbus
Member since 12 October 2011 | Blog
Favorites
SPORTS MOMENT: January 3 2003, Tempe Arizona, Sun Devil Stadium.
COLLEGE FOOTBALL PLAYER: J.T. Barrett
COLLEGE BASKETBALL PLAYER: AARON CRAFT
NFL TEAM: Bengals
NHL TEAM: CBJ
MLB TEAM: REDS
Recent Activity
Exactly. The occasional pizza party doesn't hurt either.
I can rock out sometimes. A lot of the pop/rock arrangements for orchestra are really bad but I found a good arrangement of Purple Haze by Hendrix to do with my high school kids in my last job. One of my viola players was a good guitar player so he ditched the viola and dressed up as Hendrix and played the solo lines. One of the bass players got the privilege of playing my electric bass and we pulled in a kid from the concert band to play drum set. We turned the amps up to 11. I was the cool teacher after that.
Les Claypool is one of my bass heros (I'm a bassist) along with Cliff Burton, Charles Mingus, Edgar Meyer, and Jaco Pastorius. All different styles. All amazing.
Music is one of those things that can immediately transport you to a time and place in you memory. Listening to some "...And Justice for All" today took me right back to my best friends house the first time I heard that album. His parents weren't home and we cranked "Blackened" and just thrashed about in the living room. Good times.
I'd say Kobe the rapist deserves it.
I've always heard that the surviving members of Metallica purposely turned down the bass on "...And Justice for All" as some sort of tribute to Cliff/ they wanted to screw with Jason. Has this ever been confirmed or is it just an internet conspiracy theory? I wouldn't doubt it, they treated Jason pretty badly at times when he first joined the band. He was, in a way, the stand-in for their rage over Cliff's death.
I've seen guys' heads spun all the way around.
Ken Anderson vs. the Steelers:
Ole Miss spun it to friendly reporters as "Nothing to see here" in regards to Hugh Freeze's program.
He's a soft commit: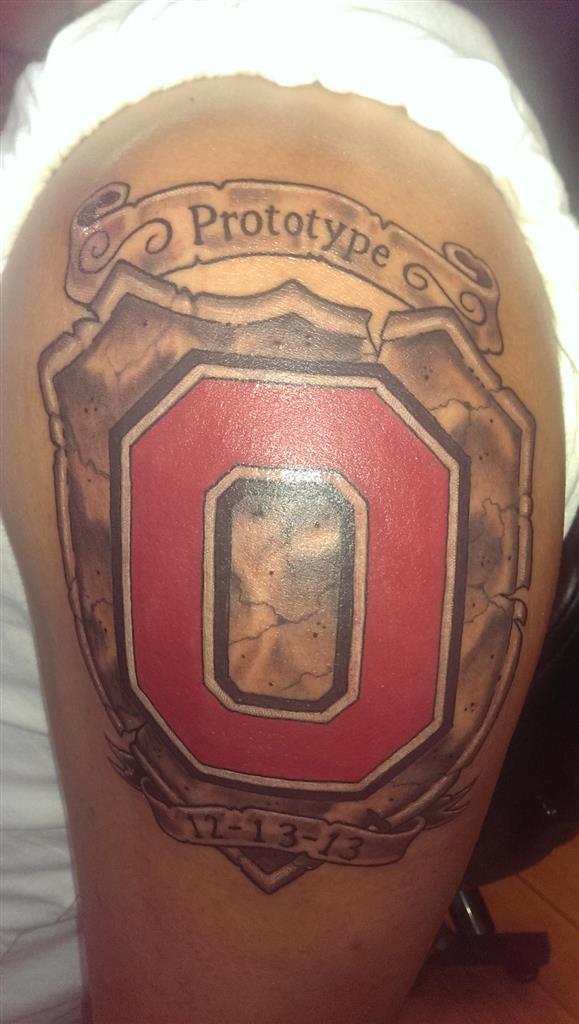 Still waiting for diamond formation.
The game was either a defensive struggle or it was really sloppy, depending on your perspective. I'll say this, the next pass I see from Cam Newton where he shifts his weight through the passing motion and drives the ball down field will be the first.
Ima leave this right here:
P.S. I have no problem with Cam celebrating all year. But if you're gonna do that, don't walk out on the post-loss Super Bowl press conference.
Kirk Ferentz in the same sentence as Woody Hayes? PUKE!
I'm all over the Newmans pizzas. I usually dress them up a little, some Italian seasoning, either sriracha or Franks Red Hot and then some extra cheese. The Newmans spaghetti sauce and salad dressings are good too.
As stated above, fuck that dude.
When comparing coaches and saying "coach x=coach y" I want objectivity, not subjectivity. If we want to get into the other I guess we could somehow compare recruiting rankings and records. In that regard I would bet Thad would come out on top. Richt has had some unbelievable classes and done not really come close to a national championship, unlike Thad. The Chris Jent comment I am behind all the way (see my above comment). This iteration of the coaching staff has underwhelmed. Remember what happened to the football team and the defense with a shakeup of the staff (bringing in Ash and Johnson for Whithers and Vrable).
To limit Thad's numbers to just OSU then it is: 11 seasons completed, 5 regular season championships. There's also the 4 B1G tournament championships, the NIT championship, 2 final fours.
Mark Richt: 15 seasons, 2 conference championships. Thad Matta: 16 seasons, 8 regular season conference championships (between Butler, Xavier, and Ohio State). Is it still fair?
The original comment was "Thad won't win championships on a regular basis". Under that criteria it's only Coack K among active coaches.
I'm trying to stay positive considering the team has gotten better over the course of the year. Right now I'm hoping we see a shakeup of the staff, not Thad though. Some new blood among the assistants. We have lost a lot of good ones and it seems the current iteration is where we have seen the decline in performance. This isn't meant to take heat off Thad since he makes decisions regarding who the assistant coaches are.
And you are lying to yourself if you think he didn't end up with the highest bidder.
*dons tinfoil hat* NATIONAL SIGNING DAY CAN'T MELT 12W STEEL BEAMS.
What a bunch of losers.