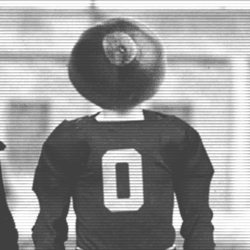 Fatpants
---
Member since 25 June 2014 | Blog
Helmet Stickers: 806 | Leaderboard
Just a fat guy killing time at work. THE Ohio State University, Class of 98.
Favorites
SPORTS MOMENT: Cie Grant in Ken Dorsey's face for the win
COLLEGE FOOTBALL PLAYER: Marcus Hall, for the obvious
COLLEGE BASKETBALL PLAYER: Meh
NFL TEAM: Meh
NHL TEAM: Whuh?
NBA TEAM: Blah
MLB TEAM: Boring
SOCCER TEAM: Hockey on grass. Meh.
Recent Activity
Yes. You can't hold him to a higher standard just because he hasn't seen the field.
Don't be so tight-lipped, son. Tell us what's really on your mind.
Jimbo Fisher is full of shit.
The dude in the middle is showing some serious nip.
F#&ked Squirrel University!!!!
Ask any teacher. Parents complain about EVERYTHING!!!!
Ok, Carter vs freshman Hankins in belly bump. Who wins?
Also, rbs take note. He will flatten you without trying.
I'm impressed with what Stanford has been able to do on the field in light of their academic standards.
I think the guy is a big talker. His body of work at Vandy, while noteworthy, isn't terrific. He'd better back it up this season or the veneer will wear off.
Wimbush is already flirting with Stanford and I'd bet his other gems will get wandering eyes when psu struggles this year. "Compete in three years" is a much tougher sell than "go to playoff now."
Franklin can say whatever he wants right now. Once they suck this fall he's going to have his work cut out keeping his class together.
It's my understanding that Ray's victim stuck up for him to Roger Goodell. That's the reason the state takes over in domestic violence cases. Abusive relationships can be tough to get out of and all too often victims forgive and defend their abusers.
Knock her out? Two games. It would be laugh worthy if there weren't an actual victim and it didn't set a horrible example.
but but but Joe told his boss he did what he was supposed to!!!!
Aaaaaaaand there's one more thing ND can't beat us at.

Given that this is penn state, probably said something against the Cult of Joe.
I think no matter what he needs to get a lifetime ban from the NFL. We don't need his kind corrupting all of the woman beaters (i'm lookin at you Ray Rice) with the devil's lettuce.
Not the first time. michigan did this with Yuri Wright. His tweets were bad.
And the guy before that jumped on the first outbound train. (After getting his ass historically handed to him that night in Columbus)
I would agree that this was a legal decision. I'm not going to cluck and wag my finger and tell the band alumni "NO, THIS WAS BAD FOR YOU AND YOU WERE HARMED BY THE DEMON WATERS" when apparently the overwhelming majority say it was harmless.
I know a lady that dropped out of Ohio State after two years because she got a flight attendant job.
Looks like two years at Ohio State will get you the same job as a michigan diploma.
He needs to knock off the "leaders and the best" garbage. Nothing like telling your mediocre-assed team that they're the best.
I bet his belt is feeling the pressure.....