FairfaxBuckeye
---
Member since 27 August 2013 | Blog
Recent Activity
Thank you.
I never knew that kind of law was on the books. Interesting.
It's an interesting question and the expert said typically charges do infact get dropped if the accused dies prior to the trial (as there is no one to prosecute).
If you would not mind clarifying this, I would appreciate it. He was already tried and convicted on one murder. He was in prison serving a life sentence for murder. Thus he was already prosecuted. Its not clear why charges would be dropped AFTER prosecution, because he killed himself in prison while serving his sentence.
They could've, at least, signed him up for one of their famous "no-show" classes, if it had to be an 8:00 AM class.
For what it's worth, I will pass along one thing I am aware of with Bobby Knight. After Fred Taylor suffered a brain aneurysm in 1996, he lived in Mill Run Gardens & Care Center, until his death in 2002. Bobby Knight regularly visited Fred Taylor throughout his time there and provided the financial support for Fred Taylor's care there.
My Grandfather was at this facility off and on between 1996 and 2000, and Bobby Knight would stop and talk and spend time with my Grandfather, when he was there. My family and I had the opportunity to speak with Coach Knight on several occasions while there, as well, and he was very nice in the conversations I had with him.
So, while much of his behavior is well documented, I did want to share a different side of him that I have personally seen, and been made aware of, FWIW.
A very bad look from Stacy Elliott with his tweet, particularly given that Chris Spielman didn't say anything about Zeke on the Cancer Cruise, and moreover the work that Chris has done with The Stefanie Spielman Fund for Breast Cancer Research.
Him including the picture of the house covered in ice along Lake Ontario in New York is interesting.
I guess MENSA doesn't know geography.
Things like this make me despise our "fanbase" sometimes.
I just have to say, it is pathetic when adult men resort to calling a college kid names because Ohio State football is so significant in their lives. Not only is it pathetic, but your life straight up sucks.
I agree with your comments completely.
I sat next to the family section at the Fiesta Bowl, and was completely disgusted by the comments Ohio State "fans" were making to, and in front of the families of the players and coaching staff.
Sadly, that is just the most recent example of this kind of thing I can point to.
Many Ohio State fans can be better--much better!
Very sad news. Rest in peace, Corey.
Stinks that they spoiled the kid's moment.
1957 throwback uniforms for the anniversary of the National Championship?
+1 to you for countering the down vote and to counter the down vote you received on this post.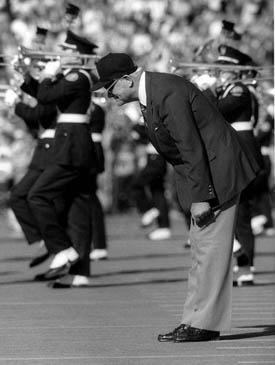 Yes, per the link to Ohio State's site: "Children under the age of 6 are free in the general admission areas only (everyone in club seating areas will be required to have a ticket)"
This makes sense, since the club seats are assigned seats, while the rest of the seats are general admission for the Spring Game
Urban did that of his own accord, his father never made him do that
Could be, but FWIW, it's been reported differently...
http://www.nytimes.com/2007/01/07/sports/ncaafootball/07meyer.html
Yes, it's horrible to have a two-time Big Ten QB of the year, and 2016 Silver Football award winner as the QB at Ohio State.
Bruce has already been dismissed by Miami so he's well on his way to not living up to his potential, unfortunately.
Yes it was done at Walmart, as well.
Beck was so shitty he's the OC for Texas
And, Jim Bollman is the OC at Michigan State.