FairfaxBuckeye
---
Member since 27 August 2013 | Blog
Helmet Stickers: 454 | Leaderboard
Recent Activity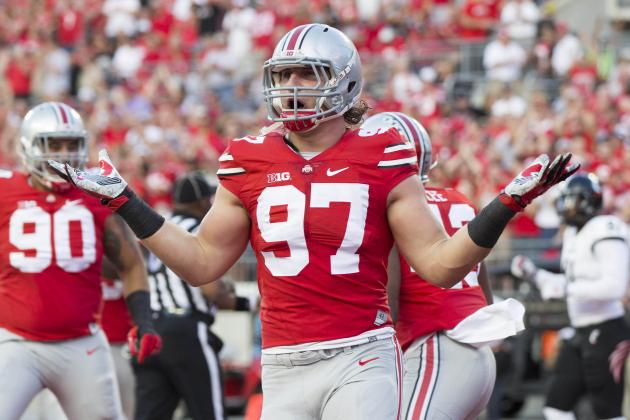 Why did the blind squirrel have to find the nut in Columbus vs. Ohio State?
He tweeted last night: "When one door closes another one opens up."
Hopefully the door closing was not his scholarship offer from Ohio State.
Miami sanctions:
- 3 year probation for entire athletic program
Football Sanctions:
- Loss of 9 total scholarships over the 2014, 2015, and 2016 seasons.
- 2 year self imposed post-season ban
Men's Basketball sanctions:
- Loss of one scholarship in each of the 2014–15, 2015–16, and 2016–17 seasons.
Coaches:
- Former Miami men's basketball coach Frank Haith was suspended for the first five games of the 13-14 season.
- Three former Miami assistants--Aubry Hill(football), Clint Hurtt (football), and Jorge Fernández (men's basketball)—each received a two-year show cause penalty.
Drive! Drive on down the field; Men of the black and scarlet (socks)...
It was not a neutral site game. It was a Navy home game. Under Armor put out special 'Summer White' uniforms for Navy to wear. As they were wearing white, Ohio State wore their home uniforms.
I think its complete BS that people use this word ...
You could just stop here.
Ohio State just needs to win out and things will take care of themselves--and all the nonsense the talking heads spew out before the end of the season will be meaningless.
In the photo from above, the facial expressions of the fans in the crowd, to the right of Buck-I-Guy Idiot are great!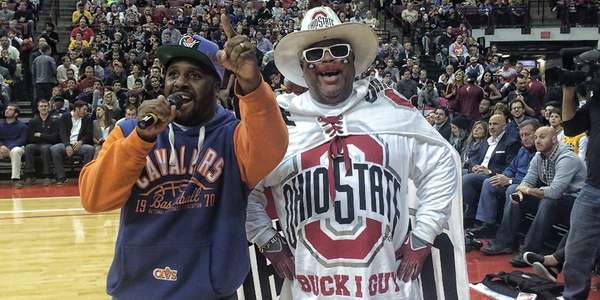 This picture of him, in a t-shirt with a picture of himself on it, from his website, promoting himself, says it all...
Football makes money, but as it always noted, the B1G cares about the educational side of it more because it makes more money.
Yes research dollars are in $ billions. Money from athletics is in $ millions.
They will finish 4th - 7th.
Nkemdiche will make Tennessee pay like Jefferson did versus Lincoln
I'd like to see Burrell, Gallimore, Baker and Wariboko along with whatever combination of Harris/Gibson/Cager space allows for.
Every time I have been there I have stayed well outside of State College.
Traffic in and out was a mess.
The fans were, by far, the least hospitable I have experienced in the Big Ten, and I have been to every Big Ten campus (except Rutgers).
The academic side of the Big Ten Conference, the CIC, has a combined ~$9 Billion in research funding. AAU standing and research dollars are certainly a big part of what is considered by Big Ten schools when looking to expand.
TV revenues for athletics are in millions of dollars. Research is in billions of dollars.
Oklahoma and Florida State are not members of the Association of American Universities, which is something the academic side of the Big Ten, the Committee on Institutional Cooperation (CIC) has wanted. (Nebraska is not currently in the AAU, but they were when they were accepted to the Big Ten. They were subsequently kicked out of the AAU. I've read that they are going to apply for reinstatement to the AAU soon.).
The CIC conducts a combined $8 Billion in funded research, so what they desire is considered.
I wonder why the Penn State team doesn't wear white when they do a whiteout...
They can sell an additional 17,000 seats by playing in Baltimore. Even at $50 a seat, that's an additional $850,000.
In addition, Maryland has plans to add an additional 8,0000 seats, but a construction date has not be set.
Yes. I was responding to the Dcbuck's comment that the game was not even sold out.