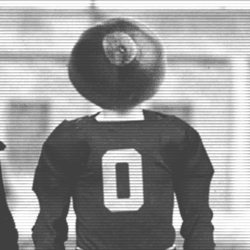 exnwohiobuckfan
---
Member since 19 June 2014 | Blog
Helmet Stickers: 152 | Leaderboard
Recent Activity
That throw looked almost effortless. That boy has a cannon
For some reason, I am oddly compelled by the Mizzou-UT game.
So Joey is only 4 years older than me. Damn, I'm getting old.
I can never figure out which I like more. The chinless chicks face or the "who farted?" Look from the guy behind her
When the power 5 get their own thing With added benefits for their athletes, there could be a lot of transferring from the smaller schools when guys who were overlooked blow up in the small schools, making the small schools even less competitive.
And he even used sarcasm font. What is the interwebz coming to these days?
It's a schooner
This would be an excellent place to use the Billy Madison bit. I'm on my phone so I can't
Mahi tastes way to good to mount. Just my humble opinion.
Sweat. This is a no brainer.
Especially since Mickey still seems very sure that he is coming.
The underverse
I don't know if he does, but considering this is his first hc gig, I would guess not.
He was built so good, his muscles had muscles
I would take that all day long
They played Sunfest in west Palm a month or so ago. I couldn't bring myself to see them without Lane Staley
My wife and stepdaughter love that song. I ended up with it stuck in my head. It took all my will power to keep me from ending my life.
And that is a handy piece of information to have
The supervisor that I talked to tried to tell me his name was Gary. I laughed
Wait a minute, I take Coumadin.
Or just make it an art class
I feel your pain, dj. Except my issue is Comcast, who I really believe use the same customer service people. I have to reset my modem at least once a day. It has taken me 3 phone calls, the last of which I was quite unpleasant, to finally get them to send someone to look at it.
I got the same response from my boss.
This is who I thought this article was going to be about.
They were found in the police car, and if he was the only one placed into that car, the charges will definitely stick