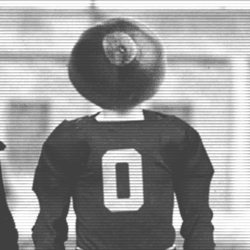 EwanJobi
---
Member since 04 January 2014 | Blog
Helmet Stickers: 137 | Leaderboard
Recent Activity
Hold up. Torrance Gibson is thinking about visiting?

You said one of the three characteristics you were looking for in a college program was the opportunity to win a national championship. Do you like Ohio State's chances next year? Any thoughts on the state of the 2015 class towards achieving this goal?
One of the best names ever.
Your commitment broke the "drought" so to speak. Can you talk about any of the conversations you were having with the coaching staff at the time? Did the lack of commitments factor in to your decision to commit when you did?
Even cookie monster is at a loss for words...

Almost makes you think he did that because Ohio State is still holding out for Gibson.
You said that when you received the offer from Ed Warriner you thought everyone was surprised but you. Could you expand on that? What did you know about yourself that others didn't?
4-star QB Deondre Francois (@Deondre_3) is at Auburn today, plans to visit Tennessee and Ohio State this week. Decision coming next month.

— Tyler Donohue (@TDsTake) June 17, 2014
Well, it definitely doesn't help when we keep getting love from eligible QBs in the 2015 season.
Does Deondre know were only taking one QB?
I like that we're quoting Ari Wasserman regarding Dwayne Haskins Jr., but not Travis Waller. I realize they are in different recruiting years, but the kids essentially said the exact same thing. It seems like at the end of the day it's anyone's best guess.
The QB soap opera continues...
That's some premium parking in that picture.
That was a great story. Was it just me or did anyone else feel a little bad for Green after reading this part.
Johnson tracks down Green and pulls him out of the drill. He brings him over and says, "We're not going to offer you because you're not good." Green interjected by saying, "I'm not done working for this." Johnson smiled and said, "But we're going to offer you because you're great."
Well played Coach Johnson. Well played.
I love that in 1904 there's a picture of a student feeding another student. Strangest thing I've seen all day.
If they give both kids the chance to the commit for one spot it's hard to see it damaging any goodwill.
Also, given the limitations for the size of this class, it'll be very difficult to be a top 2 class unless OSU lands a half a dozen 'five stars'.
Or goes the cool kid route and oversigns an extra half of a class.
With Chris Ash looking to install a coherent defensive strategy, Fickell can spend more time on his responsibilities as a position coach.
This is quite the gem hiding at the end of the article.
I'd like to believe he looks something like this...
The season can't get here soon enough.
I realize at this point that it's just hearsay, but why would we tell a kid he's our top QB and not offer him?
Yeah, I get the Alex Smith comparison. I guess I was reacting to his highlight reel when he was running vertically. It brought back some good memories.
Our new commit, Burrows, reminds me a little of Pryor. He has that deceptive speed and long stride. Now if only he can bulk up and add that stiff arm...
It's hard to get too worked up considering he still hasn't actually made a visit up here.
You'd think they'd fill the stands a little more...
FSU proved last year that strength of schedule is nice, but not necessary. I'd rather see convincing wins over all opponents.
One of the best explanations I've read for the jumbled, hot mess that was the series finale. Somebody upvote this man.