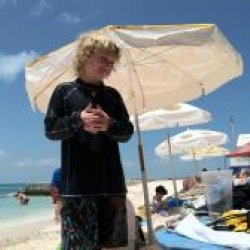 EvanstonBuckeye
---
Member since 28 September 2012 | Blog
Helmet Stickers: 2,744 | Leaderboard
Favorites
SPORTS MOMENT: Sad to say, 8th grade year. Last minute red zone stand versus hated rival and I make a tackle at the three-yard line to save the game. Long gap... then I ran a marathon when I was 30. Not exactly Highlight Express.
COLLEGE BASKETBALL PLAYER: Evan Turner
NFL TEAM: Pittsburgh Steelers
NHL TEAM: Chicago Blackhawks
NBA TEAM: Chicago Bulls
Recent Activity
I'm guessing they're factoring in character issues and the fact that he's already committed.
One thing I'll say about Coach K: his post-loss pressers are, generally, exceedingly classy. He talks X's and O's and how the other team deserved to win, all without trashing his team.
Jabari Parker, we hardly knew ya.
This is so true. Feast or famine.
The team will be fine. I am bummed for Jalin. It takes a lot of maturity for a young adult to weather adversity like this.
There is no way that this story has a happy ending.

Iowa/Tennessee winner over UMass.

Or in intervals and really keep teams off balance. Take advantage of Craft, Scott, and Smith, Jr.; three very pesky defenders.
Never enjoyable to lose, but today was more encouraging than discouraging.
The dude has played very, very well at an international level, while a lot of college players plateau pretty much right at the point where they're recruited. I know sometimes it looks funky, but he knows how to score. Some guys have it, some don't.
For the older folks on the site, think of Jay Burson.
Wouldn't this slow our offense down ridiculously?
It's hard to imagine it any slower than it is at various stretches currently.
I'd be very surprised if Russell does not start. He can play both guard spots, which gives you a ton of flexibility in your rotations.
It will definitely happen. The number one seeds this year, especially, will be pretty watered-down or unproven (Wichita State). It's not impossible to imagine an upset when a team that's given the number one seed undeservedly or a 16 seed undeservedly get together.
Nature of the biz. Good luck to him.
Except if it's the last twenty seconds and you need a stop.
Give Groce credit for keeping Illinois competitive as they played out the streak. The Spartans are a head-scratcher at this point.
The B1G tourney is going to be carnage. I always worry about the disparity in the refereeing between our conference play and the NCAAs, but I think most B1G teams will be more than happy to play a non-conference foe. I've rarely been so happy with a 10-8 record.
ESPN is giving this some pub, trying to create a story. This is a good decision. If a kid gets hurt in the 8th OT, they'd get crucified.
She's on her way out. He'll choose another clown. It's tough to find able captains who would want to take over a sinking ship.
The Curie loss in the first round of the playoffs was poetic justice, though, and a break for the IHSA.
Yardbird for brunch. Awesome and very, very fun people-watching in a decidedly un-icky Miami way.

Great Dean Smith article. Talk about an amazing life in basketball.
That Frank Martin/Pitbull tweet is fucking priceless.
I'm yelling "Timber!"
Oyster, I don't see a sarcasm font. Can this be true?
Still no offer, though, per Gene.
I thought Jake Butt was impressive last year for Michigan.

Said all the right things. Reminds me of McMillan's visits and interviews from last year.
Beckman can't recruit Illinois, either, so there's that...