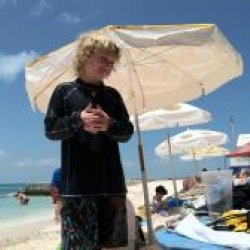 EvanstonBuckeye
---
Member since 28 September 2012 | Blog
Helmet Stickers: 3,986 | Leaderboard
Favorites
SPORTS MOMENT: Sad to say, 8th grade year. Last minute red zone stand versus hated rival and I make a tackle at the three-yard line to save the game. Long gap... then I ran a marathon when I was 30. Not exactly Highlight Express.
COLLEGE BASKETBALL PLAYER: Evan Turner
NFL TEAM: Pittsburgh Steelers
NHL TEAM: Chicago Blackhawks
NBA TEAM: Chicago Bulls
Recent Activity
Cass Tech pipeline membership?
Isn't that a song by the Bangles? Love me some Susanna Hoffs!
Bring it to them in the first half. Take care of the football, especially early. Be patient on offense; not every play needs to be a touchdown. Don't let Gardner make the big scramble play (make him earn it; here's guessing he'll make a few mistakes). Shut down a very average to weak running game to make them one-dimensional. Make special teams play special like last week.
If the Bucks do all (or most of these things), they should be in total control the second half.
C'mon! If it's just The Game, Tress is 9-1. I love Urban, but Tress completely reversed the Cooper Curse and got two Michigan coaches fired in the process. Just short of dropping off a case of beer at everyone's doorstep on the morning of, you can't ask for more from a coach.
Gardner's lack of development over his four years is stunning, perhaps as strong of an indictment against Hoke as his won-loss record.
I agree. I think he would do very well. I don't know if there is any interest, given that Arkansas could be the Miss. St of next year in the SEC, but I think you're right.
A lot being made of the jet-sweep TD passes. I'm not sure why. Geno Smith got fat on these a couple of years ago and nobody said a thing. If it accounted for 75% of his TD passes, there's an argument. As it is, it's just another way to get Jalin in space and another wrinkle to have opposing DC's up all night.
I wouldn't take either QB in a fantasy league, that's for damn sure.
I'd be interested to see what Birm says, but I think you're right. I think the ship on Harris has sailed and Scott's an Ohio boy: if he wants in, it had better happen quickly.
He won at Happy Valley, too. Not the worst year for an intro to B1G play.
Wow. Something about raining and pouring...
I know that Bielema is an easy target, but he'll have beaten Ole Miss and LSU (perhaps both by shutouts), and lost to Bama 14-13.
He is putting together Wisconsin South in the SEC and poised to do very well.
The kicks to the "corner" are by design and kicks out of bounds are going to happen. I think we could mix it up by kicking straight and deep from time to time, but I don't think we're giving up field position consistently.
Bo Wallace looks like he's done for the day, or at least the half. Ole Miss is not a "come from behind" type of team, especially without Laquon Treadwell.
Exactly. In fact, watching our game today made me feel like it was an "FSU" type win. Exhale everyone.
Ole Miss is going down hard today. Not even close to the level of a VT loss, but another blow to the notion that they were an elite team, Bama upset notwithstanding.
I don't think today is going to hurt us as badly as people think. The storylines (JT's four touchdowns, us clinching B1G CG berth, Jalin) will be the stories of the week. Will teams lick their lips at our sudden inability to hang onto the football? Perhaps, but if Ole MIss loses (down 17-0) and other teams "struggle", then we're off the hook.
No, no, no. Mixon is out for the year for that. Perine.
He would be dancing and thirsty and telling his friends how much he loved them.
... at least that's what people tell me it does.
I can't help but think that Taylor has a lot of interest in us, and that he wants to hang around long enough to possibly commit if it heads that way.
Not a playoff committee, a hall of fame for posts.
I must say that I thought that Spence's career was over with the second failed drug test and, frankly, had to concede that this would have been a totally fair, if unfortunate, ending.
That said, his continued presence around the team, Meyer's support, and Birm's suggestion that he could get a third chance suggest that the wheels of bureaucratic forgiveness via a reprieve are in motion. I would be shocked if he was continuing to pursue reinstatement and the team was sponsoring it without NCAA and B1G approval.
I mean, what kind of player just suits up when in the midst of a suspension? Oh yeah, Jameis Winston.
That being said I love the thought that PSU is literally one play away from being 9-1. Just ponder the cosmic implications of a single play changing the outcome of three separate games.
This is so true. I've never seen a group of seemingly adult people pretend games and plays didn't happen or could happen differently. There is some immaturity in every die-hard fan, but theirs borders on infantilism.
It's amazing how the rumor mill works with recruiting scuttlebutt. Rivals, which is pretty reliable, is still reporting that we have no room for Taylor, even though Birm (more reliable) has noted that this was just underhanded recruiting by other schools. I'm assuming the air has been cleared and that Taylor's visit will be free of this hanging over his head. Personally, I think we can seal the deal with a great visit and be done with DBs.