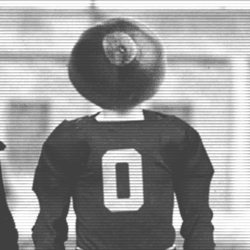 ELJTSA76
---
Member since 12 June 2014 | Blog
Helmet Stickers: 31 | Leaderboard
Recent Activity
I was tired of him two years ago.
How disappointing is this? I would be so pissed if I had season tickets. But I know OSU doesn't care what fans think, as long as we keep giving them our money.
Would we be happy if UNC is replaced by BAMA ?
I think that would work for me.
Welcome to the Buckeye family Jashon!
I see you working the other recruits out there and doing a great job. Question is what do you think about an ELITE 15 DL class of yourself, Gallimore, Wilkins, and Sweat? Amazing, and possible . . . Have you been in contact with any of these guys, specifically Sweat? You two would be incredible bookends, and anchors for a championship calibur defensive line!
Probably ask him about Chris Rainey and Will Hill . . . sour.
This is surprising if true. Having said that, I seriously doubt Meyer's sincerity here. He has a track record of saying things to the media that he thinks will motivate a player, even if it is completely false.
Whomever does win the backup position will be deserving; I have no doubts about that. But this competition is certainly not over. That is an absurd statement.
The only southern neutral sites I would consider are Nashville at Titans stadium, and Jerry World. Can't think of any others I would schedule. But I'd love to see H&Hs with any of the middle/upper tier SEC and B12 schools. I wouldn't mind just scheduling more of these with the PAC12 either. Of course I see great value in doing these neutral site games in Chicago, NYC, and DC - which I guess is kind of southern.
Dr. Miller, your patient is ready in O.R. number two.
I would prefer to go back to the 2002(?) jerseys from his rookie year. I don't care about sentimentality or symbolic gestures there - I just like those the best. The Cavs need to stick with something for a while for once. This is why they don't really have an identity of their own in the league, historically speaking. Their longest tenured look was a NYK rip-off. Glad they went back to the W&G colors. That is a great look.
Wouldn't it be cool if LeBron drove down from Akron to hang with Meyer at FNL for the day? It is open to the public.
Any word on who the guest coaches will be this year? I know it has been mostly former players the past couple years.
That is disappointing news. I don't know enough to comment any more than that, but . . . Wow.
Man, we are scraping the bottom of the barrel with a story on Curtis Grant's legacy. Kickoff can't get here soon enough for any of us it seems.
I believe that UM's record is actually 2-11 during the time period discussed. I do get the point of making the numbers parallel to tie the story together however.
When we vacated our wins from 2010, that does not effect the official records or the teams we played. Our opponents kept those wins and losses.
Sweat seems to have the same priorities as Cornell - at least, based on what has been quoted and printed. Maybe Cornell can help OSU here if there is any kind of relationship. I know almost all of these kids have seen each other at various camps, so who knows?
What a great debate. These kind of thoughtful discussions definitely set this board apart. I favor taking care of the players a bit better, rather than paying them. The "going hungry" mantra is absolute BS, and I cannot believe so many subscribe to that. High level collegiate athletes are taken care of - much better than the average student already, in my opinion. The issue here is that, increasingly, the value of an education/degree and a debt-free post-collegiate life are viewed as inconsequential. Forget about the fact that these school do pretty much anything to keep athletes eligible, by providing as much "support" as is necessary. And the nutrition, coaching, publicity and marketing, housing, and post college opportunities are nice, but . . . I am not so persuaded that this is a terrible life for 2-4 years - certainly not worse than other college students or other college athletes.
However, I think we can all agree that the NCAA can do almost everything better than is has for the last 30+ years. I don't know what the best answer is, but we'll get some kind of answer within the year.
You can tell he's trying to play it evenly - and not give anything away. But the fact that he has made two unofficial visits to tOSU speaks volumes. Kirk is serious about the Buckeyes. I don't know if he signs, but you can't ask for much more than this from a recruiting perspective. Is he a NLOI Day decision?
Gotta love it when an Ohio kid camps and throws a wrench in the numbers game with a stellar showing. I've liked Connor for a long time and hoped he would finally receive this offer. Congrats Nick!
i don't know what his career will look like when it is finished at tOSU, but I am pretty sure Connor will be remembered with with wide smiles all around. This kid is all heart and all Buckeye, but he has plenty of talent to back up this offer too - as Coach Meyer confirmed for us today - well, yesterday it looks like according to my phone. Connor is a foundation block-type of player, all things considered, the kind of kid that is worth more than just a summary of statistics, and will prove to be a leader by the time he is done here. This is a perfect example of the home grown player OSU needs to keep in-state, and I'm glad to see that will happen indeed.