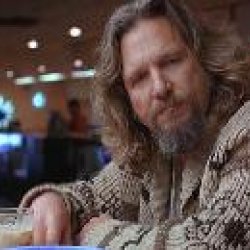 el duderino
---
Member since 07 October 2012 | Blog
Helmet Stickers: 461 | Leaderboard
Favorites
SPORTS MOMENT: Braxton Miller to Devin Smith versus Wisconsin, 2011. Or "Holy Buckeye." Both still give me the chills when I think about them.
COLLEGE FOOTBALL PLAYER: Troy Smith
COLLEGE BASKETBALL PLAYER: Ron Lewis
NFL TEAM: The Browns
NHL TEAM: The Blue Jackets
NBA TEAM: The Cavs (or whoever is playing the Heat)
MLB TEAM: The Indians
SOCCER TEAM: The Crew
Recent Activity
I don't have much, but here goes: it's 6:20, and M*CH*G*N STILL SUCKS.
Also, if anyone remembers, the last time we faced our rivals on the football field, we won!
Wonder if IU will rush the court?
"It takes a big man to admit when you're wrong, and I am that big man."
-- Michael Scott
I just wanna reach through the screen and punch Tom Cryan in the face. That would make today okay.
I guess you can lay on our players, and it's not a foul. Yup.
Yup. Started at the hockey game, continuing now... Too bad this "winter storm" couldn't deliver a magical March snow day tomorrow.
MOTHERyouknowwhat... Watched meatchicken beat the buckeyes on the ice live, and now this... Can I just get a win today? Please??
Surprised there wasn't a foul called on Farrell's drive... Could have sworn tOSU breathed on him wrong.
Aaaand the ticky tack fouls on tOSU continue.
No F**CKING foul on Sheehey?? Of course.
LaQ is out. AIOSDFAHREIFHGVDFSKVNCSV DFKDCXN. (Translation: Game. Over.)
Refs are doing all they can to even out the foul disparity. Good on them.
Every 4 years? Really? Do you you have a memory longer than 3 years?
Can't believe you take out LaQ. Even with 3 fouls, he's all we have going on the offensive end. Just have him back off on D.
For some reason I can't explain, I have a feeling we are gonna win this. Calling it right now.
We are playing awfully. And yet we are still in this.
5-14... I shot a better % when I played rec league. In 6th grade.
Our offensive looks are pitiful...
Is Sheehey Tom Cryan's son? His face is just about as punchable.
All I can think of when I see it is him putting his face right by a tOSU player's elbow (I forget who?), then flopping, looking for a bullsh*t offensive foul (at Cryan's suggestion). I hate both of them.
I know it's been said countless times on the post-game article, but I'm still pissed about that game last night.
I just keep replaying LSJ's ill-advised threes, imagining him instead driving to the hoop on EITHER OF THEM, sinking the lay-up, getting a foul called because someone from PSU breathed on him wrong, making the free throw, and thus avoiding the dreaded courtstormingcausewebeatasixlossrelativelymediocreteamGOJOEPA!
Are these refs serious? Apparently every basketball play is a foul in their eyes.
...And the announcers, who just called it the "perfect play" of the first half.
As was that miss by Trey at the buzzer... C'mon man!
These refs are absolutely awful.