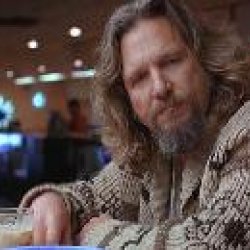 el duderino
---
Member since 07 October 2012 | Blog
Helmet Stickers: 511 | Leaderboard
Favorites
SPORTS MOMENT: Braxton Miller to Devin Smith versus Wisconsin, 2011. Or "Holy Buckeye." Both still give me the chills when I think about them.
COLLEGE FOOTBALL PLAYER: Troy Smith
COLLEGE BASKETBALL PLAYER: Ron Lewis
NFL TEAM: The Browns
NHL TEAM: The Blue Jackets
NBA TEAM: The Cavs (or whoever is playing the Heat)
MLB TEAM: The Indians
SOCCER TEAM: The Crew
Recent Activity
Wherever he goes and whatever he does on this site, Bass will always be known for his Custer's Last Stand-esque defense of 1D.

And that's what makes 11w beautiful.
Mine, too.

In fact, they brought me out of an unintentional (but definitely off-season related) commenting hiatus.

It's good to be back.
Interesting wrinkle to this: George Whitefield's resume (from the link in the article) has a video of his "highlights" from afl2. What gives? Did he just claim someone else's highlights as his own? Or did he actually play some?
On your last three points, Agree, Agree, and Strongly Agree.
I went to this movie because to that point, M. Night Shyamlan could do no wrong in my book (The Sixth Sense, Unbreakable, and Signs are some of my favorite movies of all time). I cannot underscore how incredibly disappointed I was. Not only was it bad just in general, but that was compounded by how utterly it failed to live up to my (admittedly high) expectations. Possibly my worst movie theater experience ever.
I would bet you only watched it once. It's gets better by huge amounts upon repeated viewings, trust me. Also, it should probably be watched with people that like it already.
Sort of the same story for me, except I discovered them at a free show where they were opener 3 years ago; my girlfriend (now wife) and I fell in love with them instantly. We haven't missed an opportunity to see them locally since then. They are literally the best live band I have ever seen, period! I was also at the show where they filmed the Car Radio music video-- where were you in the pit?
The first rule of Fight Club [upvotes] is you don't talk about Fight Club [upvotes].
I'm more than a little confused by that as well. Possibly he got a senior boost?
I was pretty shocked about that, too. I loved "Whose Line," but mostly in spite of Drew. Whereas "Chappelle's Show" was one of the most consistently funny sketch comedy shows ever.
I agree! I voted Woody (as most people evidently have), but mostly on the strength of the "without X there would be no Y" argument.
And because of Tre$$el's dirty no-good cheatin' ways.
Touche, to an extent... Although there has to be some factor at play in Sibert going from 30% to 45% in fg and 26% to 43% 3 pt fg between his Sophomore effort here and his Junior season at Dayton. Playing time? Coaching? Determination? You tell me.
All I'm saying is, as Joe Beale seemed to imply, Sibert could have been that kind of offensive threat for the good guys this year, instead he helped end the Basketbucks (and by extension, Craft's career) in a less than ideal way. Definitely too bad, in my humble opinion.

(Also, just a point of clarification, I do not have Sibert's stats committed to memory, ESPiN provided the assist on that one)
Devil's advocate: Maybe Sibert only shot <30% because he never got enough time in a game to get comfortable on the floor? It seems like it's hard to come off of the bench (relatively) cold and just get right into the flow of the game, especially if you are not seeing consistent minutes (which Sibert was not, if my memory serves me). I add that last part because clearly it is possible to come off the bench and contribute, if those bench minutes are a consistent part of the game plan, a la Scott the second half of this season, Craft as a freshman, Ross last year (especially during the tournament).
I believe the DVs tell the story on this, but in case they don't, you can hand in your fan card and here's the door, if you're planning to do anything but root for the Basketbucks to win on Thursday.
Agreed. I would think that having attended TSUN would disqualify one from being eligible for this contest, regardless of whether that person graduated.
When I look at Ted Turner's face, all I can think of is Rob Riggle to Will Ferrell in Step Brothers-- "When I look at your face, I just want to punch it."
When I see "CSG" in the quoted text, all I can think of is my wife's HS alma mater, Columbus School for Girls (aka CSG). Thus, I found myself chuckling at the thought of TSUN reaching out to an all-girls school in Columbus for help with their football attendance issues.
In the words of Bob the Builder and a certain presidential campaign, "YES WE CAN!"
It seems a bit unfair for them to have to face both last place Purdue and 12 seed Purdue.
I don't have much, but here goes: it's 6:20, and M*CH*G*N STILL SUCKS.
Also, if anyone remembers, the last time we faced our rivals on the football field, we won!
Wonder if IU will rush the court?
"It takes a big man to admit when you're wrong, and I am that big man."
-- Michael Scott
I just wanna reach through the screen and punch Tom Cryan in the face. That would make today okay.