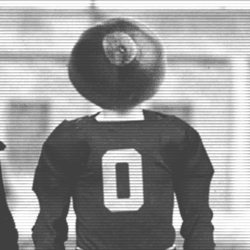 ek68
---
Member since 20 December 2011 | Blog
Helmet Stickers: 89 | Leaderboard
Favorites
SPORTS MOMENT: All wins over TTUN. 2002 OSU National CHAMPS!! Dale Earnhardts' win @ Daytona. Lots more.
COLLEGE FOOTBALL PLAYER: Chris Spieman, Archie Griffen. & Icould go on!!
COLLEGE BASKETBALL PLAYER: Evan Turner.
NFL TEAM: Green Bay Packers, Root for Browns still care abou
NHL TEAM: N/A
NBA TEAM: N/A
MLB TEAM: Cleveland Indians
SOCCER TEAM: N/A
Recent Activity
Very thankful for all the info 11W writers give us. Keep up the great work.
Well written Kyle. I agree that the NCAA must change their transfer policy. I would hope all colleges would truly take the best interest of the student athlete and allow them to transfer and play right away. I understand the athlete must have a good reason to transfer and guidelines must be in place.
Still laughing!! You all crack me up. Still want to see Luke & the "D" succeed. Let us see how well Chris & Luke work together & then we can discuss who deserves the credit.
When Curtis signed with the Buckeyes, I thought the middle lb position was secure for the next four years. Three years later and seeing Curtis play, I believe Curtis is below average & if Raekwon is as talented as the so called experts say, then he should be the should be stating in the middle.
Moved to Wisconsin in 94 & I've loved the Browns since I was little kid. When Art decided to move them to Baltimore (worst day) & I started to follow the Packers. I still follow, but the Packers are my team now.
After that answer, I now see why the defense played the way they did. Boy I'm confused.
Thanks Jeremy I agree with your answer. I know there will be ones out there trying to make this a blame game and that's alright. I will read all comments & can agree or disagree. I believe this is a family issue & will respect Mike's decision. Good Luck Mike & hope your father gets better soon.
This is my opinion. I only wish the best for Mike & family. I want to believe the reason for transferring is to be closer to his Dad & family. As always there is more to the story. I don't know Mike, but from all I've read, yes he had injuries (minor) and more than likely set him back. and this would slow his progression. I don't believe his red shirting made him so mad he wants to transfer. I would think it would make him more determined to perform better. He just does not come across as one who would gives up that easy. I will not put this on any coach and believe this is a family issue.
My Thoughts and Prayers our with Mike and family. I respect his decision & hope everything turns out well for Mike & family. God Bless.
To 11W, Really enjoy this site. Congratulations on a job well done. Great articles, opinions & stats. I've laughed so hard & yes even cried (like a baby) and with that I say "Thank You" to all involved. Great Job & look forward to 2014. GO BUCKS!!
Both Braxton & Shazier are making the right choice. Braxton needs another year to learn to make his reads quicker & to better tune his passing skills. This young man has made a lot of progress & another year with Herman will only help. To Ryan, wish you all the best and I believe your making the right choice. Has nothing to do with not wanting to play out his senior year, but being a late 1st or 2nd round pick is a no brainer. Can you say "Show Me the Money".
Tough to win when you shoot so badly. I admire the Buckeyes effort. They never gave up.
I agree with IBS&G. I will NOT be reading the Paterno report. Thanks RAMZY, for your report as always, well written. I still kinda struggle with the sanctions the NCAA brought down on the program. The kids there today had nothing at all to do with this nor did any player during this period (as far as I know) as well. The real criminals will get their day. Jerry (the molester in prison) & all involved in the cover up will be punished. Joe's passing though sad, probably saved him from more shame & disgrace.
Favor Norte Dame, tired of all the Alabama & SEC talk. Hope ND can stop them. Then we can read & listen to all the excuses why they lost.
I have a hard time believing the the LB recruits from last year are that bad. With what I saw last night, how can they be any worse? Who coaches or is heavily involved in special teams? Inside the 10 yard line & throw an interception? How many dropped balls on offense & defense. I was totally amazed at their play. Defending the spread offense is our Achilles heel. We will continue to bend & hope we don't break. Hope offense will continue to score more points than their opponent. Hope special teams will hold up. GO BUCKS!!
BADDOG, very interesting remarks & good read. I still believe the decision Gene Smith & OSU made in regards to their response to NCAA on providing their self imposed sanctions were based on not only on what OSU decided but if not mistaken also the legal advice (paid for) believed were the correct based on previous decisions & cases that were available. I still contend, the NCAA had to make a statement. I mean you have to take in account every media source (reporters & such) were calling for heavy hits to OSU. My gosh you could go a day without some article or report calling for OSU's head. I'm not a lawyer or expert on law but my question would be if a judge frowns on drunk driving and will use his position to hit even the first offenders hard (if law allows) you would try everything to get a judge who is more favorable yes? You would not get that with the NCAA. I still contend OSU, no matter if they put in bowl ban for 2011 would've made a difference. Just my opinion. Thank You.
How about 62!!!. Been a Buckeye fan (radio only WMAN Mansfield) when "Hop A Long Cassidy" played!!!
Great article & discussion. I believe, if OSU decided to self impose bowl ban for 2011 it would not have made a difference. Hindsight is 20/20, & I still think with all of the negative publicity & almost every opinion (outside of fans) was calling for everything including the "Death Penalty", the NCAA had to appear to be tough. In my opinion, we were going to get some kind of bowl ban no matter what Gene Smith & Co. did. We still have opinions out there claiming OSU got off easy. I just don't think it would've made a difference.
Great team win!! Both the "D" & "O" lines came to play!! Yes, I saw the middle of the field open & still is a concern. I questioned this teams desire & boy they showed me!! I know Braxton is the key & will be for the rest of the season. I agree he is still learning this offense & the required reads. His improvement is showing each game. WOW!! Hope to see more of this as the season continues. GO BUCKS!!!
OK, Got to say first, I really enjoy this site & reading everyone's opinion. Here's mine!!! Luke call all the defensive schemes. He comes up with the game plan by reviewing all film & with all defensive coaches & Meyer"s input. The problem with this defensive squad is the lack of dominating the defensive line, no linebacker pursuit or play & the "D" backs on the same page. Once the "D" line controls the line of scrimmage, then we can make comments on the LB's & "D" backs. I believe everyone is missing this point. Everyone suggests that our "D" line is so good with NFL caliber players, yet they have yet to show this on a consistent basis. I believe once the "D" line shows their true colors, we will continue to struggle.
The Buckeyes are middle of the pack BIG team. They will need to show more or they will struggle with MSU, NEB., TTUN, Wisc., & no cake walk with Illinois, PSU, & Purdue. If they continue to play this way a 4-4 record or 5-3 is not out of the question. Not impressed at all.
I understand your anger & disappointment with Mr. Smith. I, for one believe Smith & all the so called experts (attorneys & such) who are experienced with so called investigations by NCAA, basically agreed that all self imposed sanctions would more than likely satisfy. I for one, really feel the national outrage led by ESPN, CBS, & others(including the Columbus D.) left the NCAA to impose the added Sanctions. The national out cry would be unbearable for the NCAA. I have no faith in the NCAA, & believe the majority of national opinion means more to them than we care to give credit. I admit, I only know of Gee & Smith from what I read here & National media. I do not like or dislike either, but have respect for their positions. Tressel, in my opinion from listening to his interviews & what I have read, believed he was in control of all football operations & he made those decisions. Right or Wrong he made the decisions. I will never call him any names but Coach Tressel. Sorry to get off subject of Smith & being a BUCKEYE fan for over 50 years, I just could not help myself. Love reading all of your article & comments. Keep up the great work.
First time post, & I too want to thank 11W for being a site of HONESTY & INTEGRITY. Bucknut-in-the-South, could not have said it better myself.