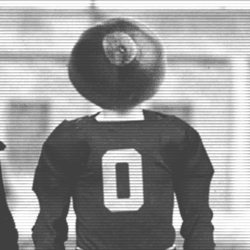 EDUGOON
---
Member since 31 July 2013 | Blog
Helmet Stickers: 136 | Leaderboard
Favorites
SPORTS MOMENT: 2002 Bucks National Championship
COLLEGE FOOTBALL PLAYER: Braxton Miller
COLLEGE BASKETBALL PLAYER: Aaron Craft
NFL TEAM: Eagles
NHL TEAM: Flyers
NBA TEAM: Lakers
MLB TEAM: N/A
SOCCER TEAM: UNION
Recent Activity
The drive is real! I live in Philly and frequent the Newark and Jersey City area often. That drive is as real as it gets! 9 to 10 hours easy. I hope he can find away to make it to 614.
Good luck to Jayme Thompson and his future. This is something we have to get used to being a top flight program. Guy's are going to leave because they aren't measuring up to potential Day 1 draft picks were stockpiling in recruiting. It's the only way to stay in the hunt for a national title. It will be interesting to see in the next year what happens on the offensive side of the ball where we are overloaded at the skill position. There will be an odd man or two out. Only the strong will survive at the Wood Hayes practice facility.
I would have moved the kid to Weak Side Defensive End!!! Cut down his responsibility and allowed him to play loose with his athletic ability, then called it a day. But thats all in hindsight.
This whole Mitchell story is just sad. How bad was he to get the redshirt last year? I mean he must have been really bad because our LB's were not playing there best ball. Then to throw his transfer on the shoulders of his sick father while his baby brother then chooses to attend tOSU on hoop scholly!!!? Something smells here folks. What if he shows up at TT and never play's a snap? Maybe dude is a workout warrior and that's it!? IDK this is one strange story that continues to twist.
Eli Apple is looking very good!!
Those read options allowed JT to settle down. Let's see what he does from here. Cardale has good command as he should. After all he didn't come to OSU to "Play School" lol.
Our D-Line is looking good on both sides of the ball.
Welp!! We have an idea who leading in the Kicking race!!!
Hey Im in Philly its on B1G Network if you can get it.
Wow Dodson is getting cooked
Welcome Home BassDropper!! Bass Drop!!!
What is the true impact of Jennings signing with Vols and Gibson? Where does that put us in the race?
RIP BassDropper!!! Gone but never forgotten!!! "He Gone" LMAOOOOOOOOOOOOO
Kid is a player. But just because he's out there doesn't mean Urban and CO. need to offer him. Edwards is the big Fish here. By adding another S so soon could cause him to actually put some thought into those other visits he's spoken about. This is Kid is quality player with amazing measurable's, but we also have some guys currently on the Roster who have above average abilities and a season to show and prove.
In the words of Jay-Z "On to the Next One, On On to the Next One"

Tremendous skill set. You can tell this kid has been coached and takes to coaching. His mechanics in the pocket are impressive. Great touch and throws a quality strike in stride. Impressive!!!
Great article!! My only concern is that our WR situation turns into what our LB situation was last year. Top rated talented recruited to come in and make an impact only to see them get redshirted for whatever the reason. Sometimes you just gotta throw the young guys out there and let them play. Sometime's practice doesn't always provide that "Light Are On" type of atmosphere. Some guys are just gamers!!!! I look forward to seeing this group of new guys. Just hope they get there shot and cash in on it.
Shane I needed a joint just read through your crap……….
Me Likey, Me likey a whole lot!!!
Here is a quick look -->>https://www.youtube.com/watch?v=hkTrJGTx6EE
First Glance of Ben Edwards smells of Jack Tatum like ability to smoke WR/RB in his area. WOW this kid is lightsout!!! 4real LightsOut!
How well do we assume MM will take to coaching? If he refuses to listen to Mom and Dad advice about life and choices, what makes us think this kid is going to take to coaching? I feel as if this a case of a spolied 4-5 STAR recruit who has done what he's wanted for the past few years and been given a pass to do so! Even if it means defying his parents wishes. I mean as middle child of 3 when Mom and Dad sat me down or my brothers and said they had concerns it was our duty as there children to listen and take heed. His parents know something is a miss at MSU for there son.
Oh might I add, again Coach D who are you? You want a kid who's parents don't want there kid attending your school or playing for you? He preaches family? But wants to take a kid who family isnt interested in him. Right