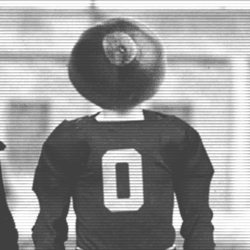 ECSAGESTER
from Cincinnati, OH
Member since 26 May 2013 | Blog
Helmet Stickers: 275 | Leaderboard
Favorites
NFL TEAM: Cincinnati Bengals
NHL TEAM: Columbus Blue Jackets
NBA TEAM: Indiana Pacers
MLB TEAM: Cincinnati Reds
Recent Activity
I want Kirk, Sweat, and Harris so bad...
And this is where the depth of Ohio State's recruiting will really help. With more edge guys and a stable at running back, Braxton hopefully won't be in a position to get hurt very often.
This kid just missed the picture.
Am I turning into Biddle? What is wrong with me? Thanks for the intervention guys, any time I get compared to Biddle, I have to take a long look in the mirror.
Loved this article by the way, has opinions that I share and made similar opinions a lot more enjoyable to read. That's why you work for 11W and I hope someone reads whatever I post. Great write-up Michael.
That's perfectly fair. I don't even expect you to read it, just felt awfully similar and was hoping to get some confirmation it was a coincidence. It was actually nice to think that somebody might have read it.
If this was started this year, I would absolutely not put Toledo in ahead of Xavier. There is no way that Toledo last year, or this upcoming year, was or will be better than Xavier. Xavier and Ohio State, for the past ten years, are the premier teams in Ohio and I don't think that's changing anytime soon.
The "classy" argument makes me cringe, but I love watching Mike Trout. Trout and Puig make the LA teams must-watch baseball. I hardly miss Reds games, don't watch anybody else consistently...except the Dodgers and Angels when they're on the national broadcast.
Is this artwork available for purchase? Asking for a friend.
He played in the Futures game yesterday, didn't get a chance to watch. Hamilton, Winker, and Stephenson are the future of the franchise, which gives me some comfort knowing that the pitching stable will be full for a while.
Votto is one of the best hitters in baseball and the cornerstone of the franchise. Consistently worth 6 wins a year, I want Votto to be a Red until he retires.
Redlegs are in a great spot at every position...except LF. I have no problem with Cozart, he adds so much value with his glove that I can come to terms with a less-than-stellar bat. Ryan Ludwick in left is a much bigger issue.
Regionally speaking, Herman is closer. That was my point. I hope you're right though, if Smith can go to Southern Florida and pluck Dixon, I have faith he can go to Arizona and get Kirk.
Question for Birm, which coach is in charge of Kirk's recruitment? Would it be Herman because he's in Texas and is closest? Or is Smith on it because he's the WR coach, regardless of Kirk being outside his region? With Smith being the B1G recruiter of the year last year, I hope Smith is in charge.
It is slightly frustrating that we don't have a QB out in Oregon to help with the recruiting. Hilliard may be the leader of the class, but I'm sure Kirk is thinking about who is going to be getting him the ball when he's in school. I like Burrow and think he's a good QB, just wish he was in Oregon to help Hilliard and Cornell with Kirk.
Great poster, until you see who they've got at the top of schedule. There'll be a real ugly L right next to that Alabama logo.
I just want to give him a hug.
More like Warren G. Hard-On, am I right guys?
Article leaves out the guys at H-back, but wouldn't be surprised at all to see Jalin get some touches behind Dontre this year. I'm wondering what they're going to do with Samuel with Jalin and Dontre at the H, haven't heard much about Samuel getting a redshirt.
After getting Hilliard and Cornell, would love to match the offensive side of the ball with the equivalent in Kirk and Harris.
Great bar to watch college football. Will definitely stop by if I'm ever down in my hometown during the season. Love seeing Buckeyes in the great city of Cincinnati.
It seemed ridiculous, just wanted some confirmation. Didn't want to potentially miss out on some bit of news that would have him going to Iowa.