Earle
---
Central Ohio
Member since 03 February 2012 | Blog
Helmet Stickers: 25,751 | Leaderboard
Voting Record: 3359 / 323
Favorites
SPORTS MOMENT: http://buckeyefansonly.com/images10/natchamposulastplay.gif
COLLEGE FOOTBALL PLAYER: Chris Spielman
COLLEGE BASKETBALL PLAYER: Jim Jackson
NFL TEAM: Cleveland Browns
NBA TEAM: Cleveland Cavaliers
MLB TEAM: Cleveland Indians
SOCCER TEAM: Seriously?
Recent Activity
M Man's Lincoln Log.
You seem to have a practical knowledge of this item.
I think that depends on what his hobby is.
I fear it'll be about Scroguards
That's the beauty of the Scroguard. It takes the fear out of, well, whatever otherwise inadvisable thing person you're thinking about doing.
Do you really know the answer to this? Because, seriously, I would like to know.
I really thought they were going to take a page out of the Browns' playbook and call it Columbus Crew Stadium.
You know, the same but "bolder", and in a different font.
Not sure of the difference. It's all Greek to me.
I'm unclear as well. It's all Greek to me.
Lionel Ritchie? Would've pegged you as a Phil Collins guy. There must be some misunderstanding.
Bridges typically go from somewhere to somewhere. The "Bridge to Nowhere" challenged that convention. Leave it to the Browns to take it to the next level: The Circular Nowhere Bridge.
Man, I googled that and got a whole different set of results. Time to turn safe search back on.
Bowl ineligible
Vegans are not underrated.
Props to Coach Mick, but it seems to me that Stephen is the one doing the work.
Remember that Chris very nearly went to Michigan, before Papa Spielman put his foot down.
Is this the beginnings of a thread derailment?
Not for my part. This is a decent (off-season) thread. Just looking for clarification. Apparently, overflowing commodes rank above intimate protective apparel in the moderation hierarchy. I want to be sure I know the lay of the land for the next time, um, duty calls.
Never were an individual and a medium better suited for each other. Troll on, Ol' Ball Coach.
So does this mean we're green-lighted for Scroguard and related topics?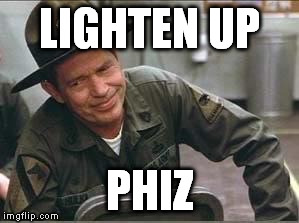 A Russell's chance. Can a freshman put this team on his back for the entire B1G Tourney? Unlikely, but D'Angelo is an unlikely player.
This has to be Oyster's doing.

Thanks for the suggestion, but I can't be held responsible for interpretations of your brain.