e135800
---
Member since 30 November 2011 | Blog
Favorites
SPORTS MOMENT: The day I became a Buckeye fan!
COLLEGE FOOTBALL PLAYER: Eddie G, The big Kat
NFL TEAM: Lions
NHL TEAM: Red Wings
NBA TEAM: None
MLB TEAM: Tigers
SOCCER TEAM: What?
Recent Activity
I just got done with some primo Tahoe Kush grown organically in the rich mountain soil of Oregon. Supreme lemon pinesol diesel fuel smells. Thick greasy smoke, fantastic lemon taste and a very nice pain relief. I rate it 8.5. Sorry but I don't smoke tobacco, it's poison.
Youtube is one of the greatest time machines ever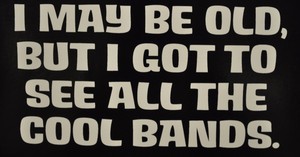 I upped the topic in case you directed that at me. You could have written "Unknown to those that only to listen to top 40" and that woulda worked too. You have 2 ups and a down btw
Apparently, LZ had a little help from an unknown a killer stoner band from the 60's called "Spirit". Natures Way or 1984 are very well known. You ever hear I got a line on you? Now they ain't as big as LZ but they sold millions of LPs
I was a big spirit fan back in the day (71 or 72) and when I first heard StH when it came out, I thought it sounded awful lot like spiri then and I was only 13 at the time so yeah, I heard it.
Randy California accused LZ of "borrowing" that scale about 20 years ago, wonder why it's taking this long.
Either one would end up on stubhub
Spare ribs 3-2-1 method for fall of the bone goodness
• 3 hours of smoking unwrapped at 225 degrees, followed by
• 2 hours of cooking wrapped in foil (with a little liquid, such as apple cider), followed by
• 1 hour of cooking unwrapped
Baby backs same but go with 2-2-1
If you are new to smoking, skip the beef brisket, that takes some experience and some patience. Atomic bat turds are a must every time however. Jalapeno peppers, cream cheese and bacon.
Pork butt, rub with favorite spices overnight, 225 all the way. Hard to kill a pork butt.
For pork and poultry, I like fruit woods, apple, cherry, or peach if you can find it. I might mix in some pecan.
Brisket, I use something hearty like hickory mixed with some nutty wood, again, pecan is mellow, walnut is harsh and oak is good for the long cook.
I like this rub
1 Cup Dark Brown Sugar
1/2 Cup Paprika; (Regular, Hungarian or smoked are all good)
2 -1/2 TBS Coarse; (Salad Grind) Black Pepper
1 -1/2 tsp Chili Powder; (commercial brand like McCormick?s)
1 -1/2 TBS Garlic Powder
1 -1/2 TBS Onion Powder
1 teaspoon Cayenne; (Red Pepper)
2 TBS Kosher Salt
I wonder if RS is just trying to sell magazines? Do you consider RS reputable ?
Not since they've turned political and quit being a music publication in the early 80s
Yeah, I understand all that but I don't care about electric cars. I'm old school and want good old Detroit iron and muscle, not something that needs an amplifier playing motor sounds. To each his own.
Not impressed, too small and the charging stations too far away. Give me a gas guzzling pollution making large car any day
All of college football is becoming too corporate.
Meh! There's no better seat than in front of my 108" screen. I doubt I'll ever go again. I got food, beer, replays, my own private bathroom and no 300 or so stairs to climb and no traffic.
I just brought home a Chrysler 300s AWD to the wife, It's actually a pretty nice care for 38K
Man the 80's hair music sucked a big one for me. Glad you enjoyed it however. I've seen quite a few good shows there though, most of them when it was called Centennial Hall.
Well I work for Blackfin Security which is a division of Symantec so the version(s) that I get and try out are not the bloated commercial versions so I'm quite satisfied and of course I will suggest Norton.
Norton. I can click on anything and go to any porn sites and my stuff stays protected. It also helps that I created a VM so I use that when I surf and if I get infected, I restore the VM and boom, all gone.
CKLW. The big 8. wow. I remember listening to that in 67,68 making creepy crawlers. Nice memory, thanks.
Of the 200+ shows that I've seen, RT has been the most. I'll be seeing him for at least the 11th time May 7 this year. Never disappoints. Check out some of his more non-commercial LPs. Some great undiscovered gems if you haven't heard them. The first time I saw him was in 76 on the Long Misty Days tour and Boston opened up for him.