DWright
from Hilliard, OH
Member since 25 January 2013 | Blog
Helmet Stickers: 658 | Leaderboard
Born & bred Buckeye and 2014 graduate of The Ohio State University by way of Hilliard, Ohio.
Favorites
NFL TEAM: Bengals
MLB TEAM: Reds
SOCCER TEAM: CLB Crew, Everton FC, USMNT
Recent Activity
I like you Justin Hilliard.
The #5 replica jerseys should stay popular for awhile even after Braxton leaves!
I'll be there with running shoes on
Anyone have any insight on the team making these videos? I don't remember ever seeing this kind of thing when Tressel was around. I was wondering if maybe it was a new video guy/team or if these types of videos are something that Urban is pushing. Either way these are some really great videos they put out, I think this one might be my favorite yet. I wish I had their video editing skill.
One of my favorite Buckeyes, I will miss him too.

Looks like a professionally done video judging by the production quality. A lot of that footage doesn't come from the TV broadcast either. Really cool video I liked it a lot.
"Nobody ever wins a fight."
-Patrick Swayze, Road House
RIP
Hahaha those are both pretty funny. They really opened themselves wide open for these.
I met Terrelle Pryor and Boom Herron at a Dick's Sporting Goods store in Hilliard. And by "met" I mean I asked the girl selling shoes there to take a picture of us all together as I stood there awkwardly hoping they weren't annoyed.
I see current players on campus all the time. There's a certain hot spot on campus where most sightings occur. I saw Braxton one time but didn't talk to him.
Last week I stopped at a gas station in Grandview. I saw a matte black Dodge Charger with black rims and blacked out windows. I was wondering what kind of mogul was driving such a car and then I saw Bradley Roby step out and proceed to fill his tank.
Some of my good friends in my major program are former OSU lacrosse players and a couple of them play professionally. We are on a first name basis.
Go Wright Bros because according to ancestry.com I am related to them. And because I have a bro myself whose last name is also Wright thus making me a Wright bro.
Rare to see a little Crew talk on this site so a little off topic here but let me say that I LOVE the Crew and hope we can retain Berhalter for longer than a season assuming he has a good year.
Michigan sucks.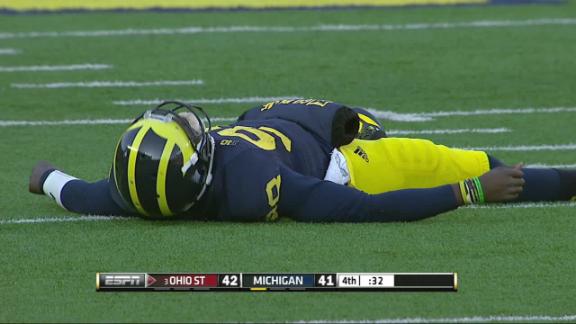 Carlos isn't the only one.
Good game, can't win em all unfortunately. Clemson is a good team.
Regardless of what happened on the field, much love for Philly!! The way he represented the university makes me proud to call him a true Buckeye. Good luck in all your future endeavors, #10. This fan supports you.
Bama is not playing Bama football. They are neither emotionally nor physically invested in this game after coming up on the losing end in what was the greatest college football game of all time, in the greatest sports rivalry of all time, broadcast by the greatest network of all time. The fact that OU isn't up by more points right now is a testament to just how incredible Saban and his outfit truly is.
I stopped watching UFC cards there cause it always gets rowdy. But this hype video was superb, I loved it.
"I colored my duck blue because I've never seen a blue duck and I wanted to see what one would look like."
Delaware Blue Hens Ducks, founded by Billy Madison.
Collier is going to do special things at Ohio State, whether they are seen on the field or not. Kid has it between the ears.
We got beat by a good MSU team, I think the pressure got to us and we played tight. The loss definitely hurts but now the pressure is off, let's just go end the season on a strong note with a huge win against a good team on a big stage. This season can still end on a positive note. Let's go out and thrash these kids, our new winning streak begins now.
We are in a BCS bowl, that is reason to celebrate. I'm sure our guys are gutted but they just won 24 games in a row, nothing to be ashamed of. All the anger and all the sorrow is now going to be manifested in the form of a purple and orange tiger that Ryan Shazier is going to kill with his bare hands.
This is our game to lose. MSU is a good team but if we play up to our capabilities we win.
Hope Philly catches a TD then gives em the Euro style airplane celebration
Santonio knows what I mean
I know that picture is a joke but I actually kinda like those....
(downvote me if neccessary)