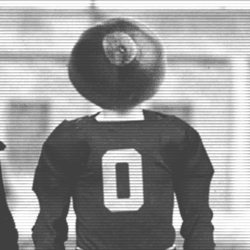 DudeNick4
---
Member since 09 November 2012 | Blog
Helmet Stickers: 168 | Leaderboard
Favorites
SPORTS MOMENT: Cie Grant coming off the right side of Miami's line untouched and throwing Ken Dorsey to the ground as Donnie Nickey slaps the ball down.
NFL TEAM: Browns
Recent Activity
Agreed, Braxton Miller has been nothing but a team player since he arrived. I really do feel so sad for him, just such a disappointing ending for a kid who's been a fantastic representative of this great university.
What a shame. He's a fantastic corner. But yeah... Seems to be some issues down in gainsville
Building depth. If it sticks it'll take some pressure off the TE spot for 2016
Agreed. Hoyer seems to be a leader and prepares for games. Johnny is a talented kid and it sure would be a shame to see him self destruct. Hope some veteran leadership can set him straight.
She seems very passionate towards the game of football. Good for her, I bet she excels in whatever she puts her mind too.
I'd say Penn State and Wisconsin and more recently Michigan State.
I lived in West Virginia for some time. That was depressing to see the old steel mills sitting empty. But even then, I could find beauty in the hills on autumn days. I currently live in southwest Ohio and while I've seen places that are much nicer... It's home. It's quiet. It's safe. We have four seasons and I'm surrounded by Buckeye fans.
Since the strike and the steroid era it's hard to care a whole lot. The tribe blew their wad in the mid-late 90s and I've become more of a fair weather fan since then. I get the ESPN updates sent via text in an attempt to stay current with the team, but I might only catch a game or two a year. This is coming from a guy who LOVED baseball all through high school and college.
I've always admired Coach Richt. He has proven time and again to be a class act.
1. Yes, if a game is on, i'll likely watch some MLS and will start following the Crew
2. Absolutely I will watch in 2018, so long as I can stream FOX at work, they need to come out with a "WatchFOX" app (I'm unsure if they have one yet, didn't investigate it prior to this writing this)
3. I'll surely be watching the 2016 special.
I had a lot of fun watching the USMNT in 2006, 2010 and I watched almost all the games this year. Even my wife enjoyed watching the games (even the games that the USMNT wasn't playing in)... I think I'm becoming a legitimate soccer fan.
When I read "Miami" I read it as Miami(OH) and instantly thought of Roethlisburger.
Sad situation though in all seriousness.
I'm not sure why MSU wouldn't embrace the national exposure.
Obviously you're not a golfer...
The Browns have made some better draft day decisions since the Butch Davis era, I only hope it continues to improve. I somewhat understand what their needs are, but I just don't see how Johnny Manziel helps them, I hope I'm wrong. I'd like to see:
Sammy Watkins, Late 1st Rd QB, Carlos Hyde, Offensive line and then build depth through the later rounds.
I've been disappointed before, I'll be disappointed again...
it's because they play "Stanford Football"
Thanks Birm, sometimes it's easy to get tunnel vision.
Yes, there are a few brands I try to steer people towards when it comes to ARs, but as they say... you can lead a horse to water...
Oh I agree completely, straight out of the box the Shotgun is about as simple as it comes, sans a revolver.
Right. The best brand and caliber is the one you shoot the best with. When it comes to new shooters, that's the basic advice I can give. Thanks for starting this thread.
I agree with this. A Rifle in the M4/M16 platform is much easier to handle by a wider variety of users with preference going to the Short Barreled Rifle, although an SBR has it's own set of challenges. Shotguns are less ideal for home defense for several reasons which we won't discuss here as it's really not the place for this discussion. And pistols, unless you use them a LOT are difficult to make accurate hits at any distance.
I'll be honest with you, I'm not a big fan of Glock either, and the only reason I have the Glock 27 is because I got such a stupid good deal on it, but since the first time I've fired it I've been looking for a replacement, however it's just not that high of a priority for me at the moment. The only problem with Sig is they are darn proud of their product and you'll pay for it. However, the P226 is by far the nicest handgun I've ever fired.