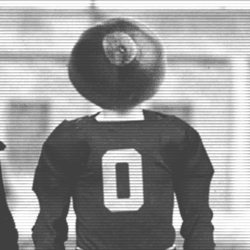 Drewbuckeye
---
Member since 01 June 2012 | Blog
Helmet Stickers: 269 | Leaderboard
Favorites
SPORTS MOMENT: Everytime we beat Meatchicken.
COLLEGE FOOTBALL PLAYER: The True Freshmen at THE Ohio State Univeristy
COLLEGE BASKETBALL PLAYER: Amir Williams
NFL TEAM: 49ers
MLB TEAM: Lakers
Recent Activity
All I know is next season will be the Sweet 16. AMIRITE?
For those thinking and saying that all the people in the club lied, I dont think so. I think it was more of that one or two people said that and then it started spreading around the club and people acted like they knew everything that went on. The ones who started it may have had a bad angle, assuming the club was packed or it could have been the girl and the fake story just spread through the club like a rumor in elementary school.
ichigan never ceases to amaze me. I wish I could slap Brady Hoke in the face with some cold hard facts. One would be that they are nothing without Ohio, including him.
Awesome! I can't wait to see him on the field.
I hate how people forget how good of a player he is. I see him being a great player because he has such great speed. He is one of my favorite players in this class and I hope we do not lose him!
We are definantly going to be winning National Championships with more commits like Damon! Welcome aboard!
These refs are terrible. This honestly makes me wonder if they were paid by Alabama.
Living in SEC country these are the type of arguements that I try to bring up, but these SEC fans don't get it for some reason and just go off of things that the media says and does not go off of any facts at all. VEry annoying.
I am so pumped up! Great get for our team!
Merry Christmas to everyone and this is awesome! Go Buckeyes!
I said this before and I will say this again Ohio State is the best team in college football.
I agree. This will also add some hunger for the team next season. Seeing that we return 10 starters on offense this team should be hungry and playing like this season and will not allow anyone to beat them.
He is the reason I am a buckeyefan.
He is already committed. We just have to wait for 2014.
I still have no idea on how to pronounce your name.
My sources say Derrick is a Buckeye and did in fact room with Elliot, but I don't know if we would take him still.
Trust in Urb! He said that some guys there are defiantly coming to tOSU, but just are committing on their own time!! Who was there (besides Mitchell) that could be a silent commit?