Dread
---
Member since 13 June 2012 | Blog
Helmet Stickers: 442 | Leaderboard
Voting Record: 62 / 0
Favorites
SPORTS MOMENT: Owning AACC, ScUM,TTUN, and TSUN the past decade or so.
COLLEGE FOOTBALL PLAYER: Troy Smith
NFL TEAM: Bengals
Recent Activity
4 games last year.
Wow... I had to look that up.
Terry McLaurin. He almost won the SPARQ championship. It would a no-brainer if Mike Mitchell was still on the team.
Why not go back to the well. Nebraska's had some success at RB (with less talent to boot). Why not hire Ron Brown. He followed Bo to Youngstown State. Should be a cheap pick up.
Pretty sure he is from New Jersey, but Florida has given us some great talent.
I guess Meatchicken is dope Bro!
Can I redeem mine to become ice cream?
If they did not want us to score that last TD, maybe they should have punted instead of going for it on 4th and forever.
It looks pretty good to me. No LSU, no TAMU, no SC... We'll at least until they beat their first FCS team.
I don't know. I seem to remember a PI call that was brought up a lot in "The U Part II".
No doubt. Hell, I would have settled for the announcers actually talking about it instead of going silent.
Willing to bet my paycheck if that was Spencer they would have replayed it 7 times.
Yeah, Still not sure how to feel about it. On the one hand, if it was not a incompletion it should have been a fumble. On the other hand the clock kept ticking away. Lets call it a win win. They should have stopped the game to take a look at it, but I think I'd rather have the time come off the clock.
Yeah, not worth DVRing. I am watching it now from this mornings 3-5 recording. First notes, 5 min in they skip over Elliotts 50+ yarder and our field goal straight to Elliotts fumble. Thought they would at least show all the scores. I'll opt for the youtube version. Thanks, but no thanks ESecPN.
edit: They snuck the field goal in during a commercial break. Literally the only play between several commercials.
I agree both of Lee's sacks were because of plays Bosa made.
I made the same point as the OP to a coworker on Monday. I think he has a good chance to get drafted with the 2 performances he has already put on film. Give him a stellar outing against the Ducks, and we may hear some chatter.
On the other side of this equation. I don't see him not being the starter next year. Great games against the top 2 defenses we have seen all year and a win in the Big one. How could he not be the guy?
lol.. Not my phone. just a screenshot I stole from this guy @Joey_Artigue.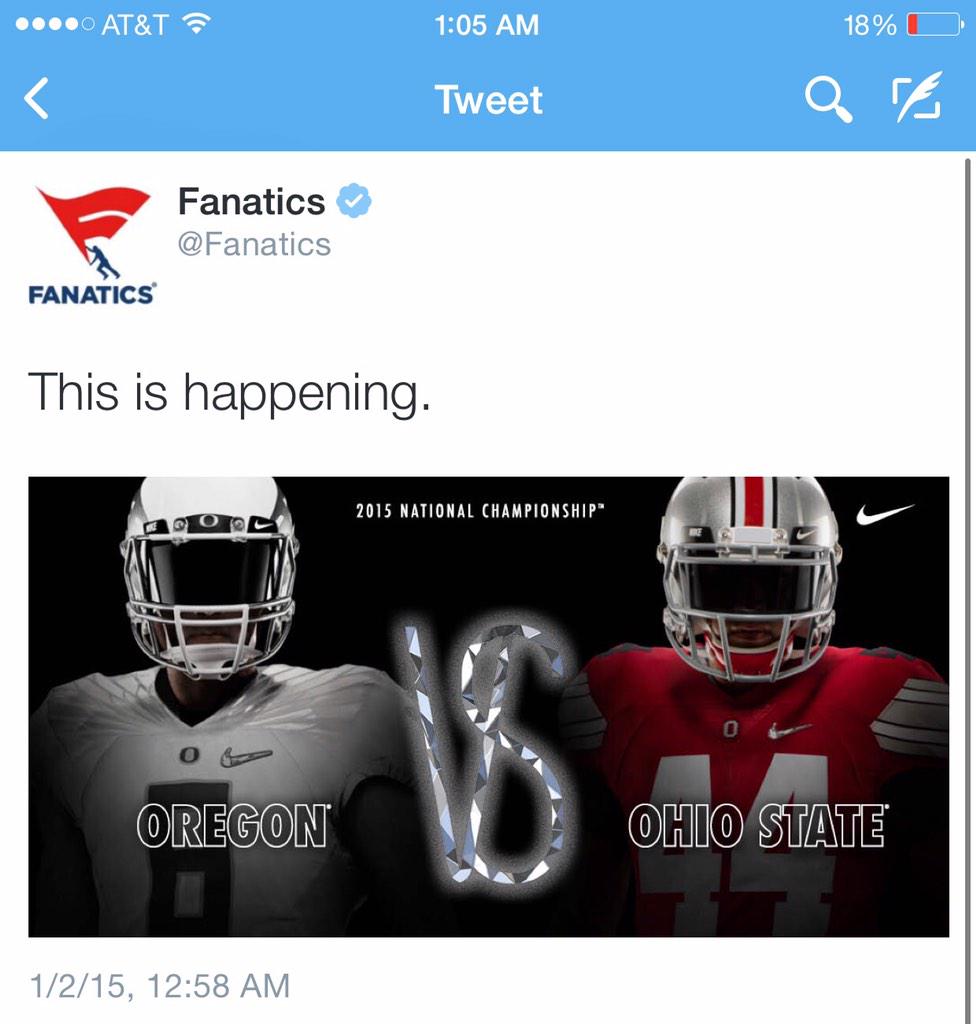 Looks like it is the Oregon whites.
May be a little to early for this, but... Is the B1G East the "Best" Division in College Football? 5 4-1 in Bowl games, SEC West 2-5.
I'm just sayin. What do I know...¯\_(ツ)_/¯
You are correct sir. Got a lil excited.
I agree. it is awful presumptuous to believe we would beat Bama in 2011 when we couldn't even beat Florida in our bowl game that year.
#FireFickell
I hate to say this, but with what we have on deck, this may not be the last one.
The timing is rather suspect. I wonder if tomorrow will shed any light on this decommitment.
Link, or it didn't happen!
Interesting attire for prom, but whatever.
I agree on the TE option shuttle pass. I have been waiting for this play for some time. I would love to see Noah Brown run this one.
I wouldn't mind seeing a few run blitzes. Early and often.