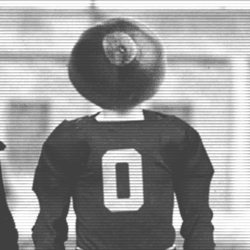 Dread
---
Member since 13 June 2012 | Blog
Helmet Stickers: 238 | Leaderboard
Favorites
SPORTS MOMENT: Owning AACC, ScUM,TTUN, and TSUN the past decade or so.
COLLEGE FOOTBALL PLAYER: Troy Smith
NFL TEAM: Bengals
Recent Activity
Thinking a little outside the box here.
Florida State
Ohio State
Baylor
Texas A&M
No room for rational thought here. Please move along.
Oh, and my sleeper is Rashad Fraizeir. He looked good in the spring game. He had to sit out last year due to transfer rules. That probably helped him gain strength and hone his craft.
Judging from the spring game alone, it looked like he should be the guy to replace Spence the first 2 games.
I see Doran Grant having a break out year. He quietly out performed Roby last year, and did you see him smoke Dontre in the race off. He is a big physical corner with speed. I can't wait to see how he performs in this new look secondary.
3...
REALLY!!!
When you amass 3 starts from 4 draft classes it makes the entire B1G look bad.
I am willing to bet every other big team had more starts in 2013. SMH
You make a good point about replacing the offensive line. This lends more fuel to the EZE fire. I was watching some of his HS film the other day, and this kid is use to running behind a bad line. It looked like the OL was running a screen play, and EZE is doing his best Barry Sanders impressions in the backfield. Kid's got some serious talent.
It may not do anything for the SOS, but you gotta believe it is doing wonders for the strength of this team.
Give them all byes. I want an angry battle tested team ready for the post season.
Looks like the game plan was to take Roby out of the game. Every hit Roby made the defensive player somehow was hurt.
Clowney, because he's so much better than everybody.
I noticed some of these guys have not lost their black stripe. How are they in the two deep?
So is he reinstated?
Probably changed while removing Tim Gardner.
Dontre Wilson is listed as a wide receiver. Ezekiel Elliott is listed as a running back. Gareon Conley is given as a cornerback. Darron Lee is the only new player listed as just an "athlete".
I see Wilson listed as a running back.
Don't let Bigelow's stats fool you. He is a big time player. I believe he broke is leg his senior year of high school, and Cal has yet to give him quality touches. Sonny Dykes will utilize his talents. Even with limited touches he averaged 9.8 a carry. I followed his recruitment a couple years ago and his film was amazing. He has 4.4 speed and impeccable balance after contact, but we all know this now. This is definitely the OOC game to circle on the calendar.
I think he has a good year, but the ball will be spread thin in that hybrid role. I think the other guys push him to perform up to his potential and they all have a good deal of production.
Someone correct me if I'm wrong, but I dont think it was commitable.
edit: Yeah... what Jermey said.
So this is a gray box right?
Actually design 2 does say OhiO.
Edit: looks like I wasn't fast enough.
The power of positive thinking.
I think the realignment gives the strongest possible strength of schedule. There are only 2 possibly 3 teams that can be presumed as good in the west, and we should see one of them in the B1G game. Sounds like a win to me!
I was there the cameras don't do us much justice. I looked around an estimated about 30000.
More than twice that if we are counting.
I thin they are adding that one to this seasons disappointments.