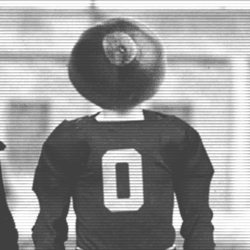 DoubleB
---
Canal Winchester, Ohio (via Columbus)
Member since 17 March 2014 | Blog
Helmet Stickers: 135 | Leaderboard
Favorites
COLLEGE FOOTBALL PLAYER: Ed-die
COLLEGE BASKETBALL PLAYER: Conley & Craft
NFL TEAM: Browns
NHL TEAM: Blue Jackets
NBA TEAM: Ummmm.... Cavs I suppose
MLB TEAM: Reds
SOCCER TEAM: Not my cup of tea but support the hometown Crew!
Recent Activity
ED going YARD in 1990 was beautiful. I was only 9 years old and remember it like yesterday.
The sky has ceased it's falling you guys.
Having gone to or not gone to Ohio State does not give you more or less of a right to be a fan.
Thanks for the update Jason, great stuff!
Two commits in two days bringing the grand total to 5. Some on this site (and others) have expressed concern about the slow start to the class. I'm not one of them as I trust in the staff to do their homework and make quality offers. Then coach the hell out of them when the get here.
Ed-die and Nuuuuuuuuuuuuge!
As long as he stays out of trouble who cares? Let him live his life. I'd love to party with an NBA player for a night.
UFM & co picking up steam now.
Oh I dunno... while the premise is clearly waaaaaaaaaaaaaaaaaaaaaay off base the trip down 2002 memory lane has been awesome.
As a former restaurant manager all I can think is Mr Onion cutter needs to wash his hands if he's working with food.
#whenisfootballseason
Love me some Warren Ball! Gotta pull for a hometown guy who seems to be a hard worker and just a good guy.
Plus I'm hoping he keeps my old #28 jersey relevant!
Seconded, love that name.
INDIANA
LOL.
I did DJ... I did.
Godspeed to Mr Mitchell and his family. Off the charts talent and athletic ability. Hope it works out for him.
Memorial Day weekend strikes again!!
I would upvote if I could. This is my take too. Lets hope he develops into the 2013 Carlos Hyde as well!
Great fun list. Love watching the highlights... when is football season again?......
Welcome to the B1G! <facepalm>
I may be mistaken but I believe they school has said they are not retiring anymore numbers. Which is a shame for Troy.
It's possible I made that up....
Good Luck Kenny G! Go get 'um in Buffalo.
That Malcolm sure had a "type."
I see whatcha did there...