DoubleB
---
Canal Winchester, Ohio (via Columbus)
Member since 17 March 2014 | Blog
Favorites
COLLEGE FOOTBALL PLAYER: Eddie George
COLLEGE BASKETBALL PLAYER: Conley & Craft
NFL TEAM: Browns
NHL TEAM: Blue Jackets
NBA TEAM: Cavaliers
MLB TEAM: Reds
SOCCER TEAM: USMNT
Recent Activity
What the hell man? This horrific bullshit knocked the wind out of me. I pray for Mrs. Smith to make a full recovery & for their children. May they all find peace.
Up to 47% to 45% Thad. No matter what happens everybody wins.
I see whatcha did there.... I was always partial to this one.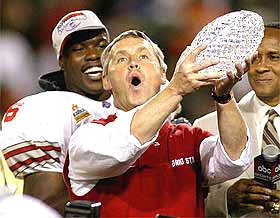 Haters gonna hate. I've got one...
Go get that goal Cam! Perhaps someday you can resurrect the dumpster fire currently burning up on lake Erie.
God yes... Homer Bailey... ugh. Awful awful contract... they'll never be able to move him to another club.
Thunderhawks dropping bombs! You sir, get it. I'm sad to see Frazier go too but understand it is a necessary part of baseball under the current system.
I could not possibly disagree more about Brandon Phillips. Guy hit .294 this year and swiped 23 bases at age 34. He still plays plus defense with the occasional flair for the incredible play. Phillips does whatever the team asks of him. In the past when they've needed a lead off hitter he hits 1 and gets on base. When Votto missed most of 2013 he hit cleanup... all he did was drive in 103 runs that year. This year he even picked up his base stealing a little bit to help manufacture some runs they desperately needed. I will never get all the BP hate. He does everything asked of him and is amazing with us fans.
At this point I'm surprised Bosa wasn't described as a "homeless man's Carl Nassib."
I laughed out loud, thanks for the chuckle DJ.
Fantastic, home run hire. Love it!
Thanks for the share ClintS. I met him walking to gameday early in the AM before the Sparty game. He was with his wife and 2 grandchildren, taking one of them to their first game! We walked side by side chatting for a few minutes and he was super nice and very humble. He actually said "I'm just a fat guy in face paint" so that must be a go to line he uses. My buddy wanted a picture so we lined up and his wife took a picture of us, he thanked us for wanting a pic with him. As our friend DJ would say, makes you think for sure.
For female state governors the term "First Gentleman" has been used. I imagine it would be the same for POTUS.
This team can still beat TSUN, wreck the rise of Harbaugh, and send them packing to the bdubs bowl or some crap. Bucks open as a 2 point dog (I think it's 2, something like that) to Harbaugh's hipster army. I love it and hope the line grows by kickoff. Please please please media spend the week telling everyone how much Urban and our boys suck. Back to being the hunter instead of the hunted. Screw the blue, Go Bucks!
Classy move by some classy programs. Great job to all!
These are amusing as message board fodder but please, please, no one make a sign like that. I think it's tasteless, classes, and awful. Be cleaver, be funny, don't be offensive to family members of players and coaches.
It would be so awesome if Eddie George was there. It won't happen, but imagine the cheer when he came out.
Buying my ticket on the "why" train.
They have Sparty's logo next to Sparty and TSUN. That's really gonna piss off the mitten staters. Awesome.
Edit: Sorry double post... JasonR beat me by 44 seconds.
My first thought after reading this thread...
The only thing missing there is a mullet.

And a beer

And a chainsaw.
Was to add "and my axe." I may be spending too much time on reddit... makes me think for sure.