DoubleB
---
Canal Winchester, Ohio (via Columbus)
Member since 17 March 2014 | Blog
Helmet Stickers: 780 | Leaderboard
Voting Record: 2038 / 60
Favorites
COLLEGE FOOTBALL PLAYER: Eddie George
COLLEGE BASKETBALL PLAYER: Conley & Craft
NFL TEAM: Browns
NHL TEAM: Blue Jackets
NBA TEAM: Cavaliers
MLB TEAM: Reds
SOCCER TEAM: Not my cup of tea but support the hometown Crew
Recent Activity
Wow this is so true. Cueto can bunt a little, that's about it. If Billy Hamilton could ever learn to bunt his freakin' OBP would be elevendibillion.
This is a great post. What a lot of people seem to miss is that no one is taking Phillips or Bruce's contracts without some incentive (ie: Cueto). Cueto is GONE after this season, so if some July the Reds still suck Walt has to trade him away to get some young arms.
I'm loving this kid. Welcome to Buckeye Nation!
While I treasure The Situational each and every time Ramzy graces us with it's poetry, my vote has to go with the Dj and the Skull Session. It's the engine that drives me to 11W every damn day.
I'm still at work in Dublin and can see it out the window. Perfect time to drop my favorite big word. That is one hell of a conflagration.
Think he'll ever live that down? Maybe if Lebron brings a title to Cleveland.

I was thinking the conflict lies with Superman. The fight between Superman and General Zod in the 1st movie (well... the last movie) caused a lot of destruction and loss of life. I think the world is split between loving and fearing Superman and Batman takes up the mantle of those who fear him.
You forgot the best part of summer, golf!
Godspeed young man and the best of luck in all future endeavors
I was accepted in 1999 with stats slightly over the numbers @sharks mentioned above. Being local in state I wonder if I would get in today.
Where are all the clowns calling for the heads of staff members for dodging this story? It's oddly silent....
Urban obviously gave him those concussions so he would retire and open up a roster spot.
Dear B1G and other national powers,
Zeke only had 1 hand last year. LAST YEAR. See you in the fall
-Buckeyes
It's great news, but an article about the commitment was posted at 9AM. Go Bucks!
I'd take the over, waaaaaay over.
You could always ask for a refund of your subscription fees...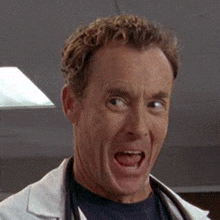 Even better because he's an Ohio guy!