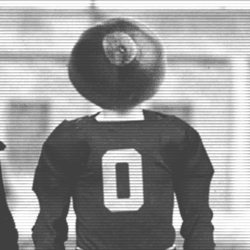 doofenshmirtz
---
Member since 10 August 2011 | Blog
Helmet Stickers: 205 | Leaderboard
Recent Activity
Yeah, but don't the flowers on the grave and surrounding grass need the nitrogen?
Honestly, don't get married during March Madness either.
So effectively, I can't watch a sporting event between two teams from institutions that I pay taxes to support.
Yes, I do know that OSU's athletic department is fully self-supported, but still this just kind of rubs me the wrong way, ya know?
No disrespect to Scioto, but someone should photoshop that green into scarlet in his picture.
And after you do the required reading and before you are allowed to create an account, you should pass a quiz on the required reading. Nothing too complex, maybe on the same level of some corporate training webinars about sexual harassment or insider trading. Something that if you even remotely paid attention, you could slam dunk.

I remember he used to take his helmet off and shake/stick his face right in the tv camera after each score.
I wish all the service academies would use Wilson footballs though. Not just made in America, but made in God's country.
Someone should actually do the math on how fast Braxton was running considering that you can clearly see the distance he runs and the clock.
I remember a Tennessee running back being tackled on the OSU sidelines, and an assistant coach from OSU grabbing the running back's shoes and looking at the stud length.
That's true, but I wish people would stop forgetting about the crawldads (and the butter also)!
If I was Thomas Kean, I would personally tell Rutgers that I couldn't do it this year, but next year, and that if they need someone to fill in on such short notice, Eric LeGrand would fit the bill rather nicely.
That's because Ohio St. fans are the best.

I said wash, but with this caveat:
I like the odds for any B1G team against any Pac12 team if the game was played in late November in the Midwest.
Maybe we should insist on O$$$$$$$U instead of O$U. Maybe we should start using Mi¢higan.
My 2 year old son could've hired Urban to Ohio State. That hire literally made itself. I'd be willing to bet that there are plenty of people in the Columbus metro area (that aren't currently running companies) who could do Smith's job better than he can.
He botched tat-gate. He didn't do written performance reviews with Tressel. Honestly, I wouldn't trust him not to screw up a toilet paper purchase.
I hypothesize that the reason Ohio rates so poorly on these happiness indexes is because we are honest. I've lived in and visited other places, and everywhere I've been sucked too.

Also, I think we should propose a rule about the maximum weight (or bmi) a head coach can be, you know, for coach safety and all.
Maybe there should be a rule proposed about the number of offensive line men that can be on the field at any one time, or maybe a rule about the number of total carries a running back can have in any one game or in any one season.
You know, player safety and all.
The only thing that I can think of that would be big ten related and not ncaa would be something that occurred during a game, or over the course of a few games. For instance, has he been very vocal/disrespectful towards officials about the lack of holding calls against him?
Just brainstorming here.
To play devil's advocate here, all it takes is 1 team. Imho, Braxton is a better overall QB than Tim Tebow was.
Kenny G = The Best Damn Backup In The Land!
There should be t-shirts made with this saying:
"Our Backup Is Better Than Your Starter"
He reminds me more of Robert Smith.
But, the only designation I've heard/read is that MSU is the 'little brother'. I've never heard/read UM referred to as 'big brother'. I always assumed that if MSU was 'little brother', then that meant UM was 'big sister'. Seemed logical to me at the time given those god-awful, girly colors.
You know, if i were MSU, and I was called 'little brother', I would start calling Meatchicken 'big sister'.
Remind me again why Archie isn't the Athletic Director instead of what's his name...