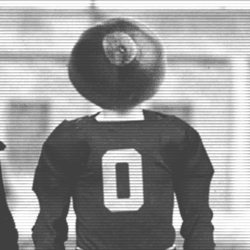 doofenshmirtz
---
Member since 10 August 2011 | Blog
Helmet Stickers: 153 | Leaderboard
Recent Activity
Maybe we should insist on O$$$$$$$U instead of O$U. Maybe we should start using Mi¢higan.
My 2 year old son could've hired Urban to Ohio State. That hire literally made itself. I'd be willing to bet that there are plenty of people in the Columbus metro area (that aren't currently running companies) who could do Smith's job better than he can.
He botched tat-gate. He didn't do written performance reviews with Tressel. Honestly, I wouldn't trust him not to screw up a toilet paper purchase.
I hypothesize that the reason Ohio rates so poorly on these happiness indexes is because we are honest. I've lived in and visited other places, and everywhere I've been sucked too.

Also, I think we should propose a rule about the maximum weight (or bmi) a head coach can be, you know, for coach safety and all.
Maybe there should be a rule proposed about the number of offensive line men that can be on the field at any one time, or maybe a rule about the number of total carries a running back can have in any one game or in any one season.
You know, player safety and all.
The only thing that I can think of that would be big ten related and not ncaa would be something that occurred during a game, or over the course of a few games. For instance, has he been very vocal/disrespectful towards officials about the lack of holding calls against him?
Just brainstorming here.
To play devil's advocate here, all it takes is 1 team. Imho, Braxton is a better overall QB than Tim Tebow was.
Kenny G = The Best Damn Backup In The Land!
There should be t-shirts made with this saying:
"Our Backup Is Better Than Your Starter"
He reminds me more of Robert Smith.
But, the only designation I've heard/read is that MSU is the 'little brother'. I've never heard/read UM referred to as 'big brother'. I always assumed that if MSU was 'little brother', then that meant UM was 'big sister'. Seemed logical to me at the time given those god-awful, girly colors.
You know, if i were MSU, and I was called 'little brother', I would start calling Meatchicken 'big sister'.
Remind me again why Archie isn't the Athletic Director instead of what's his name...
To play devil's advocate, there are plenty of other ESPN on air talent that do not hide their biases. Case in point, Golic with Notre Dame, Greenie with the Jets, and Howard with Michigan. I mean, I actually could go on. Speils doesn't hide his bias either. Kirk is just playing company man shill in my opinion.
I know why I don't like Kirk. During that 2004 Alamo Bowl game vs. Ok. St., ESPN and Kirk talked about Troy Smith's infractions during the whole game, to the point that they actually missed some on field action while they showed pretty boy Kirk yapping.
It's fine if you want to address a serious issue like that, but if you so much as miss on field action because you want to run your trap on camera, you are dead to me! End of story, go straight to jail, don't pass go, don't collection $200!
Guess my question is this, 9 mill for 2500 seats, what would 5000 seats cost instead, or 10000 seats? If you are going to do the work, might as well do it for real and not this onsey-twosey crap.
Also, maybe instead of adding to the south end, they should add to the east side and make the new seats actually worth the cost of a ticket.
Give him a few years and he'll be on CBS/TBS/TNT/TruTV giving his opinion on how the Big Ten was overrated and how an inconsequential foul cost a team the game.
Regarding the yardage issue of Miller vs. Hyde, Hyde missed a few games last year due to injury, and he wasn't "The Man" until Hall went down. Also, Miller ran a lot of times last year when he should have made the correct read to give Hyde the ball.
Just thinking out loud that maybe Hyde has never had the respect he maybe should have gotten. However, maybe the lack of respect lends to him running angry.
Anybody thinking maybe Mr. Hyde should be promoted for the Heisman? I've also been thinking that maybe the reason Braxton doesn't win the Heisman after this season is because Hyde takes plays away from him, and possibly the reason Hyde won't win the Heisman is because Braxton takes plays away from Hyde, sort of like an Al Gore & Ralph Nader thing from 2000. Thoughts?
Crean should yell at all the people at IU who thought it was a great idea to hire a known cheater in Kelvin Sampson. Sampson got Oklahoma in hot water doing the exact same stuff he did at IU!