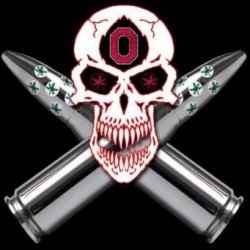 doodah_man
---
Montgomery, AL (via Whitehall, Ohio)
Member since 08 September 2010 | Blog
Long time resident of Columbus (born) and raised in Whitehall, Dad was a Columbus cop who worked the games every year. Attended tOSU 1969 - graduation in 1974, BS in Aero Studies. Joined the USAF, got an MA from Ball State in 1986, retired Lt Col, pilot. Now in Montgomery, AL, bankruptcy attorney at Memory & Day. Lifetime member of tOSU Alumni Association. Get back about once a year.
Favorites
SPORTS MOMENT: OSU v. Miami, 2003, OSU v. Arizona State - Rose Bowl 1997, Last three games of the 2014 season!
COLLEGE FOOTBALL PLAYER: Jack Tatum
COLLEGE BASKETBALL PLAYER: Jerry Lucas
NFL TEAM: Cincy
NHL TEAM: Blue Jackets
NBA TEAM: Cleveland Cavs
MLB TEAM: Reds
SOCCER TEAM: Crew
Recent Activity
I am typing trough my tears of joy...this man OWNs the internet today...GO BUCKS
Hey DJ...since you have started using y'all, keep in mind that here in Alabama, we also use "All Y'all". More inclusive.
Did the plasma thing at tOSU in my days. It was worth $35 and you could do it in an hour, two days a week. Paid for dates and an hour of flying at Don Scott Field (now tOSU Airport).
It was all cool until the day I showed for a French class, late, took off my jacket, and due to some sloppy work by a tech, my arm was covered with blood. I put on my jacket, excused myself, and promptly walked out.....
Best pilot I ever saw...Godspeed John. You did Ohio proud.
Plus, the apprentice position on this team is special teams. You start at special teams and work your way up to game touches....come on Urbz, it is your philosophy. McCall for punt return....
Ditto on McCall...he was 16 for 73 on rushing. He was the only punt returner who had positive yards.
Haven't seen much being said about McCall (30), 16 rushes for 73 yards. I'm sure the Husker D was feeling overwhelmed and tired but Demario was awesome at picking holes in the D-line for yardage. He was a good choice after Wilson muffed the kick.
Also, Burrows seems to be the real deal. Good to know we have that kind of talent behind JT.
...trust me on this. We did not "set of"f..... but we did lose...
A kicker would look beefy as compared to Kevin. Get the man a few cheeseburgers....
Reminds me of sports press-speak lesson from Bull Durham....
Y'know, I'm just happy to be here
and hope I can help the ballclub.
I just want to give it my best
shot and good Lord willing,
things'll work out... gotta play
'em one day at a time, Y'know...
At halftime during the Northwestern game, I threw that Buckeye away...bad juju....
I grieve for the students. In 1969 - 1974, the game option on your activity card was $20
I did have a buckeye in my right pocket but, I changed chairs. I also drank some cheap wine rather than the JD I usually consume. Total F'up.
Funny you would use lions...although not Nittany....
This is a piece of art..well done.
Right now, looking like temps between 46-43 between game time and for 3 hrs. Winds West of North West at 14 - 12. Beaver Stadium is aligned along a Northwest, Southwest axis. Might be right down the field. Predicting partly cloudy but, no rain.
I'm too old for this shit... The D was a pure joy to watch in the 2nd half. In JT we trust.
Take care and rehab sir! Thank you for your work this year.
Gotta like LSU...originally founded and lead (as president of the university) ...wait for it...William Tecumseh Sherman...
Actually, comes from my call sign (USAF). My last name is Day so the original connection is with Camptown Races (all the Doo Dah Day).