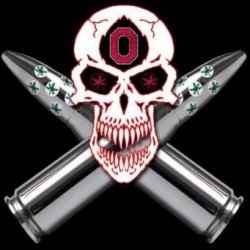 doodah_man
---
Montgomery, AL (via Whitehall, Ohio)
Member since 08 September 2010 | Blog
Long time resident of Columbus (born) and raised in Whitehall, Dad was a Columbus cop who worked the games every year. Attended tOSU 1969 - graduation in 1974, BS in Aero Studies. Joined the USAF, got an MA from Ball State in 1986, retired Lt Col, pilot. Now in Montgomery, AL, bankruptcy attorney at Memory & Day. Lifetime member of tOSU Alumni Association. Get back about once a year.
Favorites
SPORTS MOMENT: OSU v. Miami, 2003, OSU v. Arizona State - Rose Bowl 1997, Last three games of the 2014 season!
COLLEGE FOOTBALL PLAYER: Jack Tatum
COLLEGE BASKETBALL PLAYER: Jerry Lucas
NFL TEAM: Cincy
NHL TEAM: Blue Jackets
NBA TEAM: Cleveland Cavs
MLB TEAM: Reds
SOCCER TEAM: Crew
Recent Activity
This is a piece of art..well done.
Right now, looking like temps between 46-43 between game time and for 3 hrs. Winds West of North West at 14 - 12. Beaver Stadium is aligned along a Northwest, Southwest axis. Might be right down the field. Predicting partly cloudy but, no rain.
I'm too old for this shit... The D was a pure joy to watch in the 2nd half. In JT we trust.
Take care and rehab sir! Thank you for your work this year.
Gotta like LSU...originally founded and lead (as president of the university) ...wait for it...William Tecumseh Sherman...
Actually, comes from my call sign (USAF). My last name is Day so the original connection is with Camptown Races (all the Doo Dah Day).
Great feature from last year was a commenter who was a physician that (I ass-ume) did sports medicine. He used to discuss injuries like this, how they occur, consequences, therapy. Was a great feature. Whatever happened to that guy?
Lots of humor material on YouTube about Jim Harbaugh and his milk commercials. Shame is, he dragged his wife into it.
...shows his hand. He gets tired late in the game, has trouble putting together thoughts. Beatable just on endurance....
Is she doing the Bosa shrug in the top photo?
From now on I am going to use "doodly"....doodly
I was at the last game in Norman. Leading up to the game, tOSU was considered an underdog. In fact, a fellow employee at Vance AFB in Enid, OK talked about it like it was a given. I will say, the folks in Norman (at least then) were some of the most polite and friendly fans I have experienced, both before and after the game. Downside...listening to Boomer Sooner for 4 straight hours. Almost worse than Hail to the Victors....
On Monday morning, my co-worker encountered a room that had been "Buckeyed". Buckeyes were all over his office, in his desk drawers...took him a few hours to clean it up.
The best part of waking up is TTUN tears....
If she is, she could be the backup for Weber....
...as a 15 y/o kid, I watched most of these games. The planes that you see advertise businesses now towed banners that said "Good-bye Woody".
Urbz gets it...others haven't. Go Bucks.
...that is exactly what I am saying...financial irresponsibility. Ohio has mandatory insurance for vehicles so, EVERYONE has mandatory liability insurance, right?
BTW, don't think Zeke's mom has two small children...does she?
too right...I think there is too much of a philosophy of "hey, I just made $XXX million, I am a business genius".
...so did everyone before 2008...also, an unencumbered house is just begging for an equity drain (I need money, I'll just borrow against the house). Ditto on the tax and insurance. Although, with a paid-up house, it is tempting to not insure.
Wish Coach Meyer would teach the "Why Athletes Go Broke" link during his real life classes. As a bankruptcy attorney, I had the sorrow of dealing with two bankruptcies of NCAA FB/NFL players. It is amazing how fast they can burn through millions and be left with nothing. It concerns me that one of the first things Zeke Elliot did with his money was "buy a house for his mom". Yep, that is in the playbook. Seen that. I'm sure that, as we speak, the parasites are lining up to get just a taste of the signing bonus and future compensation. Face it guys, you aren't God's gift to business (even if you majored in business). Be conservative; put it away in some long term investments.
All the best young man...
Anyone who has followed this wonderful lady's Tweets has gotz to be happy for her. She is a hoot. Love ya Mama Apple.
..forgot how close the neighbors are in that one pic...
....when wintertime rolls around, the gorillas simply freeze to death.