dmurder
---
Seminole, FL (via Cardington, Oh)
Member since 30 August 2010 | Blog
Grew up in Columbus, Ohio.
Went to high school at Cardington Lincoln.
Recent Activity
Nothing like week 4 playoff predictions about as useless as the AP poll, scheduling FCS teams and rutgers & maryland in the big ten.

ZING!
Nothing like week 4 playoff predictions about as useless as the AP poll, scheduling FCS teams and rutgers & maryland in the big ten.
ZING!
I guess because it was such a bad loss. That now i can for see them losing to Stanford and/or USC. But i guess this makes the Michigan loss not look as bad. I imagine Michigan jumps into the top 25 and we play ranked mich st and mich to end the season!
Side note Arizona State just pissed there leg twice in a row anyone see that?
lol... Sorry Mod's. I feel like i just got a ticket!
Kyle,
We seem to have an abundant success getting the ball to michael thomas. Why don't we see more targets to him on quick slants? Also, it seems as if we need to be a little more vanilla on the run game. Like, give elliot the ball two times in a row to develop some consistency with the o-line and him.

Lastly, we finally saw the tight end get some looks this week. Any reason vanett got the ball more this week? Did we see something in there defensive coverage? Why did it take so long?
I think the gold numbers with gold socks or all black socks would look sick.
Honestly, i think the all black look will be sick if we do a good job of pulling out the scarlet and grey.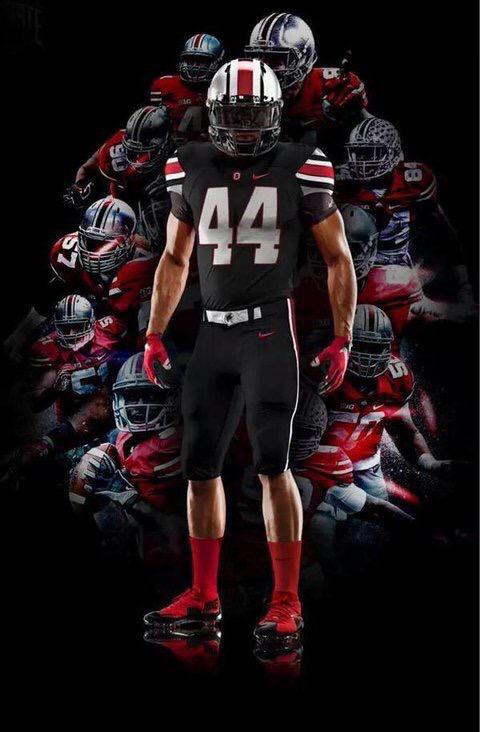 Where can i watch it again?
I walked down that street yesterday. There are a whooping three frat houses! This campus is tiny!
I will be tailgating at lane stadium.
i have been here for three days only seen about thousand buckeye fans. Here's to hoping I wake up tomorrow and see 15-25k.
I haven't been to charlotte in years thanks for the tip!
It's an old call of duty gamer tag...
i I got the ride with a buddy. We will be looking for all the red jerseys on Sunday night!
Flying into Charlotte and then driving to Blacksburg!!! Staying in a hotel in the area where is the buckeye bar?
Buckeyes always represent at away games doesn't happen if people don't go. I for one have never been to Blacksburg and looking forward to it. Never been to a gameday game looking forward to it. Never seen the Buckeyes while they were number one. Never seen the Buckeyes when they were the only game on a Monday night!
Honestly, noah brown will probably hurt more in the running game as a blocking receiver than a deep threat. From what i read and know of his timed 40 this wasn't a guy that was going to replace devin smith (The Nine). Noah, from what i heard is more of a possession receiver and an elite blocker downfield.

This attrition will force kids on the field let's hope it produces some beautiful freshman results in what was probably the best receiver in last years recruiting class Torrace Gibson. He and Terry are the only one's i think that have the speed to take the top off the defense.

Last take: They have an all american corner that will more than likely be on our number one reciever who today was voted by Todd McShay as the best receiver to take in the draft. That is Micheal Thomas! They also have an all conference corner on the other side of the ball that will likely guard Terry, Dixon or Gibson. But, But, But after that who guards Samuel, Braxton or Vannett?

This team lost it's best safety and they don't have a nickel or dime secondary that consist of All Americans they have one that will get everything he can from Micheal Thomas! This will be a chess match if you ask me.

Also, urban meyer said it last year they were not ready for the bear defense! I guarntee you that have seen it all summer! By the way with are defense running it against them!