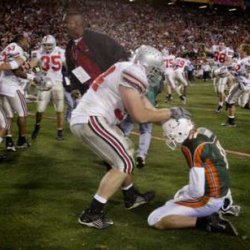 dmurder
---
Seminole, FL (via Cardington, Oh)
Member since 30 August 2010 | Blog
Helmet Stickers: 292 | Leaderboard
Grew up in Columbus, Ohio.
Went to high school at Cardington Lincoln.
Recent Activity
Jesse Owens who has his own plaque at Michigan Stadium.
Who beat the nazi's and Hitler.
Sorry, but i got to go with the legend Jesse Owens


You are right! I wonder why smith wasn't included in this?
This is the year miller gets his bowl win. I would hate for him to get all the accolades and not win a bowl game. Kind of like Troy Smith
Waiting on that next big receiver. Tall, strong, soft hands, etc. We have lacked a physical wire receiver in the last few years!
Hopefully, Iowa was a scrimmage of sorts for the type of offense we will see. Rather face the same offense twice in a row it's fresh and the scheme to defend it is the same. Instead going from a spread to run heavy. My hope is that we will look like the 2nd half in the first half. Hoping roby has a big game! IU put up big numbers on this team I expect the same from us. Boarding a cruise ship now! OH
I remember those old Oregon shirts that said we want "Ohio State" and "Auburn"
I live in Seminole, which is Pinellas county.
I see Ohio State plates, and logos on the back of cars everywhere down here.
There is a bar down the road from my house that shows every Ohio state game!
We are about to go through our easiest part of the schedule, a lot of teams that are ranked are about to go through there toughest part of the season. We will see how others do in the next few weeks and see who is stil undefeated. We will also see our offense put up big numbers against the rest of the big ten!!!
The run game will look a lot different than what we prepared for against wisky. Spread, option, qb reads should be something that this defense has seen since spring against our Offense.
It seemed to me that when we blitz we were effective and i would like to see a little more pressure to help the back 4-5 out.
3rd downs killed us last night on offense. 2nd half most of all and 4th down getting stopped. OUCH 34-17 if we kick the field goal. However, I was glad he went for it. But was a little disappointed that we couldn't get two yards.
I love Urban Meyer so Candid
Not trying to be a homer but seriously Oregon beat a terrible team and you would think voters would know that. There should never be movement against weak competition unless its close or you lose.
um... I got chills watching that
I am in Florida and that state cannot be accurate!
There are tons of buckeye fans in Florida and for sure here in St.Petersburg/Tampa area.
I see buckeye, Ohio, etc license plates every day and Buckeye Alums own Buffalo Wild Wings in Clearwater.
We rep Florida Hard!!!
beat me too it. CURTIS GRANT????
Powerhouse school in Indy for Div 3. They played Cin X a couple of years ago and I believe produced a few NFL players. Great addition and looking forward to a straight line gunner!
Pretty sure I head butted my wall walking into my kitchen after seeing that!
Two questions: So some restaurants and bars have access to a live feed? Bradley Roby I thought was hurt and going to be held out? Gray 31 Scarlet 28
With a few cupcakes early on and weak big ten this year I won't be surprised to see him dominant opposing offensive lines. Question is who comes off the other side and benefits from him getting double-teamed? I for one believe the hype and think spence will be a household name by the time big ten games start. We haven't had a speed guy in awhile.
Spence unblockable at times!!! Umm... Have feeling he is in for a huge season! Can't wait to see a Dominant pass rusher of the edge.
Hard to believe this kid doesn't commit to urban Meyer! Prototype player that fits the scheme and urban Meyers offense. Not to mention he is in our backyard. Urban Meyer = The Closer ;)
This is shaping up to be the best class I have ever seen at tOSU