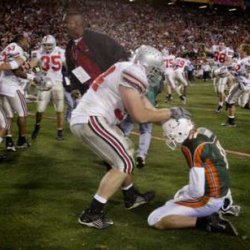 dmurder
---
Seminole, FL (via Cardington, Oh)
Member since 30 August 2010 | Blog
Helmet Stickers: 346 | Leaderboard
Grew up in Columbus, Ohio.
Went to high school at Cardington Lincoln.
Recent Activity
If no Lebron then a former ohio state football player
This just in Turd Ferguson is the special guest
Say something like "I left south Florida to come to Ohio" just stare at Mr. Gibson!!!
Say something like "I left south Florida to come to Ohio" just stare at Mr. Gibson!!!
If we get Bragg , could be the best class since Conley, Oden.
anyone have any insight on Bragg ?
wow... this would be insane!
kid first step is nasty, and love to see him fly to the ball.
Don't think we will be talking about linebacker depth again for a long time!
Welcome to the family


Was Chris Ash at Iowa State the same time as Tom Herman?
Thanks a lot fellas!
Ha, the Indians suck everyone knows that! Lol... I preferred the pizza barn.
I got an awesome pic. But cannont upload it? Does the staff know what happened to the browse button to add pics from your desktop.
Trying to upload a picture in his buckeye gear.
It wants a web url? The picture is on my desktop or on facebook so a web url is a little diffcult any help?
You got to believe going up against what could be a top 5 defensive line everyday in practice can't hurt the growth. I mean the offensive line may not see a better defensive line all year until the playoffs.
I used to do some work for the government in Gary/East Chicago area. Pretty rough area's.
Certain parts of the east side of columbus are bad.
I now live in the bay area in florida. Trust me there are some area on the south side of Saint Petersburg that you don't wanna just walk around at night.
Jesse Owens who has his own plaque at Michigan Stadium.
Who beat the nazi's and Hitler.
Sorry, but i got to go with the legend Jesse Owens


You are right! I wonder why smith wasn't included in this?
This is the year miller gets his bowl win. I would hate for him to get all the accolades and not win a bowl game. Kind of like Troy Smith
Waiting on that next big receiver. Tall, strong, soft hands, etc. We have lacked a physical wire receiver in the last few years!
Hopefully, Iowa was a scrimmage of sorts for the type of offense we will see. Rather face the same offense twice in a row it's fresh and the scheme to defend it is the same. Instead going from a spread to run heavy. My hope is that we will look like the 2nd half in the first half. Hoping roby has a big game! IU put up big numbers on this team I expect the same from us. Boarding a cruise ship now! OH
I remember those old Oregon shirts that said we want "Ohio State" and "Auburn"
I live in Seminole, which is Pinellas county.
I see Ohio State plates, and logos on the back of cars everywhere down here.
There is a bar down the road from my house that shows every Ohio state game!
We are about to go through our easiest part of the schedule, a lot of teams that are ranked are about to go through there toughest part of the season. We will see how others do in the next few weeks and see who is stil undefeated. We will also see our offense put up big numbers against the rest of the big ten!!!
The run game will look a lot different than what we prepared for against wisky. Spread, option, qb reads should be something that this defense has seen since spring against our Offense.
It seemed to me that when we blitz we were effective and i would like to see a little more pressure to help the back 4-5 out.