dmurder
---
Seminole, FL (via Cardington, Oh)
Member since 30 August 2010 | Blog
Grew up in Columbus, Ohio.
Went to high school at Cardington Lincoln.
Recent Activity
I live in this area. Armwood is a powerhouse and i will check him out this year!
My junior year we lost three baseball games two of them came from Marion Pleasant. They went on to win the State Title. I believe they beat us in football that year as well 70-0. However, they lost the state championship that year. Those teams were stacked with talent that "transferred" from Buckeye Valley, Elgin and River Valley!
#recruitmuch
Delaware is going to give you a great bang for you buck in regards to house size and land. You may need to go a little on the north side. But stay away from Marion and Morrow County! I grew up there it's getting pretty bad.

But Delaware has always been nice and for all the obvious reasons everyone else is posted proximity to c-bus, polaris, 23/71, Price per Sq Ft, etc. It gets my vote!
Let me ask you guys a question:
if Cardale didn't win the title. Let's say it never happened who do you think would be starting?
I have been on board and I am still on board with what Meyer wants to do. He is the coach and internally he see's more than we all see. But I think the whole world was aware that there were about three series in a row where we went 3 and out with Cardale in. Cardale, Miller and sometimes others press way to much when they get there shot. Just get a few yards and move the chains!
Lol... If they were SEC they would be favored and GAMEDAY would be there
Nothing like week 4 playoff predictions about as useless as the AP poll, scheduling FCS teams and rutgers & maryland in the big ten.

ZING!
Nothing like week 4 playoff predictions about as useless as the AP poll, scheduling FCS teams and rutgers & maryland in the big ten.
ZING!
I guess because it was such a bad loss. That now i can for see them losing to Stanford and/or USC. But i guess this makes the Michigan loss not look as bad. I imagine Michigan jumps into the top 25 and we play ranked mich st and mich to end the season!
Side note Arizona State just pissed there leg twice in a row anyone see that?
lol... Sorry Mod's. I feel like i just got a ticket!
Kyle,
We seem to have an abundant success getting the ball to michael thomas. Why don't we see more targets to him on quick slants? Also, it seems as if we need to be a little more vanilla on the run game. Like, give elliot the ball two times in a row to develop some consistency with the o-line and him.

Lastly, we finally saw the tight end get some looks this week. Any reason vanett got the ball more this week? Did we see something in there defensive coverage? Why did it take so long?
I think the gold numbers with gold socks or all black socks would look sick.
Honestly, i think the all black look will be sick if we do a good job of pulling out the scarlet and grey.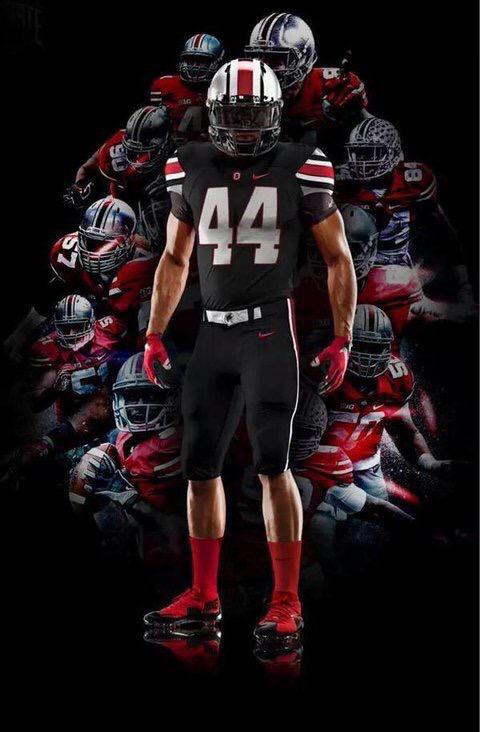 Where can i watch it again?