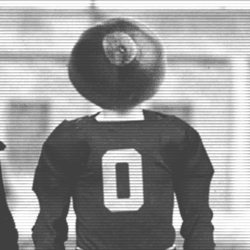 Dillon G
---
Member since 01 December 2013 | Blog
Helmet Stickers: 18 | Leaderboard
Recent Activity
Treg Lee's score with the assist from JJ is the best thing I remember in SJA.
Meyer's exit will definitely be on his terms
Many said that about Hayes. Hopefully, it won't be a similar exit. And with different personalities, it should be.
Our honor defend....still the best writing. Mocking those that deserve to be mocked without being childish or millenialish. I don't think it is a word either.
Number one rated offense San Francisco 55
Number one rated defense Denver 10
That is a pretty good east coast/midwest offer sheet he has.
Once again, the spread goes down in flames to a front seven that punches you hard in the mouth. I didn't see it coming either. And that was because Denver had to grind out those wins with Tebow under center and I figured (ha ha) they could do it again.
Not if he knows what is good for him.
The players are not good enough either. And while some don't want to hear it, that is how it is. The corners not named Roby can not cover, and neither can the linebackers. Of course linebackers and pass coverage are usually secondary. Thanks for jarring the memory. Justin Boren moving in to linebacker had immediate results. Coombs is way over rated and not funny talking trash to kickers. His position players, in general, don't know what they are doing. So it is a combination of the players just aren't that good, and they are poorly coached in pass coverage.
Luke Fickell blaming players (you have to make a play) changes my opinion of him in a very bad way. They are poorly coached and constantly out of position. It isn't the last few games, it is since the departure of Jim Tressel and Jim Heacock.
Everett Withers and Coombs can take the train. We stretching and your a kicker does not qualify one to be a position coach. Predicting a very predictable michigan team once during a game is not either.
I said numerous times this team doesn't get to the NC without El Guapo. I hope he has a big game January 1st.
In a surprising move, Mark May gave an objective analysis on Clemson-OSU, and what are they going to do against an angry team and Carlos Hyde? Those idiots (they in fact are) want OSU to lose, and they let it blind them. South Carolina has Jadeveon Clowney, what will Ohio State do? Seriously?
The Big Ten top 3 will clean house.
Wait until they see what Florida State can do on offense. And defense.
The best part is, we get to watch FSU up their BCS record to 2-6. I think it is 1-6 now. And I don't think it will be close.
Sort of like throwing his helmet and giving the middle finger. Way to go 11W clones with classless sign at the Big Ten championship edition of Gameday. Nothing like giving Herbie and Howard legitimate reasons to bash OSU/fans.
Even when he was more known as Thunderlips was his entrance more grand than the rest.
No, as Ohio State will actually spread the field with the spread. They will hit the tight ends as Mich State sells out against the run. Hyde will get his, but it might not be another huge night. Balance will be the undoing of that defense. Something Miami did not have against OSU all those years ago.
Try Sherrif Nottingham. Wouldn't a knife be sharper? Yes, a spoon will hurt more. Paraphrased of course.
My problem with Bollman is he did not develop offensive linemen. Tresselball would not have seemed so boring if Mike Adams actually ran people over like he was supposed to do.
This isn't the first time Urban Meyer's defense has been skunked by a michigan team that couldn't block their way out of a wet paper bag. Mike Hart and Co. managed....98 yards? And 3 points against the Vest. Yet they put 41 and 500 yards against his holiness (albeit he only took snaps) in the bowl game.