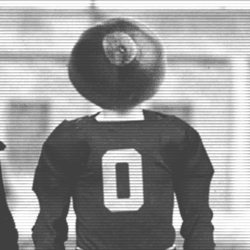 Dillon G
---
Member since 01 December 2013 | Blog
Helmet Stickers: 33 | Leaderboard
Recent Activity
He makes Beth Mowins sound intelligent.
Smaller version of the same thing in terminal 3 of Dubai International (Emirates terminal). Pretty slick.
Treg Lee put it all together at the end. I think he can too.
Know why John Elway had more 4th quarter comebacks than Joe Montana? Montana took care of business in the first three quarters.
What? Who doesn't like Pryor or want him around?
But it's curious to me how Tressel has all but been canonized by fans (and rightfully so), yet an odium still surrounds his former protegé. After all, Pryor had the excuse of youthful naïveté. Tressel was the professional
I do not enjoy the facts. The facts are the Steelers are one of the best franchises in all of professional sports. The Browns are one of the worst, bad owners and bad managers. Shazier will brake Manziel in two. I hope I am proved wrong.
I am going to shift gears slightly, to a mans verbiage.
These words may also define Urban Meyer's tenure at Ohio State. The simplicity of the words chosen and their brute honesty capture both the baseline expectations
2 Corinthians 3:12
Seeing then that we have such hope, we use great plainness of speech

Next thing you know, you will see idiots trying the same thing, and end up on Fail Army's youtube channel. Along with all the other morons that think you don't need the wires that are removed via CGI in the movies.
Even with no-contact jerseys, both showed they can run the football but the passing was hit and miss. Jones seemed to struggle with touch in that every ball he threw that wasn't a deep shot came out hot.
Pryor was the same way. It took a lot to tone it down.
I think it was said......I don't always look at men without shirts, but when I do, they are OSU linebackers.
I will profess to not breaking down film on kickers often. Here goes.
It went through the uprights, or it didn't. Fat kicker with a rap sheet? It didn't matter to Al either.
Paul Brown won more than 3. His teams played in 10 straight championship games, winning 7. And when the NFL took the AAFC, they had the "fake" champion Browns go up against the best, only to watch the Browns beat them too. It is the most dominate dynasty in pro-football history.
Who remembers tOSU losing to Dayton in the early 80's? The three point shot might have been adopted that year. Dayton gave Oklahoma and Tisdale all they could handle in the NCAA tournament.
Treg Lee's score with the assist from JJ is the best thing I remember in SJA.
Meyer's exit will definitely be on his terms
Many said that about Hayes. Hopefully, it won't be a similar exit. And with different personalities, it should be.
Our honor defend....still the best writing. Mocking those that deserve to be mocked without being childish or millenialish. I don't think it is a word either.
Number one rated offense San Francisco 55
Number one rated defense Denver 10
That is a pretty good east coast/midwest offer sheet he has.
Once again, the spread goes down in flames to a front seven that punches you hard in the mouth. I didn't see it coming either. And that was because Denver had to grind out those wins with Tebow under center and I figured (ha ha) they could do it again.
Not if he knows what is good for him.
The players are not good enough either. And while some don't want to hear it, that is how it is. The corners not named Roby can not cover, and neither can the linebackers. Of course linebackers and pass coverage are usually secondary. Thanks for jarring the memory. Justin Boren moving in to linebacker had immediate results. Coombs is way over rated and not funny talking trash to kickers. His position players, in general, don't know what they are doing. So it is a combination of the players just aren't that good, and they are poorly coached in pass coverage.
Luke Fickell blaming players (you have to make a play) changes my opinion of him in a very bad way. They are poorly coached and constantly out of position. It isn't the last few games, it is since the departure of Jim Tressel and Jim Heacock.
Everett Withers and Coombs can take the train. We stretching and your a kicker does not qualify one to be a position coach. Predicting a very predictable michigan team once during a game is not either.
I said numerous times this team doesn't get to the NC without El Guapo. I hope he has a big game January 1st.
In a surprising move, Mark May gave an objective analysis on Clemson-OSU, and what are they going to do against an angry team and Carlos Hyde? Those idiots (they in fact are) want OSU to lose, and they let it blind them. South Carolina has Jadeveon Clowney, what will Ohio State do? Seriously?
The Big Ten top 3 will clean house.
Wait until they see what Florida State can do on offense. And defense.