Dillon G
---
Member since 01 December 2013 | Blog
Boring conversation anyway...
Favorites
SPORTS MOMENT: Cutting down the nets.
COLLEGE FOOTBALL PLAYER: Cris Carter
COLLEGE BASKETBALL PLAYER: Jim Jackson
NFL TEAM: Factory of sadness
NBA TEAM: Gund brothers
MLB TEAM: Dick Jacobs
SOCCER TEAM: Huh?
Recent Activity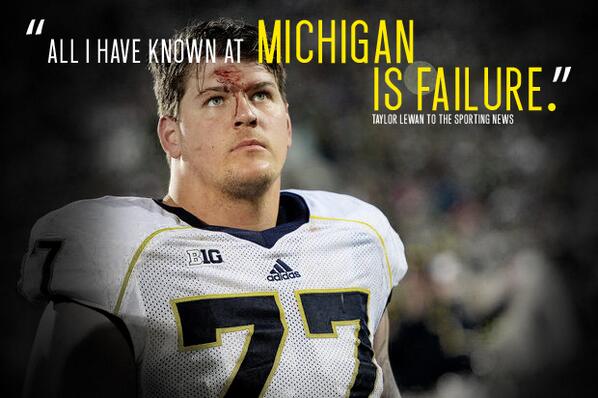 They should have taken the money.
This is horrible. I can't imagine how their families feel at this time.
They are both ugly.....however, the Nike color is correct. Maize is not "day glow yellow". You don't get rid of tradition like they did, no matter who you are.
He is now absolved of his sin of being from the Natti.
I live in metro StL now. At the turn of the 20th century, they were a million strong in the city. Now it is a 330k with the suburban exodus.
I'm ready to hear O-H-I-O roll through Norman late 4th quarter.
Blowing up on campus is always a roll of the dice.
Consider them rolled.
Many players use a spin move. Miller, "hallmarked" it. By the way, Samuel should be getting the most carries, or letting Weber platoon with him.
Cincinnati and UCONN seem like good fits. Both are not good, like the rest of the league. Send Colorado back if UCONN is too far.
Samuel's hallmark spin move isn't as effective between the tackles, and he's dealt with injuries in his career without a workhorse load.
I think somebody else has hallmarked the spin move.
Does the "alleged victim" have a black eye? It is shameful when that is said about a victim, when it is obvious. [MOD EDIT - let's keep our comments on the up and up]
You should see the premium (1st class) lounge at Mazar i Sharif.
I'm still waiting and still not holding my breath for the SEC to exchange the 3rd Saturday in November (chicken-shit Saturday) for a trip to Camp Randall.
He already is a running back, and currently the best one on the team.
What does a Ponderosa men's room look like?
I'm disappointed he didn't get that last shot with his improvements. I say bring on Curtis Samuel.
There was a time when only Ohio State says a National Championship coach with a 117–41 record is on the hot seat. But now we have crazy Les Miles.
It is as centered as Alabama teeth.

From a Big Ten luncheon "40+" years ago, via @BigTenMarkTV:
Bo looks disturbingly like cousin Eddie.
You win. And Harbaugh loses for saying the decay of American society is great to see.
And he would not be QB for me with Barret, just like you saw last season. 1st world problems are cool with me. :)
Wrong QB. I can't believe I had to even offer up the idea that the record setting QB isn't the pick.