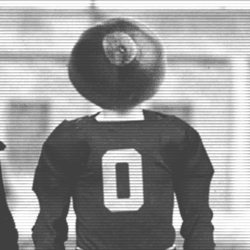 Devin1024
---
Member since 17 October 2011 | Blog
Helmet Stickers: 218 | Leaderboard
Favorites
COLLEGE FOOTBALL PLAYER: Zach Boren
COLLEGE BASKETBALL PLAYER: Aaron Craft....or possibly Mark Titus
NFL TEAM: Just follow the Buckeyes that play.
NHL TEAM: Meh
NBA TEAM: Meh
MLB TEAM: Cincinnati Reds
Recent Activity
At least the will be easy to see if they decided to go jogging at night.
Me too. Probably have them on now...
As was I. And while Caddyshack isn't my all time favorite movie, that belongs to Ghostbusters, it is easily in the top ten.
Just watched Ghostbusters, my favorite movie of all time, on Saturday. Harold Ramis had a hand in so many of my favorite movies. He will be deeply missed. We lost a legend today.
SNES = Greatest Console Ever!!!
Every chapter in Buckeye Rebirth is great, I flew through the book when I got it, but the Penn State chapter did stand out to me.
Nice Mean Girls reference.
That'll do Pig, that'll do.
I think I'm right around 20 or so; I buy a new one or two every year depending on the new numbers available.
True, but Beanie was the starter so the "Dave right, Dave Left" package was made for him; Mo Wells was expected to run the same Dave plays with equal results, just not possible.
I blame Bollman for what went down with Mo Wells. He didn't seem to understand that you cannot run the same kind of offense with a back that is 50lbs lighter than Beanie. He probably couldn't get passed the 'Wells' on the jersey and just assumed they were the same guy.
Man I hate the Lanisters!!! Except for the Imp, he is bad ass! I haven't seen season two yet but just got it from Amazon last night...Ill be catching up this weekend.
Not sure if there is, but I think it's about time we started one...
Drunk and dressed as a Ghostbuster...I've been there, brother.
Love the Rocky Dennis reference!
I have read so many stories like those in this article and I love every one of them! What a great bit of writing for a great man on his birthday!
I just hope it is the speed dating thing...that would be hilarious!
Happy birthday Woodrow! What I wouldn't give to shake his hand and talk to him for even a minute. (Well I would probably just end up listening for that minute)
I've been a regular reader for a long time, it took quite a while before I actually set up an account. This site has since become nearly the only source I even consider for Ohio State anything. The recruiting coverage is always spot on and reliable, as are all of the other writings. I don't start a day until after I have read the Skull Session, occasionally reading it from my phone before I even get out of bed in the morning. Thank you 11W for all of your hard work!
Good news comes in gray boxes!
Damn, I was a second too late!