DefenceWinsChampionships
---
from NE Ohio
Member since 12 February 2014 | Blog
Helmet Stickers: 1,293 | Leaderboard
Voting Record: 646 / 43
Favorites
SPORTS MOMENT: 2002 National Championship Game... nuff said
COLLEGE FOOTBALL PLAYER: Bo Jackson... I know he's not a Buckeye, but Bo Jackson... Favorite Buckeye is Chris Speilmen
COLLEGE BASKETBALL PLAYER: Michael Redd
NFL TEAM: Broncos/Packers/Raiders
NHL TEAM: Penguins
NBA TEAM: Cavs
MLB TEAM: Indians
SOCCER TEAM: This is still a sport in America?
Recent Activity
Good God, what could that man do with a running start???
With the minutes he gets he won't be expected to get points - we have enough people on the team who can score - he'll be expected to provide another defensive presence. He'll get in the game solely to man up bigs, block shots and get rebounds.
We saw it against the bulls when love was out. If we're missing one of our bigs we become a very small team. If Irving is out smith, or shump, or LeBron can run the point and we'd be just fine. Every team needs to run 4 deep in the post and now the cavs do. This signing is huge.
Coming from a guy who had the unfortunate job of coaching against price, I can say that I never understood why he was recruited as a d-lineman. Not that he wasn't good there, but he was the most dominant offensive lineman I've ever coached against. Defensively, while he was good, I thought using him there would have been a terrible waste.
But how can you win a peace prize when you run so violently?
Yes, he fits into the H rotation as well. But I don't think he is competing with Paris and Dontre all that much, so to speak. I think he will be asked to do different things, and in different ways, than the others because he is a completely different player. I more see Dontre and Paris directly competing against each other because they have similar skill sets and I would expect them to be used in similar ways.
I think Jalin winds up moving into more of a pure receiver roll along side Thomas, and I think we'll see Paris back up Dontre at the H position.
I think we wind up seeing a depth chart that looks like this:
WR: 1) Thomas 2) Dixon
WR: 1) Marshall 2) Smith
H: 1) Wilson 2) Campbell
TB: 1) Elliott 2) Samuel
The one thing the could throw this out of wack would be it Brax moves positions.
Oh Ooohhhh! I know this one! Pick me! Pick me!!!!!!
Ummm, not to be a stickler, but I'm pretty sure that last one was Scooby.
Agreed, and well said. If you go back through history the 7th and 8th ranked teams are almost never worthy of consideration. When you start giving teams, who weren't even good enough to compete in their conference championship game let alone win it, a chance to win it all, I think you reach the point where the regular season is rendered completely meaningless.
Then how will your grandmother knit you your Christmas present???
Or go greek pizza with spinach, feta, and shaved lamb
Shrimp, pesto, roasted red peppers, and cracked black pepper
Yup, he has wedding. There won't be a hurry up tonight.
I think Marshall and Thomas start at the X and Z, while Wilson man's the H. I doubt Marshall and Wilson are competing for the same spot next year.
Ha, what's really funny is that I clicked on your post and initially got an error.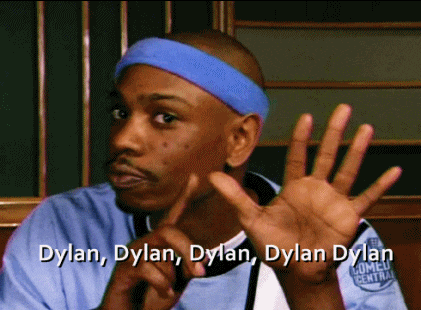 Birm is dead on balls!?!?!
I'm pretty sure that shark is giving everyone the flipper near the end...
Prince and Bowen. Its on the front page if you want to read about them