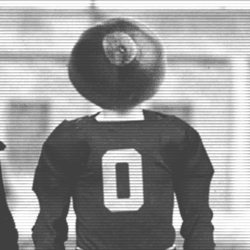 Dean
---
Member since 12 September 2010 | Blog
Helmet Stickers: 453 | Leaderboard
Recent Activity
Dontre Wilson decoy player of the year to google
OK... Now what?
I kid. http://www.cleveland.com/osu/index.ssf/2014/01/the_decoy_of_the_year_dontre_w.html
On Windows Phone 8, the login drop down (from the sidebar) is a little wonky. It shown up, then the page scrolls wayyyy down. I could type my name, but had to scroll back up and re-open the login dropdown to enter my password. When I tried to re-open it a third time to hit the login button, the dropdown vanished, so that I ended up hitting "forum" instead
Look, I believe in RichRod's revival as much as the next guy, but Arizona at #4 is just too much.
Wow, did we ever need that.
I interpreted it to mean that he was wishing Kate Upton to Tensing.
Alas, no longer:
http://www.elevenwarriors.com/forum/recruiting/2014/01/njokus-ov-is-off
Derp, need to correct a minor error - by "typical musician" I meant, "typical famous musician with a record contract." Silly me.
1) They are not employees only because of a meaningless distinction - the "student-athlete" moniker was an invention of lawyers trying to save money for the NCAA. http://nationallawforum.com/2011/09/18/how-the-ncaa-has-used-the-term-%E2%80%9Cstudent-athlete%E2%80%9D-to-avoid-paying-workers-comp-liabilities/
2) The "it's a choice" argument is a red herring. All jobs are taken by choice, and it's been a role of government since at least the early 20th century to regulate the sorts of working conditions and payment that people work under, even if they do freely choose the job.
3) The partners at your accounting firm aren't permitted to agree on rules with other accounting firms that limit your ability to move between accounting firms and limit the amount of your compensation. http://rt.com/usa/apple-google-low-wages-collusion-169/
4) Again, see point 3. Nobody argues that they're uncompensated, just that they're severely undercompensated by virtue of an agreement amongst the schools. Furthermore, the amount of their compensation is only relevant when viewed with reference to the value they create. College football players create far more entertainment value than does your typical unskilled labor (though probably less than your typical uneducated musician, though nobody seems to argue that the record companies should be allowed to get together to limit musician pay).
5) They're only wasting people's time if we accept your other four points (i.e., that they don't deserve to be compensated any further, or deserve any other sort of protection from labor laws). As for "ruining the system," costs aren't necessarily going to skyrocket if players start to be paid. Rather, schools will spend their money on players, rather than on coaches, recruiters and recruiting, compliance departments, and palatial training facilities. Would smaller programs be unable to attract marquee players? Of course, but that's no different from the status quo - currently, schools simply attract players through less direct means.
Bert, 8 days ago:
Bielema said no other programs have reached out to speak to other Arkansas assistant coaches. Defensive coordinator Chris Ash and linebackers coach Randy Shannon were recently linked to other jobs in published reports.
"The distance between truth and reality can be pretty wide in coaching," Bielema said.
http://www.arkansasonline.com/news/2014/jan/06/bielema-nearing-assistant-hire/?f=latest
Really love that last quote.
At any rate, the point isn't that he did it, but that nobody cared to find out whether he did it. Not being charged desn't mean much, given the spoliation of evidence and the lack of interest in investigation. The fact of the matter is, we'll never know what happened, thanks to the Tallahassee police department.
As I said - maybe he did it, maybe not. But the school, investigators, and coaches don't seem to care about even the accusation. Again, if it were a normal person, or even a backup on the football team, the investigation would've proceeded, the accuser wouldn't have been intimidated with reminders of the consequences of accusing such a popular figure.
Weren't we applauding the suspension of Hyde? We were certainly hoping he'd be absolved, but it was the right thing to do. FSU fans, on the other hand, do one of these outside the courthouse:
Disappointing. While the SEC may represent all that annoys me about college football, FSU represents all that makes me uncomfortable with being a fan and supporting the institution of college football generally. They have the same head-in-the-sand mentality that allowed the PSU scandal to go on for years, with the school, coaches, and town looking the other way and putting a thumb on the scales for the star football player who can bring a trophy home. Maybe he did it, maybe not, but a mere mortal in his situation would be investigated and suspended from school pending the investigation. It's the same attitude that brought us "Affluenza," but nobody cares outside of its impact on the field. Would've been nice to at least see FSU not rewarded with a MNC for their terrible behavior.
OK, rant over. Bed time.
Can we have already forgotten Jameis Winston? At the very least, even if the guy isn't guilty, the school, town, and program did nothing - the investigation was delayed, half-assed, and reeked of trying to intimidate the alleged victim out of pressing charges, and you can bet that if Miller were being investigated for rape - rape! - he'd've been suspended. Not so in Tallahassee.
Sometimes good things happen to bad terrible people. Sigh.
Just to be clear, the Browns haven't won more than 5 games in a season since 2007, and their logo appears in the dictionary next to the word "hapless."
Ohhh, thank you! I'd been wondering why my computer didn't seem to have the font that everyone on Twitter was using...
And here I was hoping that nobody saw it...
I've forgotten -- was this from when Kiffin left Tennessee?
At least we know the Ducks won't be too disappointed about missing out on a Rose Bowl trip.
Cliff Alexander's fake-out isn't exactly the classiest move, is it?
To be fair, they were playing in Jacksonville, a weird place for a game between Va. Tech and BC, though their fans obviously don't travel well.
http://en.wikipedia.org/wiki/2007_ACC_Championship_Game