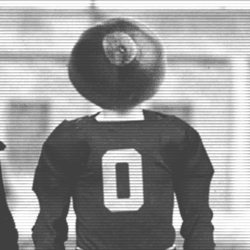 dcbucks
---
Bethesda, MD
Member since 02 December 2013 | Blog
Helmet Stickers: 79 | Leaderboard
Recent Activity
Field goal blocker? Onside hands team? Corner Fade? If only injuries weren't a risk.
She's just sticking her tongue out to be more like Jordan in that #23 jersey.
An open mouthed portrait logo just makes it too easy for their rivals. Sorry FSU fans.
So I'm guessing nobody on here gets Lifetime?
All these things happening around Desean really don't support the SFGate article about how Cal players are "winning in life."
Both of these aren't even close in my opinion. College stars vs international stars. Landslide victory for both the favorites.
Thirsty Scholar, free popcorn.
So a win today would likely result in a November ACC/B1G Challenge match-up with either Duke(3rd) or UNC(4th). Louisville will be slotted into the rotation somewhere near the top or we could end up with them as well.
The bit on Alex Amidon is a great story and I'm glad 11W brought it to my attention. This morning on my daily visit to espn.com, which is a routine that needs to be kicked worse than cigarettes, I didn't see anything about that story. Unfortunately active players doing great and unusual things is much less important than the "8 second call" headline thanks to the business of media.
At what point do we start planning the 11W tailgate? Another interest would be to get a fan bus from somewhere in DC (or Bethesda) up to Baltimore for the day. With 40+ people we could get something reasonably priced.
Its unfortunate this turned into a marijuana/political debate when this could have turned into an shirtless Andre Smith 40 vs shirtless Bret Bielema 40 debate.
I totally agree. Maybe I missed it, but a spotlight on the new B1G hockey would be great. I expect our hockey program to become profitable, if it isn't already, just like these baseball teams. Having a B1G game follow the USA-Russia encore on NBCSN last night was a great spot for the league. This year OSU has the worst attendance among B1G teams and still gets over 4,400 on average, 6100 on average in B1G games. I can only imagine that will grow quickly now that we are out of the old CCHA. With no disrespect to the teams, it's much more exciting to watch us play Michigan St and Wisconsin than those like Ferris St and Lake Superior St.
Bring the game to the nations capital. Mild weather in the first week of December. 10,000+ Alumni per school live here already. Good for regional recruiting. Maryland will not be in the game anyway so it wont be a huge advantage to anyone, just like Indiana and Purdue in Indy.
I'll take a couple more Jalyn Holmes' at #166.
This is my chance to complain about Teamtix. When we lost to MSU the Teamtix rights for Auburn shot up to $500 a piece and FSU prices were already up there. Add that up with the $325 face value they would have to pay for endzone seats and the cost was $825 for "face value" seats. I don't know why these articles are talking about how face value was $325 when there was zero possibility of getting face value on the open market. That thing is such a scam in so many ways but the worst is the thousands of fans across the country that bought into a ticket right for their team and lost 100% of that money. The whole thing is basically gambling. I'm sure back in the summer there were plenty of opportunist who bought FSU or Auburn rights for $20 or so. Kudos to them for picking the right teams. These who thought they struck gold are also the ones who are likely flooding the market with tickets that they never intended on using and meanwhile FSU/Auburn fans were discouraged from making travel plans when the tickets were already going for $825 "face-value."