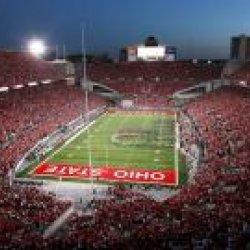 DBell8
from Bowling Green, Ohio
Member since 12 November 2013 | Blog
Helmet Stickers: 117 | Leaderboard
Favorites
COLLEGE FOOTBALL PLAYER: Braxton Miller
NFL TEAM: Detroit Lions
NHL TEAM: Detroit Red Wings
NBA TEAM: Cleveland Cavaliers
MLB TEAM: Detroit Tigers
Recent Activity
Alabama
Oregon
Florida State
Mississippi State
TCU
Ohio State
Baylor
Ole Miss
UCLA
Michigan State
Georgia
Kansas State
Arizona State
Wisconsin
Arizona
Auburn
Georgia Tech
Missouri
Utah
USC
LSU
Nebraska
Oklahoma
Notre Dame
Boise State
The ESPN app is a piece regardless of anything they send.. Always crashes and is painfully slow
I spy Buck I Guy in the background...
Showtime! Lets get some revenge Saturday. Go Bucks!
I've always liked Gareon and thought the starting outside corner job this spring was down to him and Eli Apple. I have confidence in Gareon or anyone else if they are forced into Armani's role.
Although playing Navy may have skewed some of those numbers, the defense is leaps and bounds better than last year. Can't wait till the boys make a statement Saturday night!
Any thoughts as to who will play the Nickel if Armani is out? Gareon Conley i would assume, or maybe even a healthy Cam Burrows for a bit?
There's no way Braxton isn't the starter next year once fully healthy. Everyone knows how much Meyer loves Braxton. JT is very good but Braxton is once in a lifetime. Don't forget how great Miller is. However, you'd have to expect Braxton to struggle early on in practices/games since he won't have had practice or game time in over a year. Lets hope he hasn't lost what he gained in spring ball from all of those mental reps.
Great video, still somewhat disappointed though with the lack of hype videos this year... Hopefully their are more to come!
Call me crazy but I actually don't mind the Maryland Uni's, although the white are clearly better than the red. Maybe with me being in the "new generation", that has something to do with me liking the uniforms. However, nothing will compare to tOSU uni's and i cant wait to see us rocking the white and grey for the first time this season!
Looks Great! Can't wait for Saturday night!
Awesome! Great for both sides! Texas and ND on the schedule for 2022 and 2023 will be great entertainment.
Go Bucks!
Everyone's worried about camp injuries but don't forget guys, we are playing football here so there's always going to be some guys getting injured. Dylan Thompson and Ezekiel Elliot are the only guys who have sustained a new injury in camp.
I have to say that I wasn't all that keen on Gibson as I started to really look after what he was doing. However, as Birm mentions, he seems to have grown up a lot lately and he has handled the Braxton Miller injury with pure class. Hopefully we can snag him along with a few recruits he could possibly bring with him!