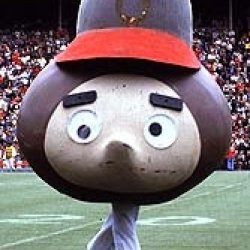 DaytonBuck1980
---
Columbus (via Dayton)
Member since 27 May 2013 | Blog
Helmet Stickers: 430 | Leaderboard
Favorites
SPORTS MOMENT: Holy Buckeye!
COLLEGE FOOTBALL PLAYER: O- Troy Smith D- Andy Katzenmoyer
COLLEGE BASKETBALL PLAYER: The Villian Evan Turner
NFL TEAM: The one with the least scUM alum
NHL TEAM: Bluejackets if I have to choose
NBA TEAM: Cavs
MLB TEAM: Reds
SOCCER TEAM: Crew
Recent Activity
^^^ I agree. '79 Brutus was a boss
I like the new policy regarding draft grades. Hopefully it'll help the marginally talented from from making the wrong decision when they could finish their degrees or possibly develop into a higher pick. No as high on the 5 underclassmen per school rule however. How would a school decide who to chose if they have an abundance of talent. If the nfl is overwhelmed by the numbers, hire more people, they're a 9 billion dollar business after all
I was going to say, LA Steel sounds like an MLS team name. Or worse WNBA
The obvious answer is Illinois because it's the only game at the shoe that I can afford tickets to
Threads like this are why 11w is such a great community. We ask and 4 hours later our trip is planned. Rock on buckeye nation.
If any other 11 dubbers plan on attending we should definitely have an unofficial meet up somewhere and take over east lansing
Fantastic info. Thank you for the time and effort in posting this. Only thing you could have added would have been your neighborhood so that nappy and myself can avoid burning it to the ground in the unlikely event of another defeat
That third "w" was for weck. A type of bread. But you're right, I don't even know what that is. And I surely agree, they are the McDonald's of wing joints.
You gotta try em some time. No exaggeration at all when I say they destroy every wing I've ever eaten. They're gigantic and come whole wing style so ordering 10 is really like getting 20. Thurman's burgers are good but they're no white castle
Personally I think Thurman's wings are the best I've eaten.
The full article states that an attendant will be at the station to double check IDs and to cut people off
I was thinking the same thing squirrel. Not very personal at all. Reminds me of a football card.
I didn't mention anything about his pro success. Whitner was drafted 9th overall because he was an absolute stud in college.
You are correct. It was actually on Comedy Central last night
The only way I'll ever be able to forgive and forget is if he were to air an hour long special on ESPN stating that he made a mistake and that he should have never left Cleveland and definitely not the way he did and he's sorry for quitting in game 6 vs boston and that the whole Miami thing was a horrible idea. Since that will never happen I don't think ill have to worry about forgiveness.
This x1000. I said it 4 years ago , that we only have ourselves to blame. But as an Ohio sports fan, esp Cleveland, we wanted so badly to believe that he was different, that he was one of us. And he said all the right things and then walked on us. Those that look at it as only a business decision, I actually feel like you're missing out. Too truly relish the great times you have to hurt through the bad.
No. No. No. Simon is one of my all time favorite Buckeyes but Whitner is in another league. There's a reason he was the #9 overall pick in the draft.
That sounds pretty wild. I have a pretty high tolerance myself and I still feel pretty nice when I drink a sixer of anything in 30 minutes. I don't know if I'd put my faith in that thing. Plus it was reported that he said he had 2,3 vodka drinks. Typically mixed drinks have more than one shot in them. If his vodka drinks are like mine it coulda been a hell of a lot more
Happy early birthday my buckeye brethren
I get what you're saying and logically you are probably right. But if you're on this website, you probably understand that sports fan are usually illogical with their allegiances. We LOVE our Buckeyes and we LOVE the men who play for them. As illogical as it is, we fans do develop personal feelings for the teams and players we root for. They may not reciprocate that but that doesn't change how we feel. Fan is short for fanatic after all
Bob Saget would disagree.
http://m.youtube.com/watch?v=ARXHHevvr6Q
I just can't get on board with him coming back. I was a HUGE Lebron fan until the decision. I was there to see him presented with his first MVP trophy and that was probably the single most surreal sporting moment I have " witnessed". The chants of "MVP" were literally deafening. I just feel like welcoming him back is like taking back your wife after she sleeps with the mailman and posts the video on YouTube.
I'm by no means bashing the kid. A 4 star commit is a great thing every time and I'm excited about his, and the entire class of '15 prospects. My only hope is that he's ready to ball from day 1 because what we see then is likely what we will see when he graduates or declares.