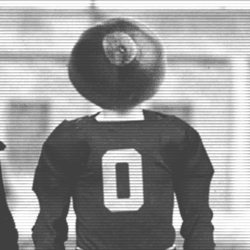 Davep160
---
Member since 27 December 2011 | Blog
Helmet Stickers: 268 | Leaderboard
Favorites
SPORTS MOMENT: National Championship 2002
COLLEGE FOOTBALL PLAYER: Archie Griffin
COLLEGE BASKETBALL PLAYER: Granville Waiters
NFL TEAM: Browns
NHL TEAM: Blue Jackets
NBA TEAM: What?
MLB TEAM: Reds/Indians
SOCCER TEAM: What?
Recent Activity
Me to brah, me too.
And that is with a re-built ACL correct? WOW
Although I am sad about his skill set leaving the university, Sexual Harassment is not freaking cool.
Being a Browns fan I always hated Elway as a young person. He was a pretty good scrambler while young and had that cannon for an arm. It wasn't until I got older where I really respected his game and how good he really was.
The worst that can happen if Aaron Craft doesn't get drafted. He becomes a Doctor.
I watched Orlando Pace instead of Eddie in the Illinois video. Damn that man was BAD ASS.
I think he would be vastly more effective in a European league where they play a truer form of the game. You know...where traveling, palming are illegal and where five fouls actually fouls you out of a game.
I think in 2001 they took it from 22" to 18" so my comment was in jest that they will eventually get down to 12"
Did they make the seats 12" wide to uncomfortably fit 165k inside?
To be honest the role of a University president is to raise money. I doubt any of the other YSU candidates have Tressel's ability to captivate a crowd and raise coin like coach T.
I have a completely unhealthy view of thieves: punishment = castration and crusifiction hatred. I have had so many vehicles broken into when I lived in Columbus it was crazy.
Can we tweet Michigan recruits?
I don't know why I always found the term "Lady Buckeyes" wrong. I mean they are the Buckeye women's team. I don't know, it just sort of bothers me I guess. It isn't like we designate the men's team the Gentlemen Buckeyes.
'
Although I am truly upset. Good luck in the Rose Bowl Sparty, you played well today and it was a good game.
I still remember the snot bubble coming from Korby Jones's nose after Andy Katzemoyer hit him.
Did Kirk Ferentz get the annual B10 Coach of 7-4 award?
I find it overwhelmingly ironic that we move UP to number two considering we STARTED number two.
Week
1 - Started #2
2 - Passed by Oregon (now number 3)
3 - Passed by Clemson (now number 4
4 - No change
5 - No change
6 - No change
7 - No change
8 - No Change
9 - FSU beats Clemson, moves to number 2 (Still number 4)
10 - Oregon/FSU swap
11 - No Change
12 - Oregon Loses (now number 3 again)
13 - No Change
14 - No Change
15 - Alabama Loses, OSU back up to number 2)
If Auburn wanted to guarantee a place at the table, maybe they should not have lost. Hell, they almost lost to Georgia AND Alabama. Don't get me wrong, Auburn is a fantastic football team but as everyone knows, if you lose you are screwed. Same thing goes for the B10 championship game OSU loses, then they don't deserve to go...simple as that.
That being said, I still think Auburn got screwed in 2004. They deserved to play against USC. The disservice was then...not now.
I can see your point, but the problem lies with personnel. I think our D-Line is doing well (36 Sacks) our Defensive backs are either not the caliber of Chekwa or Jenkins. That makes a HUGE difference when we are running in the Nickel or Dime ALL the time. Hell it may be a coaching issue, but it is too late to worry about it now. Dance with the one that brought you here.
Here is my weak ass take on the matter.
We struggled against three teams. Iowa, Wisconsin, and Michigan. All three of them used 7-8 man offensive lines. Wisconsin did it first and we struggled, we have a fast defensive line, but not a huge defensive line. They double teamed our lines and moved the ball with screens.
Due to scheme none of these teams ran well on us, but all of them were able to keep our 4 D linemen away from the quarterback. Michigan had copied the blueprint and added a few wrinkles with short passing routes. The second they wen't to a 5-6 man line we started getting pressure.
Also, with our Offensive scoring so often and not sustaining drives, the defense is on the field ALL THE TIME. It isn't so much that we run 80-90 plays a game, but the opponent runs the same amount of plays. By the numbers, we are giving the opposing team 25% more opportunity to get their offense going.
That being said, we have been shitty against the pass all season, this time it almost affected the outcome of the game. It is what it is.
Bring on MSU
F ESPiN as well to be honest.