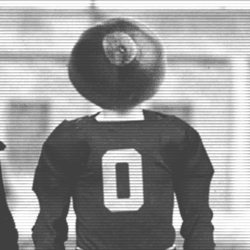 darkhorse3d
---
Member since 23 November 2011 | Blog
Helmet Stickers: 212 | Leaderboard
Favorites
SPORTS MOMENT: 2002 NC game vs Miami...
COLLEGE FOOTBALL PLAYER: Troy Smith
NFL TEAM: Clevelan
NBA TEAM: Cleveland
Recent Activity
I logged in just to HS this.
Well written. Really enjoyed this article.
If that Bollman offense beats us there's a lot of people around here going to eat a lot of crow lol. I'll be one of them because I don't fear the walrus.
I wish the game was... now.
The fake ass buckeye quote was just a tongue in cheek T2P reference. It was not intended to state my actual views on anything. It was a joke. I appreciate the down votes. Carry on.
Herbstreit is a fake ass buckeye.
Bama O is so over-rated. What I can't figure is how they get away with as much blatant holding as they do. Bama does not get penalties that other teams do on offense and it helps them. That said I think we beat bama. I don't think we'd blow them out but 10 - 13 points would not be out of the question.
Maybe he should stick to commenting on the issues involving the round ball lol. Go Bucks!
It's kinda deflating when TTUN is in shambles. One would think UM would be a guaranteed top 25 matchup. How things change. Thanks for nothing Brady Choke...
I wonder if Oregon has any of those We Want Bama shirts left available?
If the players keep executing the offense like they have then we will continue to blow teams out. Did anyone who objectively watched that Bama LSU game honestly think we would not hang 40+ on either of those teams if we consistently execute the offense. Lets not kid ourself... Hyde has not beed stopped for a loss one time this season. That's just bizarre.
I honestly feel we would hang 40+ on bama... Just my feeling. Yeldon is not nearly the back hyde is either from what i see. LSU play calling is so poor. Everyone knows when they are going to run that silly play nobody is fooled on that toss either bro...
I like Fickell. I hope he stays. After reading Ross's D breakdown I think we're going to see similar to last year a D that gets better as the season goes on. Plus he's die-hard buckeye and a great recruiter.
I need to take the time to admit that I was extremely critical of Decker post buffalo. Really hope we have him ready for next game now...
Our receivers are blocking like men possessed men.
My guess is we go for 150 on the ground against MSU and another 220 - 250 in the air. I'd think we but up 31 - 40 points on them. They score maybe 17 - 23 on us. I don't see their Defense as good as they are being able to keep it close enough for them to beat us. Also if MSU is that aggresive against OSU they will get torched for big playes so they'd have no choice but to dial it back a bit. Our o-line is not the scUM O-Line.
I think an interesting question would be "How does Dantonio gameplan for this offense?"
I'm pretty sure if the runner is staring at you he doesn't classify as "defenseless" Even the Roby hit was questionable at best for a flag. (I felt it was clean) Thing is if the back didn't want to get taken down to China Town he could have just run it out of bounds. Instead he decided to try to make something out of nothing and ended up turf pizza. Let's not forget they still let the players play football out there... sometimes.
Fine work Mr Ginter. Dam fine work.
The down field blocking from these receivers and Heuerman has been incredible. Check out the block on that wilson TD catch. They hold their block and they know where to be. This O is mechanical.
Im pretty sure withers is behind the soft coverage.
We talk about the secondary but man i wouldn't want to run against this front 7. Win against a top 20 team in back to back weeks! Ill take it.