DannyBeane
Member since 04 October 2012 | Blog
Helmet Stickers: 6,995 | Leaderboard
Voting Record: 506 / 20
Favorites
SPORTS MOMENT: 2002 BCS Championship
COLLEGE FOOTBALL PLAYER: Cardale Jones
COLLEGE BASKETBALL PLAYER: Greg Oden
NFL TEAM: Cincinnati Bengals
MLB TEAM: Cincinnati Reds
SOCCER TEAM: Columbus Crew
Recent Activity
Not a fan. They look bland as Hell.
5 in a row, let sparty or Nebraska win a natty then 5 more for us. Can't get greedy right?
I am going to be 30 in 2 days and I still do stupid stuff that takes me a few days to recognize how stupid I was. In college I drank to blacking out many times, I smoked pot, I did stupid things that could have probably killed me and I learned from them all and it made me who I am today. I can't imagine being that age and being under a public microscope.
You just made me reflexively clench my hand into a fist. Touche.
Seriously, has there ever been a more punch able face?
I play the position of chief fan and instigator!
The thousands of dollars I gave osu in tuition give me the right to say "we".
Gets this poll out of my face!
I'd sooner predict Oklahoma and/or Texas joining the B1G than Nebraska leaving.
Jesus Orlando Pace is a mountain of a man. Taylor Decker is huge and Pace dwarfs him. Is there some loophole where we can squeeze some elligibility from him?
The only way to beat the buckeyes is to not play us.
If James Clark has fully recovered, I say give him a shot at punt returns.
Any chance of this happening?
Well the key to beating us is to score more points while limiting the points we score. I'll take my consulting check now Saban...
They hit 600,000 unique views during the height of Harbaugh mania. We call 600,000 uniques "June."
Honestly I was more upset at the Michael Vick eye black incident than a kid trading trinkets for tats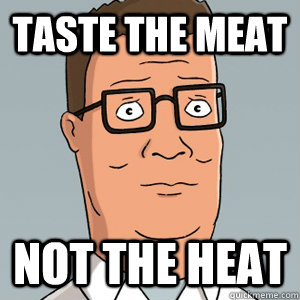 I think Bosa approves of Morris being the starting qb.
Dunn was looking like he was making some progress last year. I think Weber will also get some reps. Ball will probably be the odd man out.
Hey now, that's Undisputed Playoff National Champion Chump Ass Yankees to you...
As a Bengals fan all I will say is at least Pryor was able to win in the post season...
wide receiver/tight end hybrid actually