Danify
Marion (via Marion, Ohio)
Member since 28 March 2012 | Blog
28 year old with a passion for Ohio State Athletics (Football, Basketball, etc...), Gaming, Gardening, and Drawing. Been a fan of THE Ohio State Buckeyes since 5 years old after watching the Ohio State versus That Team Up North with my Dad. Aspiring Game Designer with a degree from Full Sail University.
Favorites
SPORTS MOMENT: Between three moments ... Ohio State's victory over Arizona State in the Rose Bowl, Ohio State's victory in overtime against favored University of Miami, and Ohio State's 42-39 victory against That Team Up North in the Battle of Century between #1 and #2.
COLLEGE FOOTBALL PLAYER: Ryan Shazier
COLLEGE BASKETBALL PLAYER: Aaron Craft
NFL TEAM: Cleveland Browns
NHL TEAM: Columbus Blue Jackets
NBA TEAM: Cleveland Cavaliers
MLB TEAM: Cleveland Indians
SOCCER TEAM: Manchester United
Recent Activity
We're smoking 2 turkeys this year with apple wood and brining it and injecting with butter
Bosa is consistently being double and triple team'd and I wouldn't be surprised if he's trying to read the snap to get the one second advantage. No excuse for it, though.
Cardale Jones, while drafting Treadwell in the 1st round. Because, as you know the Browns will win a few games to lose the 1st pick, because that's what they do.
1. Daelin Hayes
2. Antwuan Jackson
3. Binjimen Victor
4. Malik Harrison
5. Jordan Fuller
6. Aaron Hansford
7. Donnie Corley
This debate has been going for quite a few months at Marion Harding. The past few years the Youth and High School football teams have been raising money to get turf. As one of the football coaches I see both sides of pros and cons for this issue. However, I've come to expect anything can cause cancer and the likely hood of a breakout of cancer would be unlikely. Nonetheless, I'm sure this video will be bought up at the next meeting.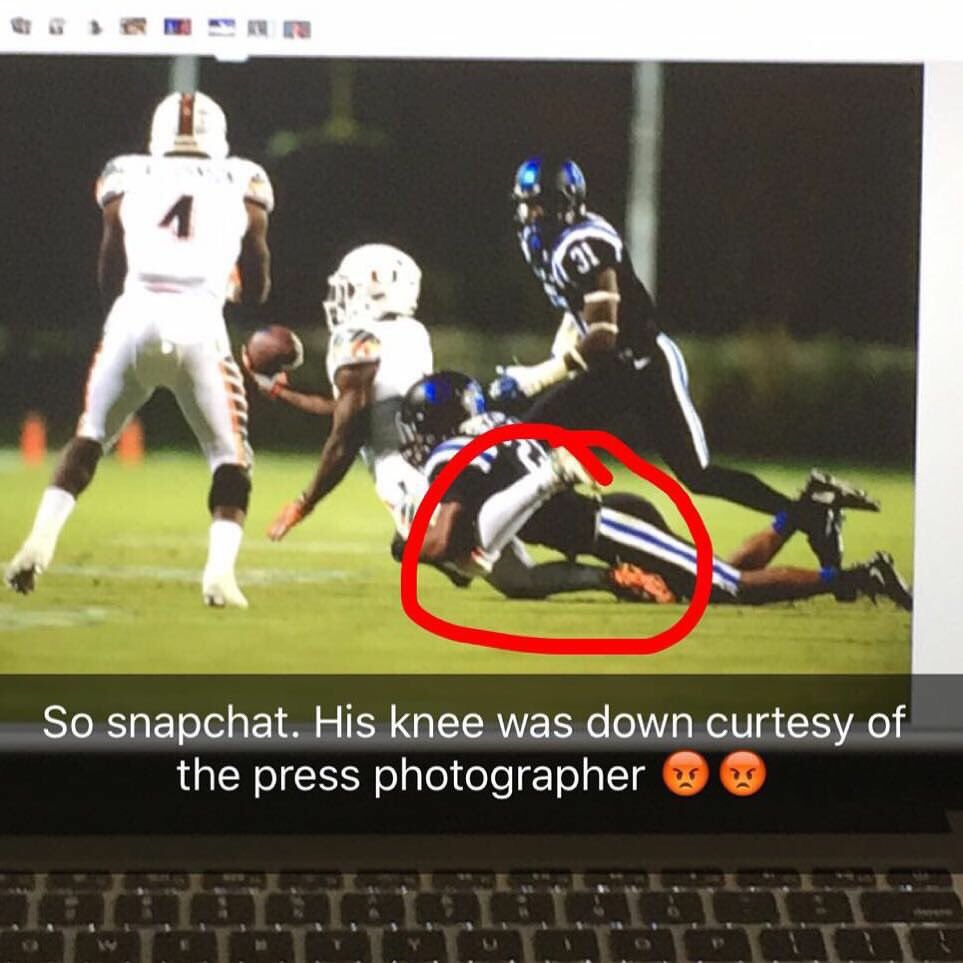 Will just leave this here ...
I know it's because, of the number #34, but I see Carlos Hyde in this kid. Plus, he doesn't dance to holes, he sees a hole and goes full speed.
Yup, Brad's bookstore. The guy who ran the store retired or closed the store.
I've lived in Marion all of my life. Quite evening, used to be a place where I can play outside till dark (or dinner time) as a kid. To be honest, it's still a good place to live aside from the lack of business varies (no bookstores and such). However, aside from the bad rep it gets with drug problems, I've always enjoyed Marion. From Tubby's to Jerzee to Fred's to OK Cafe and back.
That's the dream.
1st round
Delon Wright - Utah

Andrew Harrison - Kentucky (Combo Guard) (Borderline 1st / 2nd round pick)
Jerian Grant - Notre Dame

Tyus Jones - Duke.
2nd round
Olivier Hanlan - Boston College
Joseph Young - Oregon (Combo Guard)
George De Paula - Brazil (Withdraw from Draft - June 15th)
Terry Rozier - Louisville
T.J. McConnell - Arizona
Undrafted
Quinn Cook - Duke
Nikola Radicevic - Serbia
Ryan Boatright - Connecticut.
*Based on various mock drafts and rankings (Draft Express, CBS Sports, NBA.com, NBADraft.net)*
Draft Justin Anderson out of Virginia (6'6" - SF - 6'11" Wingspan - Back-up for Lebron) or Rondae Hollis-Jefferson out of Arizona (6'7" - 211 lbs - SF - 7'2" Wingspan - Excellent back-up for Lebron) - then in the 2nd round pick Tyler Harvey out of Eastern Washington (6'4" - SG - 6'5" Wingspan - Best Shooter in 2015 NCAA season - Quality Back-up and Depth) or Larry Nance from Wyoming (6'9" - 227 lbs - PF - 7'1.5'' Wingspan - Back-up for Kevin Love - Injury insurance). Adds depth for the playoff run next year.
Let's hope this lead to FF IX will receive a remake too. Loved FF VII, but Vivi, Zidane, Princess Garnet and Captain Adelbert to name a few were fantastic.
Oddly enough I used to get worked up over players going to different colleges, but, now with this coaching staff and watching Darron Lee, Tyvis Powell, Joshua Perry among others success as underrated prospects. I'm confident Urban will find a diamond in the rough for Ohio State.
NFL Draft on Thursday and Friday, Fishing Day, Mayweather vs. PAC fight, Kentucky Derby, and then time for Sunday to watch Avengers 2: Age of Ultron. Going to be a great weekend.
Would love for the Cavaliers to sign him as a backup PG. Allow him to command the second unit and sometimes have him in as a defensive specialist.
Likely the same reason media focuses negative news compared to positive.
You win some, you lose some. That's recruiting. Good luck to the young man at ND.
Marvel plans to add addition series such as Luke Cage, Iron Fist, and Jessica Jones to Netflix, which will lead to The Defenders movie (think street level Avengers). Articles have been out recently talking about having Daredevil on Agents of S.H.I.E.L.D. Exciting times for comics, especially with DC Comics upping their game with Titans and Supergirl.
Ive been slowly digesting the content, Charlie Cox as Matt Murdock (Daredevil) and Vincent D'Onofrio as Wilson Fisk (Kingpin) have made this series great for me. Each play their parts excellent to near perfection, fighting scenes are intensely realistic and the plot is solid especially the easter eggs / reference s to the MCU. Looking forward to the remaining episodes.
Year of the Big Ten! Slayers of Champions, Dethroners of the Blue Bloods, Conquerors of the Evil Empire known as the SEC.
What makes Buckeye Nation is no matter a stranger or family you will be welcomed by the 105,000 + screaming fans as part of the Scarlet and Gray family.