Danify
Marion (via Marion, Ohio)
Member since 28 March 2012 | Blog
Helmet Stickers: 1,453 | Leaderboard
28 year old with a passion for Ohio State Athletics (Football, Basketball, etc...), Gaming, Gardening, and Drawing. Been a fan of THE Ohio State Buckeyes since 5 years old after watching the Ohio State versus That Team Up North with my Dad. Aspiring Game Designer with a degree from Full Sail University.
Favorites
SPORTS MOMENT: Between three moments ... Ohio State's victory over Arizona State in the Rose Bowl, Ohio State's victory in overtime against favored University of Miami, and Ohio State's 42-39 victory against That Team Up North in the Battle of Century between #1 and #2.
COLLEGE FOOTBALL PLAYER: Ryan Shazier
COLLEGE BASKETBALL PLAYER: Aaron Craft
NFL TEAM: Cleveland Browns
NHL TEAM: Columbus Blue Jackets
NBA TEAM: Cleveland Cavaliers
MLB TEAM: Cleveland Indians
SOCCER TEAM: Manchester United
Recent Activity
Stay Classy Penn State fans!
Must ... offer ... Nick Conner! He has Chris Borland written all over him.
All these gifs and future gifs ... It has begun ...
Excellent ... Coming to Big Ten QBs near you. Welcome to Buckeye Nation Slade...
Great class! Plus, it makes it even better with Darius Slade possibly signing too, along with Jeff Greene.
SEC Coaches cheating ...
What Urban Meyer and the coaching staff are doing in their secret lair at current time.
Welcome to Buckeye Nation Brady Taylor!
You have to understand he give Ohio State 3 excellent years of scoring, plus he has a kid and it changes how you view the world, especially money wise to provide for him. I complete understand and respect his choice.
NBA should seriously start to use the D-League as an Minor League system (as such in MLB) to develop 2nd and FA rookies for the NBA clubs. Every team should have an organized D-League (I know Cavs have Canton) which could find and give slow developing players a chance to make it to the league.
I match you Aubrey with ....
Yeah, he early enrolled an day before Bobby Petrino was hired (Last Monday I believe). And yes I agree, best athlete I've seen out of Marion Harding in an decade last being Winters. I was amazed he didn't go to Michigan State or Wisconsin.
I know L.J. Scott from Marion Harding (Louisville Commit) still plans to enroll at Louisville, but it also could be because he's an early enrollee. Scott's top 3 was down to Wisconsin, Michigan State, and Louisville.
Hope the Browns are smart, if Hyde is sitting there at their 35th, take him in an heartbeat.
Love hearing the "Big 12! Big 12! Big 12!" chant in the faces of the Bama fans.
When it does become time to start calling technical fouls on the Purdue coach and players. Way too jawy and animated...
When does hiring an recruit's high school coach considered violations? In an way it seems like it.
Yeah ...
For now ... after that 3rd period the other night ... man terrible.
It will forever be "The Jake" or "Jacobs Field" to me. Too much magic in the 90s while going to Jacobs Field to watch Manny, Bell, Omar, Hershiser, Alomar (brothers), Baerga, Vizquel, Mesa (UGH), Thome, and my favorite baseball player of all time Kenny Lofton. Heck I still have Lofton's signed jersey and his signed rookie card to this day.
Looking #5 in video slow motion is an piece of art in itself.
Voted for Danny Clark, because it seems Ohio State has an easier time of getting rewards and honors for Quarterbacks compared to Linebackers (Ask Shazier).
And what makes this more exciting is Dixon along with Collier, Samuel, Trout, McMillan, and Nuernberger (Lattimore likely following too) will Early Enroll. That's a LOAD of talent getting extra weight and on-field work in.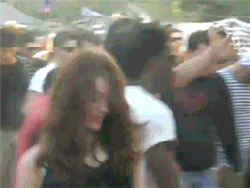 Me ... After the last two days