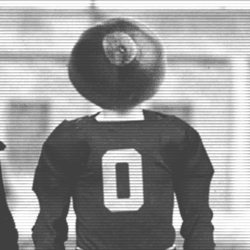 Daddypete
---
Member since 27 January 2014 | Blog
Helmet Stickers: 42 | Leaderboard
Recent Activity
Sure wish he was dating my daughter.....
Great athletic skills, but (as is true of many talented, running, high school QB's) is easily dissuaded from throwing the football by the mere presence of a defensive player in the area. In high school, you can get away with that. At the next level, you must be able to make your reads quickly and throw the ball. Sure there are times when it makes sense to run, especially when a play has "broken down". But even Braxton has found that fast, disciplined defenses will not allow you to run all over them. At some point in the game, you have to prove to that defense that you can thread the needle or make the back shoulder pass. All that said, this young man is a junior in high school with a terrific upside. If he is coachable, the future is very bright for him (given the right QB coach).
They have to move Mark Loving to the 3....he is too small to play the 4 and he looks lost everytime he tries to defend that position. He could be more versatile from the 3 as well. Hope Thad makes that move b/c the kid can play.
Hang in there folks...a lot can happen in 11 months. I never get too excited about a kid commiting to a school this early unless they are a legacy or a local kid b/c sometimes it makes sense for a local "high school hero" to pick an in-state school (Christian Hackenberg is an example). I am sure Urbs will be in touch through the summer anyway.
Too late...The Patriots will take him in the 6th round and in 5 years (when Brady has been retired for 2 years) he will be an all-pro QB for them. At Cleveland, he would start his first game as a rookie, show flashes of brilliance and get hurt before the season is over, never getting a chance to develop into the player he could be. How do I know all of this...easy...I'm a Bengal's fan!!!
FYI...Sam Hubbard is super smart and very quick to react from the LB position. I believe he could also do that from a safety position and he could also recognize and call the defenses. Something to think about as we get to summer practice.
Especially since they could have given it to him on 2nd and 2 and 3rd and 2 and chose not to do that either...really mind boggling at that point in the ball game...do not know what Herrman was thinking!
Not sure I can count that high.
Doesn't hurt that he is crazy smart.
The football team needs to find someone on the defense who has "Aaron Craft" tenacity. He has that "get on my back and I will take you there" attitude and it rubs off. Just watch Williams and Sam Thompson play when Craft is out there on the court. They never take a play off if he is out there. As my motto says, who, on this defense, is going to "stand and deliver". We need leaders!!!!
Burrell really moves his feet well, especially in pass blocking. Tim Settle has an awful quick first step. Sure will make it easy for a line backer to make lots of tackles behind this kid, he'll be double teamed all day long!
The funny thing is...it is so easy to take a bad picture of Bert. It seems like no matter when they snap the camera, he looks like he just cut a fart. And Bo Pelini is a close second.
I am always apprehensive about "counting on" freshman to really deliver. Not that they won't show flashes of brilliance, but I am always reminded of what one of my favorite coaches, Al Mcguire, used to say. "The best thing about freshman is they become sophomores." I remember watching Jon Diebler and DeShawn Thomas as freshman. Good players but took a lot of bad shots. It was fun to watch them improve. Hopefully, we will get to do that with this group.
Careful now...There have been numerous automobile accidents where the driver was smoking pot and killed himself or someone else. The other thing to consider is this: Have you ever heard an interview with someone currently on heroin or in re-hab who said "when I was 14, somebody offered me heroin and I tried it." No, most heroin addicts will mention that, at 13 or 14, they started by "smoking a little pot." Don't get me wrong, I know that everybody who starts with "a little pot" does not end up hooked on heroin and living in a card-board box under a bridge. But for some people who involve themselves with marijuana, it is definitely true that a seemingly innoccuous decision leads down a path to destruction. Just sayin....
Does it make anyone besides me wonder why UFM would red-shirt him. It was obvois that our talent pool at wide out was questoinable at best and mediocre at worst. C'mon, Mike, work hard and be coachable. Lord knows we need you!
I still say one of the keys for this year's success is going to be the improvement in Braxton's ability to make his reads, find the open receiver, and then pull the trigger. To that end, the O-line has got to step up and deliver, much like MSU's did this year. Frankly, they man handled our D-line in that Championship game. They did prety much whatever they wanted and protected their quarterback (which is more than I can say for our guys!) I do not pretend to have all the answers, but we are paying these coaches a ton of money to figure out the answers...we had better get on it because Sparty ain't goin' nowhere. I can not discuss the defense here, I do not have enough time....plus it make's my head hurt!
Don't forget about Jalin Marshall...he is a flat out Stud....very fast...can make guys miss in space...there is a place for him in this offense for sure!
Something else to keep in mind is that Coach Meyer's late father is also a graduate of St. Xavier (class of 1949). This could give him an edge in recruiting Hilliard. The Long Blue Line runs deep and it is a very special fraternity. Coach Meyer also coached there for 1 year while getting his graduate degree. For what it's worth....
Saw Nick play a few times this year. While the team struggled, Nick was very adept at making quick decisions and runs well for a "pocket passer". He will get stronger and he is very smart. The kind of young man who will flourish under the tutelage of Coach Meyer and Coach Herrman. As a member of the Long Blue Line, I wish you the best of luck, Nick, and I will give you the same advice my father gave me when I started at OSU. Keep your mouth shut and your ears open. AMDG.