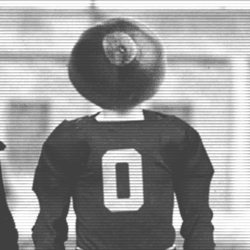 d5k
---
Member since 13 April 2012 | Blog
Helmet Stickers: 2,332 | Leaderboard
Favorites
SPORTS MOMENT: 2006 carrying turf off the field
NFL TEAM: Who dey
Recent Activity
Did his English teacher confiscate his phone for tweeting at school?
We are cornering the Center transfer market between Lindsay, Thompson and Lee.
Anyone else think this just makes it easier for Urban/Paul Keels perhaps to keep track of O lineman's names? Going from C. Linsley to C. Lindsay as your starting center...
According to various reports, Meyer told D. Knox during the recruiting closing that he needs him to start specifically at left guard so I think it is highly likely he is involved in that competition come fall. Jamarco Jones could compete at RT as well as the backup tackle spot. The other freshmen seem likely to redshirt.
Having 2 solid starters coming out of spring is probably as good as where we were in spring of 2012 after losing 3 long term starters.
As long as we get another potential-QB-of-the-future in this class, I will be happy. We have tons of young talent at most positions from the last couple classes and not a ton of scholarships opening up. Therefore I am not worried at all at this point.
Well, this play is a counter to the scrape exchange so if they instead are "forcing Braxton to keep" that would mean the DE is widening which means we have a numbers advantage with the ball in Braxton's hands. So yes, I think Urban would run that play 20 more times until they stopped it. The DE would not be hitting Braxton unless he made a bad read.
But defenses would not be so straightforward in this day and age.
Bosa did not play in the spring game (outside of special teams perhaps?).
I think I asked in the last basketball recruiting topic, but has there been any news on Mickey Mitchell or is no news good news?
Not sure we can fit Bragg, Ahmad and Giddens all in the 2015 class. 2 out of 3 wouldn't be bad though. We would go from too few bigs to too many (if possible). I'm always worried that a guy like Russell will be 1 and done if he has a great freshman year and then we would be really hurting for guards.
Nailed it... we used Roshambo defense last year. Every week we attempted to change from rock to paper to scissors based on what we thought the opponent would throw. This defense is a little bit of each and can transform post-snap to adapt to what the offense does dynamically.
It's safe to say that it is a scheme that Ash has more experience with but hopefully all the coaches are on the same page which appears to be the case this time. I would think Fickell and perhaps Larry Johnson will be heavily involved in game planning on top of unit leader duties.
What I gleaned is that the Sam in the new scheme behaves like a combination of the Will and the Star in the old schemes. While the Will in the new scheme is more of a traditional LB rather than an undersized LB (Will/Star last year) or on the line of scrimmage (Sam last year).
My question is whether this makes the Mike/Will more interchangeable.
They probably had more than 2 identities on defense but by design they had at least 2 the last few years. I thought it would make sense to just go with the hybrid/nickel defense full time but I like structuring it like a base 4-3 with a hybrid OLB. Either way, having 1 scheme and identity should help a ton.
I have seen conflicting information but it also sounds like the top 4 are Grant, Reeves, Conley, Apple with Grant the only clear starter. It also sounds like they will rotate some since we are playing more press coverage which is more strenuous.
Anyone who is worried about the backup quarterback keep in mind that we run a power-run, hurry up spread offense first and foremost. Jones and Barrett will be able to keep the chains moving along with our backs + Dontre without even throwing the ball more than 2 yards past the line of scrimmage. Jones will be a load to bring down in the open field.
Good luck to Mike and hopefully his father wins his battle.
Is Mickey's recruitment open (i.e. has he visited any other programs?) or is he still possibly going to become a buckeye?
:04 - :06
A -> B
(Graphic designers get on it.
Dan Dierdorf has left a lasting impression on society.
But mad props for the consistent logic.
I can get 3 boneless ribeye steaks from Carfagna's for less than $20. Or 2 ribeye steaks and a 6 pack of Yuengling.
I thought it was a clever response to a false dichotomy. Obviously there is a whole continuum of things I can spend my money on. If I'm not going to spend $75-80 face value on a ticket against Akron or whatever I'm not going to spend $20 to go to a practice.
http://en.wikipedia.org/wiki/False_dilemma
Scarlet has almost every presumed starter on offense except Elflein and TE (Vannett among the non-injured). And they aren't too shabby in the front 7 on defense with Bosa, Bennett and Grant. Secondary has no starters, but they seem to have more of the 1's than Grey overall.
If Kyle Dodson is the Grey LT, he will have an uphill battle on his hands with Joey B
Urban hinted that Vannett may have passed many of the WRs making it more likely that we use more 2 TE sets. Lineups with Devin Smith, Dontre, Eze, Heuerman, Vannett as the skill positions would still be flexible enough if Dontre or perhaps Vannett is able to run routes outside the numbers. This should help our young O-line in the run game.