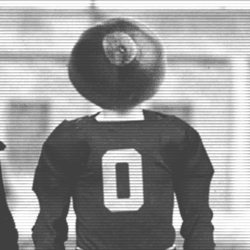 d5k
---
Member since 13 April 2012 | Blog
Helmet Stickers: 2,037 | Leaderboard
Favorites
SPORTS MOMENT: 2006 carrying turf off the field
NFL TEAM: Who dey
Recent Activity
In other words you don't want them to come to play school?
+1 means that they are basically playing with 2 deep safeties without cheating off the slot receiver. Against that type of front the read option would average 10 yards per play with Braxton/Hyde/Mewhort&Co.
The sample size for the -2 and +1 categories must be tiny. And the -2 category is likely dominated by goal line situations where your yardage is limited by the distance to the goal line. +1 runs would only happen for these guys on weird situations like 3rd and 20. Ohio State almost always faced 8 man boxes against their 11 personnel.
Well, if he lands Gibson on top of JT Barrett who I think will be more than solid I don't think the QB position will be why he moves on. He strikes me as a go out on top type of guy though.
Is it true that the only coaching job Urban was fired from was the GA position here when Earle Bruce was let go? The dude never took a lateral move, the closest would probably be Florida -> OSU.
Speils + Kellogg > everyone else in the poll combined.
Too bad he couldn't run 4.5 flat and really blow their doors off.
I wanted to see Hyde's broad jump. I bet it would've been huge.
Straight line speed is not the same as cutting on a dime with vision. Philly was a sprinter in HS. Philly likely runs faster than Braxton but who do you want to have the ball in the open field?
That said, I hope he makes a team. The one time I watched him in the drills he cut the post-corner route way short.
I think the "solution" is a combination of fixing the stipend to be tied to cost of living more closely, and allowing players to work through the university to sell their likeness/image. If the university is part of the branding you are selling then they get a cut, but Braxton also gets a small cut of #5 jersey sales while he is at the university.
One free transfer to anywhere the player wants without a year wait within a list of approved excuses makes complete sense. They already have a lesser version of this for cases like Mike Mitchell. I think additional reasons could include lack of playing time through 2 seasons (maybe less than 30-50%? of available snaps/minutes to give enough leeway) and coaching departures, maybe restricted to head coach.
The accounting methods they use skew toward more revenue going AWAY from the athletic department actually. I would guess OSU athletics is WAY in the black as opposed to slightly in the black. Ticket sales + B1G tv money + bowl money is probably over $100 million by itself. Donations are accounted for separately, particularly if they go toward the university (but are only donated because of acquiring football tickets).
If you don't love it leave it, USA USA USA!
That's pretty much what you sound like.
NCAA compliance paperwork >>>>>> employment paperwork. Not sure why everyone has to scrounge up reasons not to pay someone for providing endless entertainment for millions of people. You guys sound like me when I was 16 and downloaded music on Napster. (the musicians want me to download it for free so I buy concert tickets! free advertising!). Universities = Napster in this analogy and the players = Stevie Wonder. Amateurism = legal grey area.
2 horse race between Miles and Mccaffrey imo. Iowa is a top 10 team by efficiency rankings after wallowing in the NIT. Also when he took over the program was in shambles and the NIT was an accomplishment. Unless Nebraska practically wins out and sneaks into the tournament I like McCaffrey.
Are you thinking this was a poll about the football team?
1-3 guy/gal is a Debbie Downer (oh it's actually 9 votes... wow)
This is like taking Aaron Craft over Russell Westbrook.
More like "if you feel the need to scrap, learn how to throw open hand strikes to the liver like Bas Rutten" (google Bas Rutten liver shot).
"Settle down Amir, settle.. wTFUU!?!?"
That Bode Miller interview literally made me throw up in my mouth a little. But I'm a glass half empty kind of guy. I wish I had a nickel every time someone used a cliche, then I would be a rich man.
Just my two cents. Don't shoot the messenger.
For the record Jack Mewhort has very little chance of going undrafted. He will be a solid right tackle or possibly a guard in the pros. He is rated a 2nd-4th rounder from what I've seen lately. He's not top 5 at his position but he is top 10 at a position that gets a ton of selections. The top 5 are just the first rounders.
It is very possible that we could have 4 guys go in the 2nd round if Hyde or Shazier do not sneak into round 1.
You also could have added that once you get junior+ class rank you get better seats that aren't nosebleed reducing the benefit of Block O.
I think you are confusing time with quality of opponent. Oregon has lost some early season games against tough teams. They also have beaten good teams late in the year. And MSU started slow last year with an uncertain QB situation so not sure where else you are getting the slow starting idea.
I always saw Block O as extra cheerleaders in the stands. I never sat there and preferred to just watch the game and yell/cheer.