D56GoBucks
---
Powell (via Urbana)
Member since 11 September 2013 | Blog
A diehard sports fan with a hopeful future in journalism.
Favorites
SPORTS MOMENT: Storming the field to bask in the mayhem after beating Michigan in 2002. "Lets party, Columbus!"
COLLEGE FOOTBALL PLAYER: Mike Doss
COLLEGE BASKETBALL PLAYER: Ron Lewis
NFL TEAM: Go Brownies!
NHL TEAM: No thanks
NBA TEAM: Go C's!
MLB TEAM: Go Sox!
SOCCER TEAM: 'Merica
Recent Activity
But....BG is orange and brown....
I think they'll go 11-2 in the non-conference slate. It's tough to predict how they will do in the Big Ten. I really can't see much better than 12-6. I'd be happy with a 23-win regular season.
Does Penn State have a site similar to 11W? I always enjoy reading what opposing fans say to each other about the game in the days leading up.
I will exclude championship and bowl games because those are easy to say. I would have to go with the 2001 trip to Ann Arbor. That was my first trip up there, and the game speaks for itself. The '98 trip to Morgantown to kick off the season was a great one, and the '99 trip to NYC/NJ for the kickoff classic was great as well, even though we lost the game. 2012 up in Madison was my first experience of Mad Town, and it was as advertised. I'm heading to Happy Valley for the first time this weekend, so maybe that will find a place towards the top of the list.
I am a little confused on the whole sweatshirt under the jersey thing. Is that not acceptable anymore? I'm heading to State College this weekend and it's going to be cold at kickoff. I was planning on wearing....a hoodie under my jersey.
I'm heading up on Friday for Game 2. But, uhh...Go Sox!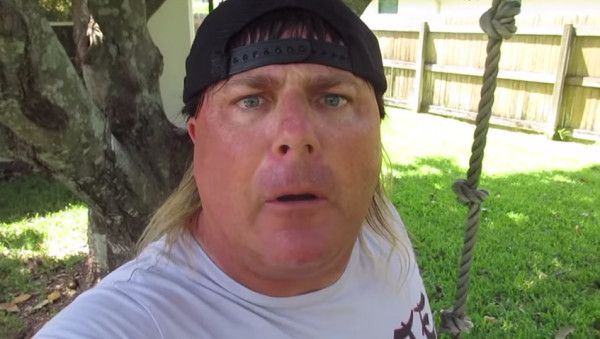 I swear to God it's true.
There is a decent Best Western hotel in Madison that we stayed in last time. There is a Hooters that basically shares the same parking lot, so that was a pretty nice set up. It was a ten minute cab ride to State Street before and after the game, couldn't beat it. Although getting a cab after the game wasn't easy. Not impossible, but not quick either. As any Buckeye fan that has made the trip will tell you, State street is the place to be. I would avoid Regent street, personally. That's where you'll find the more rowdy student crowd. State Street Brats is a must for me every time I go up there.
I've been fortunate enough to be able to have experienced 50+ games in my 26 years of existence. Home games, neutral site games, bowl games, true road games. I absolutely love this article for how true it is. Walking around the town/city of an opposing team the day before a game is such an awesome feeling. Especially as an Ohio State fan, because you know that people don't like them, but you also know that a lot of that is envy. I was 9 years old in 1998 when the Buckeyes opened the season at West Virginia as the number one team in the country. That's the nastiest we've ever been treated on a road trip. By far. And that includes Ann Arbor, Madison, and Happy Valley.
I've had tickets in 29A for many years now. It is the last section of A deck heading towards the visiting locker room. They're typically not too terribly priced for A deck seats, and you can see the whole field just fine.
You knew we were going to get beat by Florida? I expected us to roll in that game, as did the vast majority of the country.
He caught 38 balls as a freshman, and had 36 as a sophomore in three less games. A 50 catch year certainly wouldn't have been out of reach for him. He needed to get stronger, and definitely needed to become a better route runner. Those two things are most definitely things that come with being more "polished". And are certainly things that translate into more production. A 4th round grade after a year of being a focal point in the offense? Yeah, not farfetched at all.
It was most certainly what he felt was best for him, and that's all that matters. But it isn't wrong to speculate on whether or not he might regret it down the road, no different than how we react to a professional player taking the most money to go to a bad situation.
And for the ones saying that, regardless of whether he's a 6th round this year or a 4th round pick next year, he will still need to prove himself in order to make a roster...yeah, that's true. But IF he was never really able to develop in the NFL, and only lasted the length of his rookie contract, the 550k signing bonus you get as a 4th round pick would be a lot easier to stretch out than the 50k you get as a 6th round pick.
Again, he made the decision that he felt was best for him. Period. If he didn't want to be in school, was going to have one foot out the door anyways, etc. than it was clearly the right call. But you can't fault someone for talking about what another year of school could have meant for him.
Man...until the day I die, watching Holy Buckeye will send absolute chills through me. What an absolutely classic and timeless moment in a program history full of them.
Didn't see this before I posted below, but Berrios is a guy I have had stashed away for a year now. He should be with the big club by the end of May.
I play in a league where we have to have three prospects on our team at all times. It is also a keeper league. I have had Jose Berrios stashed away since last spring. It's just a matter of time before the Twins call him up, and he's coming with a ton of hype.
I apologize for possibly being too late to share my opinion on this, but Aaron Blair has been called up to start tomorrow for the Braves. He is a top prospect and one of the main pieces they got back when they fleeced the D-Backs in the Shelby Miller deal. He's coming off of 7 no-hit innings in his last start. Definitely worth consideration. Not sure how long he'll stay up, but with the Braves not being competitive this year, he could have an extended stay.
Totally understand where you're coming from. I've seen it plenty of times at opposing teams' ballparks. I've been to a lot of parks to see the Sox on the road. It's a huge fan base, regardless of the bandwagoners. Unfortunately that means that there will definitely be a good amount of pricks among them. I've also seen it flipped, where the home crowd is overly rude towards those of us who aren't bothering anyone, simply because Sox fans can take over a stadium quickly.
Anyone who says Bama fans aren't overly arrogant didn't spend a couple days with them down in NOLA leading up to the Sugar Bowl. They aren't the "in your face" type of arrogant, just dismissive of every other program in college football. But I do agree that they have a right to be.
And as a life long Sox fan, I can't disagree with those of you who have said Red Sox fans. I've really hated how the fan base has evolved into everything we've hated about Yanks fans for so long. Winning inevitably will do that, I guess, but it's unfortunate.
Not sure if they've been mentioned, but Cowboys fans in the 90's? Yikes. And they haven't changed a bit, even though '95 is a very distant memory.
Y3 is where the school gets its allotment. So if you're trying to sit with Buckeye fans, that's a safe bet.
Madison is a blast! But its reputation precedes itself. State street before the game is a must. Grab a brat at State street brats. Stay away from Regent street unless you're trying to get rowdy/potentially get into a scuffle.
While you're correct in saying that they're not forcing him out, asking him to wait a year now is about as close as you can get to it without telling him flat out that he doesn't have a spot in the class.
If you had worked your entire career for a particular promotion, and your boss comes to you and says you'll be getting it very soon, you'd be ecstatic. Now imagine your boss coming to you and telling you that they'd actually like to give you the next promotion that opens up, because they found someone they value more for this first promotion. How does that affect your feelings towards your boss and place of work? Where's your sense of value to the company?
I've been fortunate enough to cross several off of my list. Went to the sugar bowl and national championship in 2014. Been to many editions of The Game. And I've seen my Sox play the Yanks at the Fens and in the Bronx. Another big one for me is the Kentucky Derby. I was raised on horse racing and that was a must. What's left?
The Bucks in Pasadena
Carolina/Duke in Cameron and a game at Phog Allen
The other two legs of the triple crown
Cooperstown
The Masters
A Browns Super Bowl (Who am I kidding?)
Yeah, if I accomplished all of that....kill me right then and there.
Kashmir, for sure. It was Chase Utley's walk up music in Philly. That song puts me in a whole different mental state.
For Those About To Rock would also get some consideration.
Pulse of the Maggots, by Slipknot, would be another one.
The agrresivness Marc Loving showed down the stretch, when Jae'Sean went down, has to stick next year. If it does, he could finally put together the type of season he's always been capable of.
I just don't have a ton of faith in Mickey Mitchell on the offensive end, and as it was said in a previous post, he's going to see limited minutes if Tate is healthy.
Im expecting JaQuan Lyle to take a huge step forward next year. He has to improve his jumper, but I'm really banking on him to become a leader next year. He has to if this team is to take a significant step forward.