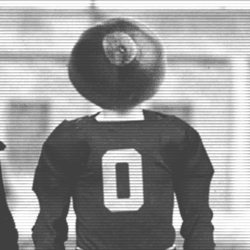 cw823
---
Member since 02 December 2013 | Blog
Helmet Stickers: 45 | Leaderboard
Recent Activity
It's a little soon to make those comparisons, son.
Other than having players who may not be old enough to legally consume alcohol
This BS needs to stop. If you want to blame someone for the secondary, blame Tressel. there was so little talent back there the last two seasons, it's ridiculous that Fickell should take the blame. Our "best" cornerback (Roby) was awful last year. If we hadn't had Shazier it might've been two of the worst years in history when it comes to talent at LB.
Blaming Fickell for the last two years of defense is like praising Tressel for winning without giving recognition to John Cooper (for having recruited the majority of those (2002) players)......it just doesn't make sense.
I think it means, as communicated with several other grammatical and/or spelling errors, that someone posted this update in a rush.....
This is typical Buckeye fan bs.
People also worshiped Tressel like a God, thinking that beating a bad Michigan team is better than winning on the national stage. Miller is still not a good passer, and I still don't think he's very adept at reading a secondary.
He can absolutely be a big game quarterback this year. But that would be a new feat.
He'll play in all the games this year. He'll still have some of his typical long runs where a so-so hit will leave him laying on the ground like an international soccer player, but that's just Braxton being Braxton.
After the first three games defenses will learn Elliot and Wilson will demand just as much attention, if not more, than Braxton Miller.
Two years ago they'd have gotten destroyed by Bama. Last year they'd have gotten destroyed by FSU.
A contender to reach the playoffs? Sure. To win it all? Rests on QB play almost entirely for 2015.
OR on the officiating. Completely agree. When you don't do enough to win, you lose.
Unfair to punish Urban for Tressel's ability to lose winnable games. I cannot imagine them losing this year.
"At any time, he could be the guy in the game and you hope they have a report like we had with Kenny [Guiton] last year."
I think you want to use rapport here instead of report.
lol you obviously didn't watch Spain's first game.
Why not just hire Tim Tebow?
This is why I always fill up my Ferrari before i get on the highway.
Cooper was still a way better recruiter than Tressel. Cooper's recruiting + Tressel's record vs Michigan would be the perfect Frankencoach.
"Don't get me wrong, I love Dino and respect Michigan State. At the end of the day, however, a Rose Bowl win over a two-loss Stanford team is Sparty's greatest moment since beating No. 1 Ohio State in 1996. Plus, it's not like Dino will be around forever."
Care to re-read this statement and edit it accordingly? I'm assuming you mean 1998, especially since OSU was never #1 in 1996.
He wins games because he's a talented athlete, not necessarily because he's smart.
He needs to be smart this year for OSU to have a chance in the playoff.
How does one "hire a defense" in NCAA football?
I'm assuming your "330" is your IQ x 3.
He also lost to Clemson. A simple google search would've helped you here. Not sure how you can be a Buckeye fan and not remember that game.
Urban is still proving himself, but Cooper was the best recruiter we had at OSU.
ESPN? Blame Tressel's disasters in 2006 and 2007.
Exactly right. Why can't be have a QB at OSU that can make every pass. That can throw his receivers open. I feel like I watched Guiton and saw the QB we should have.
If only this made sense. Unless he starts as a freshman, he'll never see Bosa (Joey)
It was the right decision. Like it or not, if they run Hyde, they probably win that game, and get humiliated in the NC game.
A QB that can throw? Imagine the possibility.....