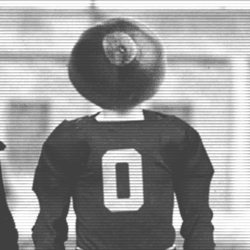 CTBuckeyeFan
---
Member since 04 June 2012 | Blog
Helmet Stickers: 282 | Leaderboard
Favorites
NFL TEAM: Browns
NBA TEAM: Cavs
MLB TEAM: Indians
Recent Activity
So he will be Mariotti's 2nd in command? Or is that Schlegel?
http://buckeyextra.dispatch.com/content/stories/2012/08/31/coaches-blend-in-to-help-defense.html
"When I came here," Withers said, "I told Luke, 'Look, I'm here to help and lend ideas. I've done it at other stops. You've done it here for a long, long time. This place has been successful on defense. There's no need to change a whole lot. If there's something we can enhance, let's do it, let's make it better.' "
Perhaps the biggest schematic adjustment will be in the pass defense. Senior cornerback Travis Howard said that Withers is a proponent more of zone coverage instead of tight man-to-man coverage.
"We're playing a lot more off, so that gives us more opportunities to make plays on the ball," Howard said. "They said we've got a lot of guys who can go out and compete and make a lot of plays on the ball. So us playing a lot of man-to-man wouldn't really be such a great idea."
Your narrative was pretty spot on
Who was the PoW on D? Noah Spence made a hell of a case, who beat him out?
Vrabel actually started his coaching career here as LB coach in 2011, then became DL coach when Meyer was hired.
Mewhort and Stoneburner were charged with the exact same thing last summer and didn't miss any time. Hopefully Roby's punishment follws suit.
3 days before the game he was interviewed after in the article, is it your opinion that after those 3 days the LB coach stopped coaching Boren?
Boren visibly progressed every week at LB, that was a tribute to Fickell's coaching and Boren's football IQ. The LB's have always been the strong point of our D, save last year, and Fickell has been their coach for the better part of 8 years. The list of players he's developed rivals almost any other position coach in CFB. Tressel and Urban Meyer both feel he's capable and qualified.
All of that TREMENDOUSLY outweighs 1 49 point game against Indiana.
Unless you think Meyer can't evaluate coaching talent, that is.
http://espn.go.com/colleges/osu/football/story/_/id/8504781/ohio-state-buckeyes-fullback-zach-boren-move-linebacker-likely-temporary
"It's been a long 72 hours," Boren said. "[Defensive coordinator Luke] Fickell has been great, him and I have been staying at the [practice facility] until 9 at night, I've been coming in early for practice just to try to learn the whole defense.
I guess that depends on your definition of substantive.
Also, you're giving all the fault for the indiana game to Fickell then turn around and give all the credit for the scUM game to the players. Thats a bit contradictary (if thats even a word).
Fickell called the D in the scUM game, and you could see the adjustments the staff made at halftime so I think he had tons to do with it.
As for Indiana, I agree it was embarassing. I hope we never see anything like it again. To use that as an example to fire our DC is shortsighted imo though. Like you said, they improved which is the product of good coaching. If we're using outliers to base decisions on, then Herman should go too. Our offense was downright pathetic at times last year. Only scoring 7 points in 4 quarters against Wisconsin is just as bad as giving up 49 at Indiana to me. The whole team improved as the year went on and Meyer has heaped praise on ALL his assistants. Those 2 things are good enough for me tohave confidence in our entire staff.
Was watching scUM fail to cross their 48 for an entire half enjoyable for you? That was definately Ohio State defensive football.
By all accounts it was Meyer's idea. If you really think Boren was able to make the transition based on his skillset and instincts alone thats your perogative, but I disagree. I've never seen a player be able to play at a high level at Ohio State based on ability alone. If it were that easy, we wouldn't be paying coaches what we do.
I watched a career College FB transform into a solid College MLB in a very short time last year. Whoever coached him was pretty frickin good imo.
I'm really rooting for Curtis Grant to succeeed, I wanna see him and Steve Miller share the Fragel Award this year.
Elliott now gives the Buckeyes 24 letters signed today and 82 total scholarship players on the roster, the limit for OSU in 2013 per NCAA ruling.
Looks like JT would put us at 83.
Urban Meyer is the TRUTH!!!!!!!!!!!!!!!
Huge to pull this kid from Cass Tech, would be like scUM pulling a top rated recruit from Glenville.
Hearing Hyde is coming back just made my weekend!!!!!!!!!!!!!!!!!!!!