CTBuckeye
---
Member since 01 July 2014 | Blog
Helmet Stickers: 445 | Leaderboard
Recent Activity
The best apart about that is reading that in the Schwarzenegger voice, which inevitably leads to:
If you can ever get your hands on an original NES system that doesn't work - almost always it just needs some easy repair. Got one at a garage sale and just $10 in parts and some YouTube videos and it's like new. The system was built so simply it's already outlasted two of my XBoxes.
Also for games, use this method - have bought a lot of "broken" games and got them all to work - http://www.ebay.com/gds/How-to-Clean-a-Nintendo-NES-Game-INSIDE-and-OUT-/10000000004584691/g.html (this site alone would have saved me hours of blowing into cartridges and hitting reset whilst my fingers were crossed).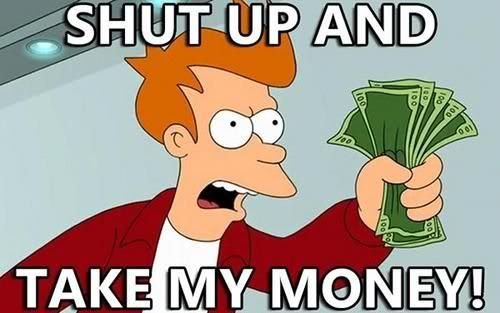 Thanks for the update - lot of good news tonight!
Raekwon McMillan - after hearing so many glowing reports about him looking forward to taking a glimpse at our LB future.
Need another 11W giveaway to turn things around!
I've gone to this game each of the last three times it's been at Penn State - great environment to watch a night game, and other than a few drunk college kids the fans were pretty friendly.
Thanks for the update - since I was never recruited out of high school for my superb bench warming abilities I don't know what it's like to be wanted by so many big name colleges, but I would assume with high school football going on now it might be a couple months until we start hearing more commitment announcements?
Great post, and I agree the true measure of a fan is sticking with a team through the good and the bad.
Railing on any team, and especially a group of college aged kids is pretty reprehensible, and even worse if you call yourself a "fan" of said team.
We should be thankful that now with the playoff era these polls are nothing more than a discussion point until the one that matters starts coming out in October.
Virginia Tech played a very good game - and while I had hoped for a different outcome I'm glad that you've found a good community here of football fans. Good luck in the rest of the season!
Right with you - I can't wait for the next game and the start of Big Ten play. This team is still very talented and you can't judge an entire season/roster/coach in a one game vacuum - lot of reasons to be excited about the Buckeyes this year and in the future.
Didn't watch much of the San Francisco game, but did catch one line where Aikman said Hyde might be the "steal of the draft." Glad he's getting the opportunity and in a system that hopefully he'll be successful in.
I should add - I love this team, and still can't wait for next week's game and the rest of the season...have waited too long for this year to just throw all that excitement away!
My quote from about last night's offensive play calling:
"Insanity: doing the same thing over and over again and expecting different results." -Albert Einstein
One quote that kept going through my head when watching our offensive game plan:
"Insanity: doing the same thing over and over again and expecting different results." -Albert Einstein
I figure it's best to avoid watching ESPN / Sportcenter for the next week or so, lest I hear some b/s comments about how the SEC beating FCS opponents all this weekend really showcased how dominant they are.
One last thing, that I should have put in the original post - why this 1 target thing bothers me more so than just not using one of our better weapons...this guy is a Senior captain, a team leader, and this year may be his last chance to really show something to NFL scouts - I just think he deserves a chance other than being a blocker on every play.
I get that - suppose just wishful thinking that he might get more involved...until the o-line starts blocking better he won't get many opportunities, which is a shame.
Time to go assure my dog the world has not ended after yelling at the TV for the last hour.
100% agree - can't run play action or give JT time to throw the ball with establishing the run. Felt like when Samuel and Elliot got things going it opened up the field more, and more importantly didn't overwhelm the O-line with so many blitzes.
It's pretty obvious when we get our running game going with Elliot and Samuel that it opens things up and gives JT more time to throw the ball or run play action better. Not sure why we seemed to give up on the running game before the game even started.
I wouldn't say we were owned - our defense played fairly well. The O-line certainly was dominated, but a lot of this is on the mistakes made - couldn't finish in the red zone, missed field goals, missed chances. I would say we beat ourselves just as much as we were beat.