Crumb
---
Member since 17 December 2013 | Blog
Helmet Stickers: 5,866 | Leaderboard
I have multiple pro teams that are my favorites and players that are my favorites, but there is only one absolute favorite. That's the Buckeyes, Ohio is my home, and I'm a Buckeye forever.
Favorites
SPORTS MOMENT: A tie between being at the Shoe at the end of an undefeated season in 2012 and watching Cie Grant seal the National Championship win in the 2003 Fiesta Bowl.
COLLEGE FOOTBALL PLAYER: Matt Wilhelm and Zach Boren
COLLEGE BASKETBALL PLAYER: Ron Lewis and Evan Turner
NFL TEAM: Cincinnati Bengals and anyone but the Steelers
NHL TEAM: Detroit Red Wings and Columbus Blue Jackets
NBA TEAM: None, I just root for the former Buckeyes
MLB TEAM: Cincinnati Reds and Atlanta Braves
SOCCER TEAM: Columbus Crew
Recent Activity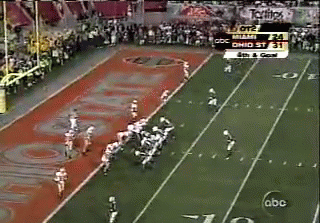 The calm poker faced quiet fury of Jim Tressel with the Hulk like rage of Bo Pelini.
I voted no, but even if they do they'll get more of this.
This is what Urban will do to whoever ends up coaching at that school up north, especially big mouth Jimmy.
Should Coach Tressel not have relied on his success at Youngstown State?
It's weird cause one of Tebow's greatest moments was against Ohio State, but he wants Urban to crush Bama. Enemy of my enemy I suppose.
True, but like the Spartans, their favorite way is with the run and a great receiver, and they're vulnerable to the deep passing attack :)
Is there any idea who will replace Coach Herman? I think it's been good for Urban to have a staff he can depend on, it allows him to be Eisenhower and not have to be Eisenhower and Patton.
Can the Jackets win over the Red Wings last night count in this too?
So if we beat Bama and advance to the Final is Coach Herman staying with the team for that one too or is he gone after the Sugar Bowl no matter what?
Nuge is the brightest spot about my Cincinnati Bengals. May God bless him and his family in this tough time.
I know it's been said about guys before and then you find a dark side to em, but he seems to be one classy young man. That being said if he faces the Buckeyes in North Texas; kill him dead bad!
I expect Mariota to deliver in the Rose Bowl.
If Coach Ed can't, I'm confident Urban will find someone who can. Maybe Coach Drayton or someone entirely new to the staff.
I know it's not fair but every time I think of Shawn Springs I think of Tai Streets.
The receivers are going to have the chance to do what they did against Wisconsin, which is in one on one coverage, go up and get the ball to make a play. I think they're ready for it.
Happy trails Coach Herman, Coach Ed, you're the next man up!
Winfield, Gamble, Jenkins, Roby, Griffin.
Then Tresselball happened.
Which is why though I am not yet 30 I have the heart of a 97 year old. Oh and a side note, screw the ncaa.
One of the all time epic games. I'm glad they're doing the format of having it played by itself a week after the rest of the season is over before the bowls. Army-Navy is bowl/classic in of itself. My family is split in Army and Navy service, since it's been so long (how many years?) since Army won, I'm rooting for Army. Beat Navy! America wins!
Are these for a limited time only? Cause I'm kind of broke but would love to get one of these eventually.
Yeah it has to weigh in, I've got brothers and the only thing cooler than being an All-American for the Buckeyes, is being on the team with my brothers as All-Americans.