cronimi
---
Charlotte, NC (via Lakewood, OH)
Member since 13 October 2010 | Blog
Helmet Stickers: 2,155 | Leaderboard
Recent Activity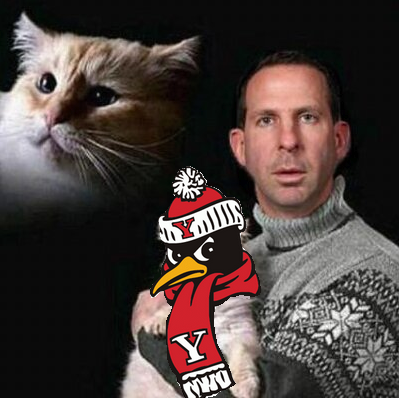 It helps if the QB coach actually knows how to be a QB. Tebow would be Siciliano v2.0.
Chris Fallica ("the Bear" on the laptop during GameDay) put the chart together. He said he chose 2007 as the starting point because of Ohio State's and Michigan's expected success that bowl season (ranked #1 & #2 heading into The Game).
Making him OC, with a commensurate pay raise, should help.
Aren't those Ohio State highlights from last year though?
I'm not sure about all, but many of them were from last year. I don't know why you'd put together a hype video featuring OSU at TSUN and showing the passing prowess of a QB who has been sidelined all season, and who won't play in the Sugar Bowl. Keep the music, insert more current footage (particularly need some B1GCCG scenes -- I didn't notice any, though I may have missed one).
A great opportunity for Herman, but he will be missed in Columbus.
M Man, I can understand your defensiveness, but as the linked article makes clear, using a search firm to find a new head coach is a waste of money. Using a search firm to find a new B school dean is a completely different story. As the article states:
There are lots of industries where hiring a search firm makes a lot of sense. This isn't one of them.
This is now the 2nd coach in a row that has left abruptly,
And both for effectively lateral or lesser HC jobs. The fact that they left wouldn't be that big a deal if they left for better jobs (Texas, Florida, USC, etc.) but they left for (1) an also-ran in the SEC and (2) an also-ran (or worse) in PAC 12. Not a good sign for the folks in Madison.
Looking solely at athletics, I'd happily jettison Purdue and Rutgers. While we may be heading toward 16+-team super-conferences, I think anything more than 14 will be too much. Even with a 9-game conference slate, a 16-team conference means you're playing only one team from the other division. Why bother calling it a conference if all you do is play your division. (Football-wise, at least)
I hope you feel better now, Radar, 'cause that is a silly idea. That kind of thinking (by Texas) resulted in the current Big 12. I do not want to be in another version of the Big 12, and it would not be good for the Buckeyes.
To be blunt, f*ck the B1G COTY trophy. UFM does not care at all about it. All he cares about -- and should care about -- is the B1G championship trophy, which he now has, and the National Championship trophy, which he's working on. The other B1G coaches/ADs don't respect the Buckeyes?!? Who gives a sh*t. Lord knows they fear the Buckeyes. And that's all that matters.
I was thinking the same thing. The comparison should be the opponents' full season ex. OSU as compared to the OSU game. (The Cincy and Kent St. results would be particularly skewed if only the pre-OSU games are considered.) Still, some interesting stats.
Yup, was thinking Mr. Cooper was the original cool Gary, myself. (Although according to IMDB, his birth name is Frank James Cooper.)
One could (but absolutely wouldn't) say the same thing about women who are abused/assaulted by men.
Yeah, AtlGABuckeye's sentiment is running dangerously close to a "blame the victim" mentality.
But you can always come down to Raleigh-Durham Charlotte for a respite.
FTFY.
At the link, they have additional pictures -- the gloves also feature Woody's chalkboard writings. Very cool.
I expect Jalin will touch the ball quite a lot -- wildcat, jet sweep, outside run, bubble screen, etc.
They're not wearing all-black, or any other alternative uni. It was already announced they're wearing traditional home unis.
I read that article too, and it made me laugh -- and also think that Bo wasn't fired for his record. Or maybe the Nebraska brass think the Pac-12 is a more difficult conference in which to be successful, because he certainly doesn't have a better track record than Pelini did in his time there. But he's reportedly a really nice guy, so they have that going for them, which is nice.
OPH is legit. Love that place.
And the DL preseason was looked upon as a strength. Not that the D line has failed this season, but they have not looked as stellar recently as they did in the early games (VT excluded). I agree with what Johnny said on the Dubcast -- I think they're just tired. Not enough substitutions, they're just worn out. Hopefully they have one more game in them before a month's rest.
I'm not sure if you noticed, but many CFB talking heads commentators tweaked their rhetoric this year away from "SEC is the best conference in CFB" to "SEC West is the toughest division in CFB". The slight change allows them to forget/ignore the dumpster fire that is the SEC East.
From OSU-Marion and not from the athletics department. I wonder if Gardner realizes that.
Yeah, I noticed the same thing. While it's a nice sentiment, it isn't quite the same as a letter on OSU stationery sporting a Columbus return address.
[B]ut it is a good thing that you and my children have not experienced the OSU-Michigan rivalry of the 90's.
Speaking as a '93 grad who watched my team go 0-2-1 against TSUN, I can't co-sign your statement enough.
Kinda like how some of us felt about a certain HC from Florida who's named after a pope....