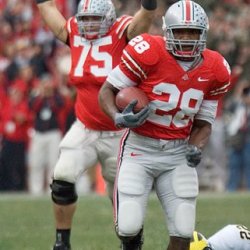 CPDenn
Boulder, Colorado
Member since 04 January 2014 | Blog
Helmet Stickers: 606 | Leaderboard
Voting Record: 67 / 22
I'm from Colorado and a couple times a week I host a sports radio show on Metropolitan State University of Denver's student radio station, http://kmetradio.org/. Go Bucks.
Recent Activity
ROFL at 'yayo' on and the camera finding Tracy Sprinkle
This has nothing to do with anything, but weird that four years shook out the way it did and Trey DePriest's last collegiate game ended up being against Ohio State.
To everyone saying that they know we're going to key on him so it's the other options to watch out for in the passing game: every other team has done the same thing, and none, outside of Arkansas had good success against him. That game is probably more of an outlier, rather than a blueprint on how to stop him. Dude had more targets than the rest of his teammates had catches combined this season, so it's safe to say teams knew he was getting the ball, but just couldn't stop it. They find creative ways to get him involved and he's going to get his catches, it's just a matter of limiting the damage, and not giving up the 1 or 2 massive plays downfield.
Random takeaway that we already knew but is still great: Watching Curtis Samuel turn the corner and get into the open field is a thing of beauty
I'm interested to see what Ross and others have to say about attacking Bama's D-Line and 'backers with the run as we get closer to game day. They're first in adjusted line yards this season and have destroyed every rushing attack they've faced. I'm a bit worried about how our guards/tackles will get to the second level on tight zone in this game.
Given the proficiency they've shown with the Buck Sweep -combined with how well our receivers block, Bama's strength and depth on the d-line, and Saban OLB's not being historically great at going sideline to sideline- I wonder how much Jalin and Dontre we see trying to break to the outside and through the secondary.
While I appreciate Connor Cook's attempt to #hatehard, I would advise the 11W commentariat to not get bent out of shape about his comments. We're in the playoff, so:
Even Tracy Sprinkle got some PT late in the game, among others

If you play Collier he can't redshirt again.
You say how big a fan you are and none of your reasons have anything to do with the basketball team. In a post you made talking about the basketball team. About a game you watched 10 minutes of.
Not sure where you're getting your numbers from, because they're giving up 4.03 yards per carry. Not 4.3.
Sounds like it won't matter. McElwain will probably keep Durkin as DC.
EDIT: Also, you guys are out on your asses if you think Fickell is getting the YSU job. He's making far too good of pay here (between $600,000-700,000 I think), while coaching at his alma mater. He hasn't produced enough in recent years to get offered the job anyway, but even so, why take that when one more year of good defense gets him a division I job in the MAC or another non-P5 conference? What does being the YSU HC do for him at this point in his career? I hate to disappoint a lot of you, but Fickell isn't leaving on his own accord unless someone in the D-I ranks can offer him more money or their head coaching job.
I'm sure Meyer, Herman and the rest of the offensive staff are furiously taking notes reading this
Given what Herman and Co. have done with a raw Braxton, Kenny G - who the new staff wanted to kick out of the program when they got here- and a redshirt freshman in Barrett, I'm going to trust them to put Cardale in the best position possible to help the team win next week.
My favorite part of this wasn't everyone arguing whether or not Marcus Hall flipping the double bird was heroic or embarassing awesome, but rather there are still fans on here that refuse to give MSU credit for being better than us in that game. They were pretty good, it's OK to admit that's why we lost!
We couldn't go one Herby thread without this one, huh? I scrolled all the way down and thought we had finally done it.
Tevin Coleman is so damn awesome. Definitely my favorite non-Buckeye player in the country.
Zach Smith caught a ton of grief a couple of years ago. Seeing the way the WR's have improved, as well as how he recruits; I think he's more than earned the respect of this staff and the fans.
Same losers that have been trashing Dontre. It's brutal to be associated with those type of fans.
I always get too amped up the night before the game and end up with a massive hangover. Without fail. Always.
Thought I'd give this a refresh.
Yeah that was nice. Mike Thomas did this a few times, and to his credit, did the dirty work and made the blocks
To the 'Jimmy's and Joes' point, the blocking from Jalin, Devin, Dontre, Evan, etc. was fantastic. Even when their number wasn't called, those guys took care of business for Zeke and JT. Curtis Samuel didn't get an offensive touch all night, but in the biggest situation he was in for, he delivered: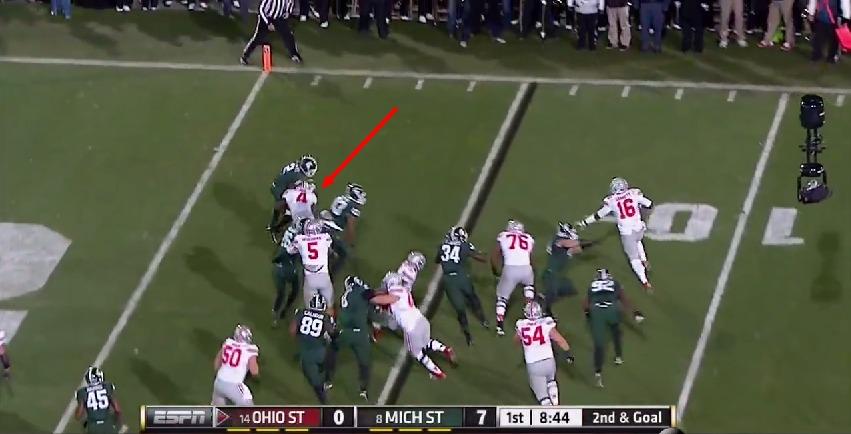 When Urb and Co. talk about how hard these receivers play, it isn't hyperbole. It's amazing how far this group has come since 2012.
The boys are going to be amped up next Saturday night. MSU is a fantastic team, and I can't wait to see how we stack up against them, especially in that environment on the road. I'm not sure that we come out of it with a win, but so long as the defense plays like it has of late, we have a damn good chance.