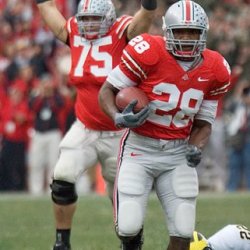 CPDenn
Boulder, Colorado
Member since 04 January 2014 | Blog
Helmet Stickers: 279 | Leaderboard
I'm from Colorado and a couple times a week I host a sports radio show on Metropolitan State University of Denver's student radio station, http://kmetradio.org/. Go Bucks.
Recent Activity
First "And stuff" from Tim May of the year. WE'RE BACK BABY!
'Routine bowl victories'? Right. Because beating a top team in a power conference is something to scoff at. At most, we only get to see each Buckeye team take the field 15 times per season, so I don't give a shit who they beat, I'm celebrating it. How'd it work out for Alabama in treating the Sugar Bowl like a routine game? These kids, coaches, support staff, etc. put in too much work for me to ever feel comfortable saying, "Well shit, that wasn't the B1G Championship, National Championship or Michigan. On to the next one, I guess." And given that we haven't won a bowl game since 2011 and are 2-5 in our last 7 bowls, the whole 'Ohio State expects to win those games' stuff doesn't fly anymore.
Think it's weak to not acknowledge the Orange Bowl as a big game given how hard these kids busted their asses to get there. I suppose some of you don't care about the Fiesta Bowl wins over Kansas State and Notre Dame, the Rose Bowl win over Oregon or the Sugar Bowl win over Arkansas given what you're saying?
This is great, and creative as hell
*Remembers someone on this site ranting about how "selfish" Braxton played in the Orange Bowl* Right.
This kid is a damn missile getting to the football. Those hits are vicious. Have a feeling he'll get a nice bump up in the rankings soon enough.
The top ten teams on that list have either won or played in the last ten national championships. So based on blue chip percentage, we have a pretty good idea of who is going to win every year. If you don't recruit at a high level, you aren't winning a national championship. What makes those elite teams even better is that their bottom 1/3 can compete with any other team in the nation.
"However, his passing has not progressed, he can't play hurt and he has consistently come up short when it mattered most"
What? Do you even watch this team?
Based off what? A lot/all of these kids work their asses off to get to this level.
Isn't this more just greater voting power for the big conferences, rather than a new division?
Maybe Braxton would have a different legacy in certain Buckeye fan's minds if he had a defense. The 'zero conference championships and bowl wins' thing holds no weight for me given the circumstances of his first two years. 2011 was a lost year, and winning a Gator Bowl doesn't add to anything.
Ginn, TP and Braxton were also 5 stars. It goes both ways. Sometimes you strike gold and sometimes you miss. That's recruiting. But we have a head coach with a record of developing talent at a high level. It's a damn good thing we're stockpiling this ridiculous amount of talent.
I'm sure there will be a lot of well thought out, reasoned takes in here.
"We might make the big dance...But don't count on it." LOL. Can't tell if trolling or serious.
MOAR FORCED TURNOVERS. MOAR.
If you try that with your boss, you go into the conversation understanding that you are already getting paid. These kids aren't. The real lazy argument is "Well they get free room and board! If they don't like it they can do something else!"
Went to about 10-15 games during the Hawkins era at CU. :(. Bad times, man. Bad times.
Why in the world would you post that video. The pain.
Pat Narduzzi is more than likely on his way to being a head coach, if not this offseason, then next. Why would he want to come here and coach this defense for a year, when he could stay at MSU and coach that defense for a year?
Multiple people have already said the Herman to Texas thing isn't true.
Oh it definitely will be tougher for us too, but man, this is a nightmare hire for Maryland and Rutgers.
Good luck to Rutgers and Maryland trying to get the northeast kids now.
During Winston's recruitment he was admitted to Stanford, so I'd say the dude isn't as stupid as a lot of people are making him out to be.