CPDenn
Boulder, Colorado
Member since 04 January 2014 | Blog
Helmet Stickers: 496 | Leaderboard
I'm from Colorado and a couple times a week I host a sports radio show on Metropolitan State University of Denver's student radio station, http://kmetradio.org/. Go Bucks.
Recent Activity
Tevin Coleman is so damn awesome. Definitely my favorite non-Buckeye player in the country.
Zach Smith caught a ton of grief a couple of years ago. Seeing the way the WR's have improved, as well as how he recruits; I think he's more than earned the respect of this staff and the fans.
Same losers that have been trashing Dontre. It's brutal to be associated with those type of fans.
I always get too amped up the night before the game and end up with a massive hangover. Without fail. Always.
Thought I'd give this a refresh.
Yeah that was nice. Mike Thomas did this a few times, and to his credit, did the dirty work and made the blocks
To the 'Jimmy's and Joes' point, the blocking from Jalin, Devin, Dontre, Evan, etc. was fantastic. Even when their number wasn't called, those guys took care of business for Zeke and JT. Curtis Samuel didn't get an offensive touch all night, but in the biggest situation he was in for, he delivered: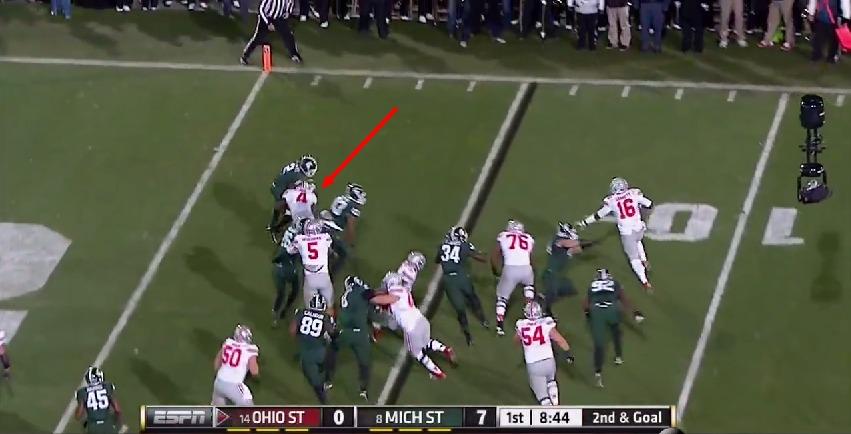 When Urb and Co. talk about how hard these receivers play, it isn't hyperbole. It's amazing how far this group has come since 2012.
The boys are going to be amped up next Saturday night. MSU is a fantastic team, and I can't wait to see how we stack up against them, especially in that environment on the road. I'm not sure that we come out of it with a win, but so long as the defense plays like it has of late, we have a damn good chance.
ALABAMA DONT USE NO GIMMICK ALTNERTS AND LOOK HOW MANY CHAMPYUNSHIPS THEY'VE WON, PAWWWWWWWWWWL
Pyror's back shoulder throw to DeVier Posey in the Rose Bowl.
Fuck the field. If he has a drug problem, I hope OSU and others can help him with whatever he needs to get better off of it.
WELP WELP WELPWELPWELPWELP, EVERYBODDDDAYYY
And the coaches and players weren't unprepared when they lost to a Purdue team that came into that game on a 5 game losing streak? Ohio State ran the ball 28 times for 66 yards. The whole team looked awful in that game, not just TP.
I wouldn't disagree, but his point was that Meyer's offenses are overrated. That isn't the case.
What was the Purdue team he lost to in 09?
Florida won that game by 27 points. They were a better team that year. It's OK to admit that. Also odd how Meyer has given us two of the best offenses in school history in his first two years, but please, continue to ignore facts to make your points.
I see we're making these threads two games into the season. Nice.
I read in another thread, somebody wrote that we're trying to be like Oregon. I agree. One of Tressel's squads went to California a few years back and punched Oregon in the face for four quarters to win the Rose Bowl. "I miss the old days."
That same Tressel team also got punked out by a freshman quarterback at home in a game JT horribly mismanaged and decided to stick to the same old shit and in turn, cost us the game. Oh, and also lost to a 5-7 Purdue team in another mismanaged game. It's also funny that you brought up Navy, when that '09 team needed an interception on a two point conversion to save their asses against the Midshipmen. We would have been in the national title discussion that season had it not been for the errors of that coaching staff. For 3 and a half seasons, Tressel's teams lost big game after big game, including getting absolutely hammered in two national championship games and the '08 USC game. You can pine for the "old days" all you want, but don't act like JT and company never lost, because they did, and they got embarrassed on the big stage more than a couple of times. People around here love to bitch about how the media talks so glowingly about the SEC, and well, two Tressel teams got that run started. We all love Tress, but please stop with the revisionist history.
Meyer's teams have lost 3 games in three seasons, and couldn't play for a B1G title AND a national championship in the first due to the mistakes of the prior regime. They've lost close games to the Rose Bowl champs, the Orange Bowl champs and a power conference team. As far as this season goes, they lost 4/5 of arguably the most dominant line in school history, their superstar running back and are without the back-to-back conference player of the year/most electric player in the country who time and time again has made plays when the team has needed him to. They're young, and they're going to make mistakes. The good news is that it's early September. This team is going to be a lot better and look different in November. The first ones that jump ship are going to be the first ones back on, just like in '04, '05, and '09.
Not sure if anyone said it before, but I did some counting and out of the 52 rushes/receptions on Saturday, 45 came from Sophomores/Freshman. So yeah, the youth movement on offense is real. Pretty exciting.
Really happy with this one. Played a tough ass team, and the rushing yards given up aren't indicative of how good this front seven is going to be. How about Adolphus Washington? He looked healthy and was in the backfield often.
Yep. Would imagine we'll see Cardale in short yardage/power/goal line situations throughout the year. Everyone please prepare yourselves accordingly for announcers to start screaming, "JUMP PASS! JUMP PASS!" When we're near the goaline.
That Florida team had one loss. LSU lost two the next season.
I love Krenzel, but I'd be willing to bet that '02 team with Pryor/Brax/Troy at their peak completely outclasses the rest of the Big Ten. Krenzel had his awesome program defining moments, but I'm not taking him over any of those three. I'm sure the downvotes will come with that opinion, but Krenzel was good, Pryor/Brax/Troy were/are great.
A lot of people are acting like Braxton wouldn't get a sniff in the draft at QB. Y'all remember that a team took TP, right? And is still in the league playing quarterback, correct? Or that Logan Thomas got drafted solely on future potential? God damn, even Dennis Dixon got some run, and Senecca Wallace has made a career out of still being a quarterback. Your "Braxton won't get played at quarterback!!!!" statements couldn't be more wrong.