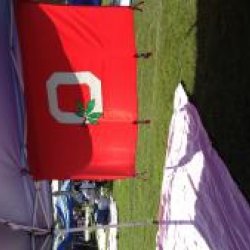 countrybuckeye
---
Member since 28 September 2013 | Blog
Helmet Stickers: 130 | Leaderboard
Favorites
SPORTS MOMENT: Tie between Chris Speilmann losing his hat as he zeros in on a tackle, and Keith Byars losing a wheel as he sprints for a TD
COLLEGE FOOTBALL PLAYER: Chris Speilmann
COLLEGE BASKETBALL PLAYER: Aaron Craft
NBA TEAM: Celtics
SOCCER TEAM: HA!
Recent Activity
Oh my. Geebus. I <3 dat spirit.
The Rill Dill [I absolutely love your avatar, by the way) I would like to explore your comment a little.
Corporations are run by a person or an executive team. These corporations, if not in infancy, have employees. Again, if not in infancy, these employees work hours for hourly wages. That is a regular "corporation."
Unlike your government (any from a Township to a State of the Union, but not the Fed -- 'cause they can print money), corporations make a profit, or they are a toy of someone with money to burn, or they get bought and cannibalized, or they just shut their doors. This occurs because people are working for them to create something more valuable than what they have without their effort. Capitalism, understood as Milton Freidman tried to 'splain it, is about one free entity producing something of value another free entity may chose to exchange their productivity for. Remove the unnecessary burdens of meddling regulations, those deemed so by the majority of people with common sense (this is key), then whatever happens as goods are offered for exchange, without violating my God-givens rights, is fine by me.
I take it you do not hold the same opinion.
Aw, ta heck with it.
Happy Fourth of July to you sir!
I hear ya. Smart plan! I think now I'll start reconnecting with high school friends who I know live in states with B1G teams, and see if they attend when the Bucks come to town. Killing two birds with one stone. ;-)
I'm on the left coast -- and I was prepared to drop coin on either Rose Bowl option for my 2013 Buckeyes -- then our D decided (for me) I should spend my money on something else (!).
I have close friends still in C-Bus, asking me to return this season for a game and some golf. I am contemplating the idea, even asking the wife if she would like to go with (she needs to have the 'Shoe Experience once in her life). It's gonna be quite a tab, but we would consider it an opportunity to meet friends, and have her see another section of O-H-I-O with me as her personal tour guide. For instance, The G&R Tavern in Waldo, OH for a Fried Baloney sammich (YUM).
That was just AWESOME.
Thank you, Sir Patriot
I wanna see soccer players versus Aussie Rules football players -- without the bubble-boy spheres.
Excellent reference to John Frank.
I want to live long enough to see that. "November home game with [legit contender in the eSECpn Conference] to air @ 5:00pm"
*sigh*
They both have children and this is a quicker way to start making money.
Hmmm ....... focus and priorities. And a talent level not "in keeping with" the choices made.
Let's hope LQR does get through this portion of his career -- there is serious coin in Europe ball ....
Any bets on A "Rosy Cheeks" C? There has got to be a GM who wants an AC in his locker room. Jus' gotta' B ;)
Please be honest -- "What It Means To Be A Buckeye" (Tressel) wasn't a meaningful read, IYHO.
I feel your pain. I recommend you try remembering what makes a Buckeye BETTER than a Meeeshitt-again skunk weasel -- class, honor, self-awareness, perspective on reality, and REAL tradition.
JT delivered on a promised and was always about the institution. The Senator. The Vest.
Now we are graced with another "Ohio boy be a BUCKEYE in UFM. Fear not. His vision will make possible a return to recognition by all as 'the' elite program.
I cannot revisit that era. Therapy and pharmaceuticals make the memories of the JCE (John Cooper Era) tolerable. The only visceral salve I have against the cross I must bear as an tOSU Alumnus is to have been in the Rose Bowl when Cooper's Buckeyes throttles ASU with "Jake the Snake" Plummer. A decade of unmet expectations washed (over) by a Rose Bowl victory.
[I need a moment to cry alone. The pain is still too much to bear. Patience is a virtue, and the healing of James Tressel brought my soul, to the Rebirth of the Buckeyes under another real Buckeye -- Urban F. Meyer, reaffirmed my faith
O-H-I-O!
Transferring to a different program to fill 'immediate' opening -- aren't there NCAA rules about that, on only specific cases do not have to sit a year?
John Frank to 49ers in the 80s?
My Dad is still with us. An farm boy from Lima, Ohio, he followed his father, a WWI & WWII veteran, into the 'preparation' for WWII -- lying about his age to get into the Ohio National Guard. At 6'2" 170, he fooled them good. Dad found out, but told him to pay attention to your instructors, and train hard. He was part of the D-Day operation "Overloard" landing on Omaha Beach - Easy Green sector. I was able to take a trip with the Normandy Allies group in June 2009 with my Dad and Brother, a two week "class" of what the 29th Division did, from beach to the Rhine. What I learned "in detail" is sadly unknown in the common by younger generations. And these men are fewer in number by the day. I will need to be the link for my Dads memories of his unit's campaign when he is gone.
He is a Buckeye, a graduate of tOSU. After did his job "over there", he came home, got married, had his two boys, worked in the insurance field. At some point, he decided to return to tOSU for post-graduate studies, earning his Doctorate in Horticulture Sciences, served tOSU as its Secretary of The School Of Natural Resources during his tenure, and Emeritus.
I can attest to what is commonly heard about these men who did return from WWII -- they spoke little about it to their families. During a ceremony on the beach in 1994, Mom told her sons, "That is the first time I ever saw your father cry." It was for those who fell that horrible, horrible day and following weeks -- those who never got to see the life after my Dad did. That is why those who returned carried on productive lives, because that is the only way they knew how to honor their fallen comrades.
Memorial Day. Please visit a veteran cemetery, pay your respects, then visit any VFW hall and salute them with a raised glass.
Scout Teamer. Jazzy Smoother. Hard nose, blue collar grinder. Touch passer. Brainiac-er ala Craig Krenzel-er. High football IQ-er. And, "Prolly can afford the Scholly considerin' his highschool"-er.
UFM must be smiling. This young man will be part of the glue holding the team together in the locker room, me thinks.
Recruit like you mean to be a contender -- and coach them up to be confident young men. Every B1G team needs to take the state of the conference seriously, and do their best to work harder than their opponent. I mean all the teams, even ttun.
Okay, I apologize -- we all want another decade or two of despair from goblow fans. ;-)
For the first set of highlights, I woulda swore the play call options were "sideline on your right = positive yardage; sideline on your left = house. Your choice."
ConGRADSulations!
And always remember ..... ummm .... I, uh ..... (getting old sucks) ....
Did anybody catch young man Warrior's comment "I'd never thought they'd be the first. I grew up watching Ohio State, the SEC, Texas; they were all my favorites. I don't know much about Ohio State, but I want to learn more."
Besides the SEC marker, I would explain to him, "You can learn best by being a Buckeye and beating those others mentioned." ;-)
Amir was the one who pointed out 'Anthony Lee' ain't no fancy household name
Will all of the receivers work with Braxton and Cardale and JT this summer? If so, then a healthy competition showing superb route-running and catching technique on camcorder-recorded self practices would be great. And if the cover corners could work with them, to practice their skills, --- well, that would be just plain super. ;-)
Summer time is sharpen time.
GO Bucks!
The QBs did fine. The O-Line needs those "2-hours a week from the coaches (in the off season)" Urban alluded to that is new for this year. Amen to that.
And this last comment -- WTF is wrong with these announcers? They seemed to screw up the 'red shirt' class of every player who owns one. Geezzzzzzz
I am hoping the gritty players of UConn can get it done. They would wipe the s#@&-eating grin off the eSECspin writers thinking out loud it was gonna be FLA vs. UK.
Both teams playing well. Watching their skill and execution makes me sad for the Bucks and their anemic offense.
I beileve what The Brakken must remember is to "trust your training." This Spring he must do his "Mind Control" studies; come Summer, it will be "get into the Zone, be one with The Play."
If he does more of those things, and less of "Coach says I am the man of the team, and I must win this game with my talents" (= high skrewel), WE will have an AWESOME quarterback.
I know he wants to get 'there'.