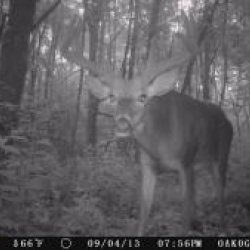 Colerainbuck
---
from Cincinnati
Member since 25 January 2014 | Blog
Helmet Stickers: 59 | Leaderboard
Favorites
SPORTS MOMENT: 2002 of course. Every time Xavier beats UC and last year Robert Morris beating UK!
COLLEGE FOOTBALL PLAYER: Pete Johnson
COLLEGE BASKETBALL PLAYER: Byron Larkin
NFL TEAM: Steelers
MLB TEAM: Reds
SOCCER TEAM: who gives a ....!
Recent Activity
While we're correcting the addition.....41 + 34+ 40 = 115....
This is great for the conference! I don't see it helping w/ their recruiting yet though and that is where I see the problem. I think we all agree they do a great job of developing talent and turn 2-3 star athletes into great players. But, I feel they need to also take some of this success and start using it to get some better talent level for depth.
Look forward to seeing them grow and help w/ the B1G turn around.
For sure number one is Ohio State football. As, I'm sure for a great number of fans here, it all starts from sitting on the floor in front of an old black and white tv with Dad. He was taken way too soon and oh how I'd like to see how excited he'd be for what this team has been doing.
Now the tradition continues w/ me and my sons and hopefully passed on to their kids when they come along.
Number two w/o a doubt is the Reds. Living in Cinti and having the Big Red Machine growing up was just incredible! My greatest memory was the 1990 World Series game 2. Me and my buddy had tickets, paid the Hudepohl beer vendor guy to stay w/ us, drank all his beer and had to have him get another case, never made it to our seats, ended up standing watching game in SRO section and watched as Billy Bates scored in the 10th inning.
Number 3 is too hard to call. Its between Xavier basketball and the incredible run that they've had going for the last 25 yrs. The little Jesuit college continues to put a quality team every year on the floor. The intensity of the Crosstown Shootout is something that unless you live here its hard to understand how strong it is.
Tied for 3rd is Friday night high school football. I know the NE Ohio guys on the site are always talking about their HS football but I don't think you can beat Cinti HS football. This is another one of those Dad memories. Can remember every Fri dad taking us boys to the HS football game and then to Frisch's or LaRosa's afterward. The type of thing that as it's happening you don't realize how special it is....then as you grow older and they're no longer w/ you to share it, you realize how much of a positive influence that was!
A little raw but looks like he has excellent upper body strength. ND at @ichigan have always had presence here but Kerry is changing that drastically.
Pretty surprised by his athleticism. Kept hearing he needs to work on his speed but from the highlights he's not exactly a three toed sloth. But from the highlights he has pretty decent speed on a few of those TD runs...nice hands out of the back field too!
I really wish we would get that QB (#10) from Kenton to play for us! Could you imagine the buckeyes playing in the NC game against a SEC team w a QB who is named Grant Sherman! That would just be epic.
Absolutely agree Cin!! All the comments on the B1G lagging behind in recruiting, competitiveness, facilities etc. We have a historical program that is taking the steps needed and suddenly it's time to start calling them names and acting like a bunch of school girls talking about the new pretty girl in school.
This IS what the B1G needs and he is rocking it on the recruiting side. They aren't supposed to be doing this well w/ historically harsh penalties imposed on them. Yes, I think we'll stomp them this year and yes I'll enjoy it. But, this is about them rebuilding and about them laying a foundation for the future.
As for the timing of commenting/starting the process of facility upgrades? When is a good time to ask? After a season? A season in which the deck is stacked against you. Maybe two seasons? Three? That's crazy, and if I was him I'd start asking now and continue until I got it.
Urban has come in and drawn a line in the sand for sure and now we have someone attempting to step up. Perfect! We need more of this. I don't need more of an Iowa being just good enough every 3-4 years or a Wisconsin acting like they're IT but losing (seemingly) every non conf/ non cupcake on their schedule.
A stronger B1G makes for an even stronger Buckeye team and removes any doubts come playoff time and any argument if a B1G/ tOSU deserves to be among the four teams.
This kid drove me crazy in playoff game w Colerain and that's what has me now excited! As everyone has seen he has an incredible skill set that I definitely think will translate to college ball. And as a extra bonus his family is great and that maybe just as important.
Have to admit I'll be sad to see the old place go! From high school basketball tournaments to Buckeye wrestling to legendary skull sessions, so many great memories.
How can anyone NOT be excited about the Ben Edwards commitment? The way he attacks the ball and he doesn't tackle, he blows up the ball carrier. Very excited to see him patrolling the backside of our defense daring anyone to go ahead and make the catch!
Great coverage! Led again by Steiber but the team as a whole looked more aggressive and wrestled tough all the way through. Roberts and Heflin really impressed and Steiber may be the strongest person pound for pound in the country.
That's about the average attendance of a typical game at Nippert too. September can't get here quick enough for this game and then schedule sUcK and lets level a beatdown on them.
Respectfully submitted by a defender of our fine southern border.
Put him and Worley out on field together and just watch the receivers get alligator arms. These two bring the pain!
What's up w the little toe, Stevie boy? There is so much negative recruiting in that photo...where do you begin
And they're all three better than everyone except Wisc and Neb. Big should've gone after Louisville! Better than most football and excellent basketball. More importantly it put us IN the sec territory w also the largest albeit in ky but still a decent TV market.
Oh No!! 11W has changed, I guess I'll have to call in to work and request a personal day for the emotional distress.
I'll prob have to spend the rest of the day here at 11W working through this distress w a cold Christian Moerlein (for medicinal purposes only).
Looks great 11W!
I've said it before but Sam Hubbard is going to be a player. A safety in HS at Moeller, LB in college w a outside chance (coach Mick's program) of being a DE at the end of his career. His frame will def add the useful muscle pounds. He's barely scraping the surface of his abilities at this point and led a historically prominant HS team to two D1 state titles. Very excited about him and don't forget Collier, the kids a class act and great family to back him up too.
Very excited about Hubbard. That kid is only scratching the surface and watching him a couple times last year he is seemingly everywhere on the field. His frame and Coach Mick...could be something special.
That 5 yr old have a wrestling offer from Ryan yet? With that type stand up and Ryan coaching him up on the mat can you say UFC champ. Too cool.
Brojim I'm disappointed to see this! Of course, fat, dumb and stupid is no way to go through life, but signing day is a unofficial holiday!!
Hubbard for sure has sleeper superstar potential and its always great to see SW OH represented
Did not expect this. This is about as uninspired as I've seen them.
Hey Steve...I'm sure you've seen tautology in action. You know, when the canary "taut he saw a puddy tat" which of course led to the sanctions when all those guys wanted a puddy TATT. And from what I can now tell Jack Welch and GE were responsible for our players infractions. So, logically ....FIRE GE!
Very nice write up. Looking forward to seeing more on the wrestling!
I know I'm biased but combining the above w the passion of Kerry Coombs has to be a very inspiring message out on recruiting trail.
I remember sitting in the Colerain gym for freshman orientation for one of my kids. Coombs gave the welcome to Colerain speech w/ welcome, excited for new year, this is a great bunch of students etc etc. By the time he was done you had 40-50 year old parents ready to run through the walls we were so pumped!
It appears from outside looking in that Urban seems to be balancing the intensity and proper family/life duties very well so far.