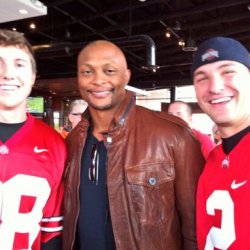 COhio Buckeye
---
Member since 29 November 2011 | Blog
Favorites
SPORTS MOMENT: Football:
- Undisputed National Championship Run 2014-15
- Seeing Eddie George's 314 yards against Illinois live in the Shoe
- Rushing the field after 2002 win over scUM
Basketball:
- 2007 Final Four and National Championship Run
- Evan Turner buzzer beater against scUM in B1G Tourney
COLLEGE FOOTBALL PLAYER: Malcolm Jenkins
COLLEGE BASKETBALL PLAYER: Aaron Craft
NFL TEAM: Denver Broncos
NBA TEAM: Cleveland Cavaliers
MLB TEAM: Cleveland Indians
SOCCER TEAM: Fayhget about it
Recent Activity
Ahhhhh, the beauty of living in Denver on Mountain Time. [Why Don't We Have Both GIF]
Silver Bullets must be in FULL Seek & Destroy mode on Dec. 31st
Sure was, Duke '01 to '04 seasons. '04 was a tough season, but we had a VERY talented young team that would go on to two natty's and well, you know what happened in '06. And yes, he double-birded all the programs that considered him toxic following his "resignation". I have so many stories; so, so many stories of Iron Mike. He found ways to push us well beyond what we thought our bodies and minds could actually handle - even the basketball team thought some of our workouts were insane.
Mmmmm...were these not considered "throw-back"?
Shoutout to my former coach, Mike Pressler. He has taken two lacrosse programs from the unknown to national championship caliber and playoff contenders, in Duke and Bryant, respectively.
Tell those bum Baby Bear fans to go hibernate again until 2124!
Interestingly, Alabama 3rd to last on that list...mmmmmm...
My little man, Tatum, turned 2 months in September...here's Dad's approach to celebrating that milestone with Mr. Malcolm Jenkins! Month #1 was Braxton. I'm leaning Michael Thomas for Month #3, any thoughts 11W?
Fill'er up my good Knight, many miles to Cbus!
Gruden to LSU!
Heard it here first, folks
[Edit: too slow...]
Agreed, but take a look who and where Wisky plays the week before...@ Sparty. Tough stretch for them. They also catch a bye before hosting Buckeyes on Oct. 15th.
Same here, I picked up Pryor with last pick. My hope is that he proves to be an undervalued and "cheap" pick. I'd rather take a chance on the ex-Buckeye (that is a physical freak) in the draft than pay up on the waiver wire in a couple weeks!
Here's how I like my hash browns...
Steak (buffalo) does not need fire to eat...
Drive to Toledo and hitch hike home
One name...Julie Johnston:
Who Suffers Better Than Us?!?......Nobody.....
I've lived without AC after moving to Denver 5+ years ago. No bragging here, but I add this comment to say it can be done without sweating your bag off. Upon purchasing our current home that was built in 1929, my wife and I were introduced to the evaporative or "swamp" cooler. Check it out...very basic, but effective. Standing under the main vent is glorious after mowing the lawn, going for a run, etc.
Malcolm Jenkins over Bell and Pace over Germaine. My goodness this will generate some good debate/opinions!
Sorry Goose, but it's time to buzz the tower...
A tough, but fair punishment. Godspeed in the NFL young man!
Stanford in Rose Bowl would get me a bit more juiced up...match-up with McCaffrey would be interesting! He deserves the Heisman
How about UNC over Clemson?!
JT juked Peppers' panties on his TD run