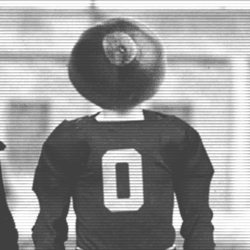 ChimdiCheckyaselfbeforeyawreckyaself
---
from Columbus, OH
Member since 04 June 2014 | Blog
Helmet Stickers: 57 | Leaderboard
Recent Activity
"Seriously guys, I was the key component of our team" - AJ McCarron
I'd agree - too close for comfort.
Also - jealousy would be a good term for my feelings about NU. I was at a wedding in Evanston a few weeks ago, their campus is awesome! Right on the water, cool buildings, and only getting better.
Sad day, thoughts and prayers with those affected!
I agree, doesn't seem fair only 5 get a chance to get evaluated. I'm not sure how many usually do it each year, but everyone who wants should get a shot
I would never deny how great a competitor Tebow was (still is) or the impact that he had on college football. However, I wouldn't put my comment on the level of mad-tweeting recruits. I was in college when this happened, and am actually a year younger than Tebow - so it was more watching someone my own age cry, not a 40 year old father of two cheering as tears streamed down Tebow's face.
Does that justify it? I don't know, just wanted to add some input. Now having been through college, I wish nothing but a great 4 years for these guys, college is a blast.
It will never get old seeing Tebow cry
Great read - I travel around Europe/Americas for work, I have seen some pretty cool places, but nothing compares to the feeling of getting back home to Columbus!
I'm no scientist, but comparing my stomach to Braxton's, it would appear something is working!
Agreed - and, let's keep in mind, it was HIS FIRST YEAR! Not often do freshman come in and just take over, nothing wrong with that
My D.A.R.E. teacher would take smoke breaks behind the portables between lectures - we were all smoking by age 13
2002....daaaaaammmmmmnnnnnnn
Great way to describe the "Ohio" thing. Easy to shake off as stupid at first, but as more and more people use "Ohio", it can start to bother..
Great stuff, I've really enjoyed reading about some of the other coaches around the league!