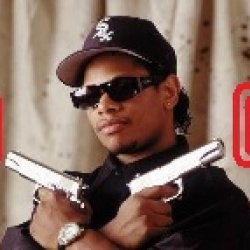 Chief B1G Dump
---
CBus (via Ohio Stadium)
Member since 20 January 2013 | Blog
Helmet Stickers: 5,801 | Leaderboard
So I wish I could play little league now, I'd kick some major ass!
Favorites
SPORTS MOMENT: Freshman year I went 79-2 in butt darts!
NFL TEAM: LA Rams
NHL TEAM: Hartford Wailers
NBA TEAM: Washington Generals
MLB TEAM: Montreal Expos
SOCCER TEAM: NY Cosmos
Recent Activity
Guy gets it done. Period. On the court, in the class...you name it.
"almost unheard of in today's game." LOL. Makes me feel old as sh!t...02 was my soph year at OSU.
That judge is dumb.
Thats why you go with a name like Chief B1G Dump. Only your tribe will recognize you.
Cant knock him for that. Sometimes people burn out and/or dont care as much as the fans do... Best of luck Rashard.
Any time a small Toledo suburban school goes toe to toe with Clevelands mighty St Iggy, its a win! Crazy game though. I saw it on ESPN dot com soon after the game. I also saw some pics in the Toledo Blade and it looked like all the kids were sad and crying sad tears after the game...I know they were exhausted but it looked like they all were disappointed in the outcome. I understand the priciple behind it, but why wait until after the 7th overtime? Time to add shootouts back into the fold.
Probably the best call...but I bet OHSAA adds a shootout after the 2nd OT. Sylvania Nothview has been a hockey power the last few years...and if youre from Sylvania or Toledo its pretty amazing theyre beating the big boys (or tying them).
Im sure the all kept an ace up their sleeves and/or only shared a piece of their pie.
I dig it. Power luncheon to share trade secrets.
STREET MEAT! I kid. Walk east down Lane...when you get to High St turn right...keep going south until you see something you want.
scUM
1-Tony Soprano 2-Ari Gold 3-Dr Cliff Huxtable 4-Sawyer (Lost) 5-Winnie Cooper
Gross.
Ooookay buddy. In the original article: http://www.pennlive.com/midstate/index.ssf/2014/03/michael_oconnor_disses_james_f.html#incart_river_default It states that she was walking "immediately behind" the two players and then tweeted out the conversation they were having with eachother...one that she was not in. That is a 1000% eavesdropping, being a narc and the definition of ratting someone out. I stand by statements.
As a former high schooler (15 years ago) that would be amazing for drinking, baking out and making out. Cool idea...for high school in SD.
Can we just expose all of his cheating once and for all and put and end to this turd?
He is out of control and a terrible human...
1) Baylor, again!? For a small, private, religious school - they seem to have some troubles...you know, like murders and cheating.
2) Perhaps young things are passing me by...but what the heck is Cardales stick figure? Is that a dude with a boner?
+1 for the #3 love. Greatest number of all.
+1 for the opinion, BUT to me Its not a story. Its a buschleague tweet. She was walking around a college party eavesdropping on football players, paparazzi style. I agree football players need to be a little more cautious but this is very narc-ish. Again, PSU fans didnt help themselves here but the whole thing is dumb. College kids get drunk, athlete or mathlete. Im just glad I didnt grow up in this day and age...or I would have partied with a brown paper bag over my head.
Alex Smith type? Or a Short yardage jump-pass QB?
Stalker is a great name for a defender...
Im not sure what years you were there...but there used to be a Subway on High St (just south of McDonalds) with a pretty solid arcade in the back.
I had a weekly ritual of "getting my mind right" and then hitting the arcade for a bit...footlong in hand of course.
If that wasnt the arcade you worked at, then...I like turtles.
KenYUCKY!
ARKANOID is my all time favorite...
But any pinball and NBA Jam also took a lot of quarters from me.
Next years frosh should help this funk... I said this earlier but at least Im not obligated to take the Bucks all the way in my brackets this year. Maybe Ill win one for once.
Perhaps being 6'-5" will help Braxton identify him being wide open earlier and more easily than all these shrimpy WRs.