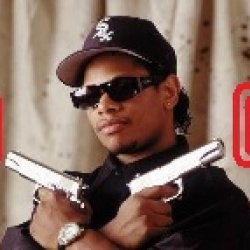 Chief B1G Dump
---
CBus (via Ohio Stadium)
Member since 20 January 2013 | Blog
Helmet Stickers: 7,860 | Leaderboard
So I wish I could play little league now, I'd kick some major ass!
Favorites
SPORTS MOMENT: Freshman year I went 79-2 in butt darts!
NFL TEAM: LA Rams
NHL TEAM: Hartford Wailers
NBA TEAM: Washington Generals
MLB TEAM: Montreal Expos
SOCCER TEAM: NY Cosmos
Recent Activity
Me fail 3nglish? That's unpossible.
Will Braxton distribute and get the ball out to play makers.
There's been a long standing rumor of scheduling Clemson in Nashville.
Good insight GVilli92. I'm sure you've heard some doozies.
But It's college.
It's teenagers with rockstar type fame.
It's job and millions of dollars on the line.
You do the math.
I know a number of athletes, personally, across a number of sports. It is not limited to the SEC, they just seem to have much tighter "good ole boy" network that remains as silent as La Cosa Nostra.
I was cleaning the house on Saturday and they had some camp practice of from last years UA game (I think that was the game?). I was just watching in passing but happened to catch some receiver out of Fla (the #3 or #4 ranked WR) burn Gerbil Peppers like 3 times in a row. I thought to myself, he's human and better get used to that.
Then I see this. This dude looks like iRobot where he just has titanium exoskeleton under human skin. It's too bad for Peppers that his other 10 defenders are going to be garbage.
If that is all natural, then holy guacamole, dude is yolked.
http://www.subzin.com/quotes/M12986e290/Tommy+Boy/John+Hancock...+It%27s+Herbie+Hancock.
Look for a big uptick in Chinese IP addresses here...proxies.
I think you mean Herbie Hancock.
Remy, you always read my mind. Someday, we will share a cold one: http://www.change.org/petitions/coors-bring-back-zima
Until then, +1.
I trust what Urban and staff identify as the talent they need to win...and not basing off blowhards who rank players for one reason or another.
There are plenty of players who are rated by the services as a 3 star and have offer lists that read like a who's who of college football blue bloods. I believe the coaches, and specifically our staff, combing the country for players that fit our needs and style/systems identify what talent they need/want better than some "national recruiting service." Considering Urban has won at BG, Utah, Fla and now here, he gets the benefit of the doubt in my book. Urban has mentioned many times and many ways that recruiting is the life blood of college football, this is one area where I don't see him dropping the ball and/or loosing ground.
In the end, it doesn't matter if a kid is a 0 star or a 94849494 star, it's what you do with them once you get them. How you develop them. Ask Laurinaitis. Ask Hawk. On the flip side, ask Brady Hoke how those highly ranked high schoolers are doing for him.
Surely less than that....
He'll get some starts this year. Then will be the feature pounder in Harbaughs attack. I agree with you that Los fits right in Harbaughs physical play wheelhouse.
Never understood the 9route hype.
Somewhere that dude is sitting in his moms basement practicing autoerotic asphyxiation to this forum thread.
You know the Seinfeld where Elaine buys all the sponges and decides if someone is sponge worthy?
i have a similar scenario with my Zima stash. I decide if parties are Zima worthy...
I see Shelly around quite a bit...she will always speak her mind. Solid woman.
If you just send me all 32 of your helmet stickers, I will send you 500 in return.
Just wire transfer them to the bar in the premium lounge c/o Chief B1G Dump.
That least EARNED that shirt.
Did MusChump give or receive the shaft here?
I remember that...
i believe Trapasso allegedly ran around a 4.4. That's really scootin for a punter.
Tennessee fans wear orange so they can wear the same shirt to the game on Saturday, to go hunting on Sunday and then To their garbage man job on Monday.
It the same shirt they were given at the correctional facility.
I'm not Katzenmoyer, but I took Golf 1 & 2 and whitewater rafting while at OSU.
Each one of those was only 1 credit but the two golf classes were dope summer course to meet some of your general elective requirements. The whitewater rafting was just icing on the cake...
Regardless of the gender of the AD, colleges contract hiring consultants to come up with the candidates. Those contracts are usually hundreds of thousands of dollars and always result in a combo of Gruden/Dungy/Munchak/ Schiano/Peterson/Patterson.
Hopefully for all parties not what happened...
however, if true, EWW.
Puppet regime...
Franklin will do what he wants with football. Sandy Barbour will fundraise and steer non revenue sports. The president will handle the rest.