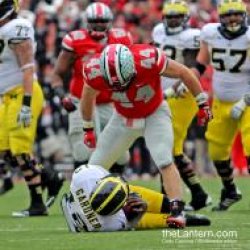 ChicagoBuckMD
---
Member since 30 July 2013 | Blog
Helmet Stickers: 67 | Leaderboard
Favorites
SPORTS MOMENT: January 1, 2010 - Rose Bowl win over the Ducks
COLLEGE FOOTBALL PLAYER: Troy Smith
COLLEGE BASKETBALL PLAYER: The Villian
NFL TEAM: Pittsburgh Steelers
MLB TEAM: Cincinnati Reds
Recent Activity
This. How the hell are you supposed to squat a shit-ton of weight (or spot someone that is for that matter) with all of that stuff going on? Give me a room full of focused guys any day over this.
Additionally one could take a look at USC, a team loaded with 4/5 star players, and see how well the star rating system works
You know, I've always been in the "Why the hell do you need WiFi at a Buckeye game?" camp, but that is a good point. I often go back and read 11W tweets after a game ends, but being able to see those during a game would be fun.
I have never actually eaten the pasta at Mama's Pasta & Brew.
Shit, has anyone?
To be fair, we gave up one less point to them than they gave to us
Yeah, hey Kyle is there a High-Res of that anywhere? I think I found my new wallpaper for the rest of my life
Do you think he meant the one on the east side or the shiny new one on the west side?
Also, when Cal was originally scheduled they were a fairly tough team (beating USC and all that). Baylor has no one on their schedule that could be confused for a tough team.
I believe we need another bar for "Bad-assery of facemask", which Spence wins by a mile
I have mixed thoughts on this. During the game we sat next to the drunkest and most ignorant Oregon fans in the stadium, but prior to that we met some of the coolest people on the planet tailgating with us in the parking lot and talking football (that were also Oregon fans). So I guess it's luck of the draw
OSU's band is just going off this year! No offense to the now-retired Dr. Jon Woods, but the absence of the 2-3 yearly tributes to dead 1800's Russian composers is not missed at all.
I know they call soccer "The Beautiful Game", but with pictures like these...man how can you argue against football?
Please let there be Script Ohio on water sometime soon. We've already conquered land, snow, and ice. This is the logical next step.
Does anyone have the "Ask Bollman" gif that seems to float around every time one of these comes up? I seem to have misplaced mine...
And a Happy Urbsmas to you and yours!
Oh boy oh boy this is gonna be fun!