ChicagoBuckeyeFan
---
Chicago, IL (via Athens, OH)
Member since 03 July 2013 | Blog
Helmet Stickers: 438 | Leaderboard
Voting Record: 112 / 20
Favorites
SPORTS MOMENT: '02 Championship
COLLEGE FOOTBALL PLAYER: Troy Smith
COLLEGE BASKETBALL PLAYER: Gary Trent
NFL TEAM: Chicago Bears
NHL TEAM: Chicago Blackhawks
NBA TEAM: Chicago Bulls
MLB TEAM: Meh
SOCCER TEAM: Nope
Recent Activity
I signed in just to upvote this. Hilarious!

I'd be pissed too. Tough way to start your college/college athletic career. Urbz has some smoothing over to do, but I have faith he'll do the right thing!
I selected "other" because Braxton's going to change positions.
Love that kid. Can't wait for him to start next year and prove all the doubters wrong for the bizillionth time in his OSU career.
You Brownies can have Jay, we'll take the Dozer.
It's amazing that nobody has posted a sarcastic gif in this thread.
Look, he didn't wear his cap at graduation, obviously he's gone.

I wish we could upvote discussions like the old site! Class act VThustle!
Beating a Florida team that hasn't lost in two years in a Championship game has a nice familiar ring to it. I wouldn't mind reliving this moment again:
Herman even asking a current or committed QB to entertain the thought would be a huge "F U" to Urban, OSU, and the entire coaching staff as well as the fan basis. If he ever has an inclining of coming back as HC or using Urban as a reference, he wouldn't do this. He's pretty smart I think, I heard he's a Mensa Member?
It's one of their greatest traditions. Let's see those Jazz Hands, Tate!
We should get used to this problem. Further down the pipe we have: Collier, Gibson, Burrow, and Danny Clark ('17) who will all potentially be on one roster.
And to add to that... What of Johnson, Trey?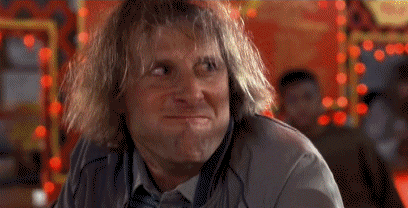 Best throw of his career.
Southeastern Ohio is getting the love! OU... I mean Ohio U., whatever they say now.
You didn't like the 6 inch-shovel "forward pass"?
Johnny had me rolling on the floor, until that aneurysm-fueled prediction. Not sure I can listen to the rest of this week's Dubcast. Ah, who am I kidding. The Dubcast is pure gold.
Love the bitch-slap comment on Ferentz at the end. Just made my day.
Let's play LSU/Bama/Auburn in Chicago in November. That'd be perfect!
ah. you are correct, sir.