ChicagoBuckeye10
---
Chicago, IL (via Ottawa-Montreal-Cleveland-Louisville)
Member since 22 April 2014 | Blog
Helmet Stickers: 1,540 | Leaderboard
Voting Record: 592 / 210
Favorites
SPORTS MOMENT: Canada over USA in Salt Lake City 2002
COLLEGE FOOTBALL PLAYER: Anthony Gonzalez
COLLEGE BASKETBALL PLAYER: Kevin Durant
NFL TEAM: Cleveland Browns
NHL TEAM: Chicago Blackhawks
NBA TEAM: Cleveland Cavaliers
MLB TEAM: Cleveland Indians
SOCCER TEAM: Cleveland St. Ignatius
Recent Activity
Tell you one thing - good luck with that whole "bear" plan this time around...
Guess what day it is? It's Situational day.
Will the 2nd half of this episode also place emphasis on post-practice ice baths?
Bacon is a very respected journalist, and I can't say I agree that this reads like a "diary" or a "bratty" entry. Not sure where you're coming from, BJ.
Nice, BN1994. We'll have to meet up for an O-H-I-O pic with my two roommates who are coming with.
Going to Ole Miss at Auburn over Halloween weekend, should be a pretty great college football experience.
At least we don't partake in chicken-shit Saturday.
DB, you're right that he said something along the lines of "wait for Oregon to come back..." and such, but what do you expect? It's his job, he's not intentionally trying to disappoint you on the path of satisfying all neutral and anti-OSU parties. This is his career. If he were to commentate in a biased manner in support of Ohio St., opposite of, let's say Mark May, how would he look as a professional in this industry? Kirk's a class act, bleeds (bled, literally) scarlet and gray, and you know what, his watery eyes in this postgame show were enough for me.
Oh, yikes. I didn't even know they did that. I don't want to do anything the Vols do. No thanks
Agreed - after all, it wasn't long ago that he was a 3rd string head hunter...
Didn't Collins suffer a "right shoulder injury" that game? ¯\_(ツ)_/¯
I think it did appear as slightly negative, only because as fans we all come to appreciate the type of effort that scout teams player put onto the practice field, and the commitment they make amidst all of the challenges you've mentioned (potential injury, academics, etc.). But I see what you're saying. This is one of my favorite examples of a walk-on doing the right things for Ohio St football: http://www.cleveland.com/osu/index.ssf/2015/01/why_urban_meyer_talked_about_o.html
I think those are pretty cool, but whatever. Championships are cooler.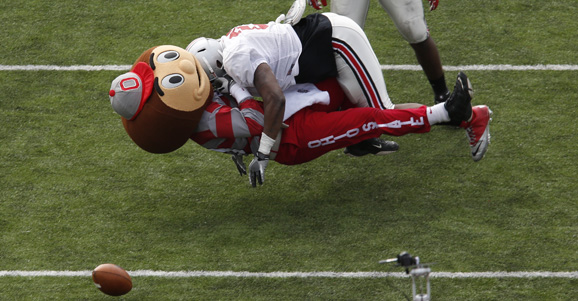 Does Fada sleep with a knife on his nightstand?
It's weird there's no footage of the Sugar Bowl, actually. Aren't hype videos supposed to get you pumped up? A little mad, even? (See 2014 hype video a la losses to MSU and Clemson).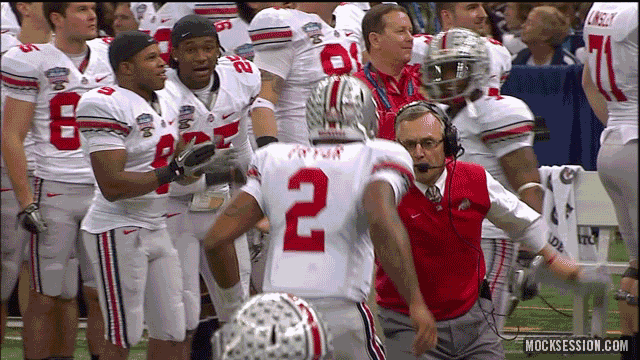 Speaking of fire emoji's...
Give Harbaugh hell, Utes.
Yep - this is a time to show the kind of goodwill fanbase we have. Read his message, the young man clearly thought it through and respectfully conveyed his intentions maturely to Buckeye Nation. Good luck, and maybe this kid will be knockin' on LJ's door further down the road...
MSU is certain. Remember, that's chicken-shit Saturday week in the SEC...